Let's Work Together to fix your Thyroid health!
My mission is to empower you to achieve and maintain the highest levels of thyroid health, FOR LIFE!
We'll use the power of real food, smart supplementation, quality sleep, stress management, appropriate movement, and spiritual wellbeing to transform your life from the inside out and back in again.
Helping you take on that journey with an attitude of self-love, kindness and patience is at the heart of my Thyroid Rescue community.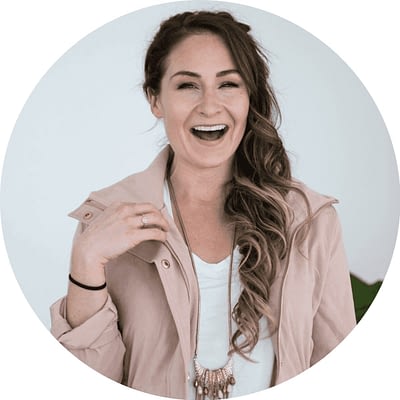 Since 2013 I've been helping people get to the root cause of their health issues. I'm the right gal to see if you've tried the conventional approach and nothing has worked!
Though Thyroid is my main thing, I have a professional focus on treating:
Thyroid conditions, including Hashimoto's, Grave's, and underactive Thyroid (hypothyroidism)
Gut issues and "IBS"
"Adrenal fatigue"
Female hormonal imbalances
Pre-conception care
Plus I have a big heart
Because so much of the journey back to health is not just logic and information, but having someone "in your corner" who truly cares about seeing you get well.
In fact, information overload is the most common problem I see in EVERY one of my clients. We all have Google and "answers" at our fingertips, but rarely will these guide you in the right direction.
With expert guidance, support and a treatment strategy that's 100% individualized, it's only a matter of time before I'll have you feeling great again!
Want to know more? Feel free to send me an email – [email protected]
Practical, personal support (book online)
Required for all new clients
Consultations Worldwide. Get treatment from the creature comforts of your living room! All sessions are carried out via Skype or Zoom (English-only)
Comprehensive Review. We'll spend most of this first session investigating your diet, lifestyle, health history & any previous test results
Treatment Plan. You'll receive individualized food, lifestyle & supplement guidelines to get you to your specific goals ASAP (sent post-consult)
Testing Recommendations. If it's necessary for making the right diagnosis to help treat your specific condition/s, I'll order further medical testing (but if there's extra cost I'll let you know first!)
Practitioner-Only Supplements. To accelerate your progress, I can recommend and order high-grade supplements on your behalf
Complete Notes. All key points discussed during our consult will be emailed to you. No frantic note taking is necessary- I have you covered!
Outcome Guarantee. By the end of our first consult, if you don't feel that working together will SIGNIFICANTLY improve your health then I'll give you your money back, no questions asked. So far, nobody has 🙂
NOTE: Bookings generally need to be made 1-3 weeks in advance due to client demand.
I'm unable to provide Health Fund rebates at this time.
If you have any further questions then please get in touch.
For existing clients only
Progress Review. We'll have an in-depth look at your progress and 'wins' since our previous consult
Refined Treatment. I'll make adjustments to your nutrition, supplement and lifestyle plan based on your progress and feedback
Test Results. If we ordered testing during the previous consult, I'll review and explain the results and how they affect your treatment plan
Further Testing. Sometimes testing one thing reveals the need to look deeper into other issues. If it's necessary to help treat your specific condition/s, I'll order further medical testing (but if there's extra cost I'll let you know first!)
Complete Notes. All key points discussed during our consult will be emailed to you. No frantic note taking is necessary- I have you covered!
NOTE: Follow-up consultations that run overtime will incur additional costs, and be charged at the following total rate:
45-60mins | $165
60-75mins | $200
75-90mins | $250
This Is What My Clients Say
"I've found Nat to be a passionate and knowledgeable health professional. She looks at the true "big picture", including lifestyle, weight, gut health, allergies, stress, sleep and food preferences. I now understand so much more about real health and how food affects my entire existence. I cannot recommend Nat highly enough! If you're looking for someone to work with you, rather than just dictate a restrictive meal plan, you've found her."
"I've had the pleasure of working alongside Natalie for years. She is the ultimate practitioner. You get the best of both worlds - an incredible knowledge base paired with compassion and personalised care. What I constantly get from her is an unwavering sense of professionalism and thirst to help better people's lives through health."
"I went to see Nat because I'd struggled for a long time to maintain positive changes in my eating habits (anyone can do a fad diet for a short while). I also wanted to improve my blood test results using food (rather than medicine). Nat was amazing; not only did she help me implement small but extremely productive changes in my diet, she kept me accountable until I was able to maintain the changes for myself (Google doesn't critique your food diary!). Two years later I still hear Nat's voice. Seeing and (more importantly) feeling results always helps, and I'm sure Nat can help anyone achieve their goals!"
"Natalie has a way of making you feel like you're not alone in your challenges to improve your health. Her ability to relate to my history and the exercise and diet rules I had created for myself was comforting. Natalie's advice was practical, easy to follow and I'm grateful that I was able to work with her on my overall health."
"As a woman approaching 50 I've been so surprised to discover my health could improve the way it has with Natalie's help. I approached her hesitantly with period problems that I'd been accepting for years. I also felt a little ashamed that I couldn't tolerate what was possibly 'normal' for my time of life. I'd found myself preferring to put up with sleepless nights, cramps, headaches, irritability and other unpleasant symptoms rather than taking up the (unwanted) options my doctor had offered me. On following Nat's advice things have significantly improved for me. Her genuine passion and the generosity she displays in passing on her knowledge makes her invaluable to anyone wanting to improve their health."
"I just wanted to thank you Nat for your help with my diet! We worked through the foods that I like to eat and put it in a format that would improve my performance and overall health. I can highly recommend your services and I've already told many how great you are- thanks again!!"
"Nat educated me on real, unprocessed foods and the effects stress has on the body. She gave me the tools to provide myself with a healthy lifestyle, not only through food but also emotional wellbeing and exercise. As a result, I've seen improvements in energy levels, gut health, skin, body composition and intuition of what's happening in my body. Nat's holistic advice has been invaluable to me and I use it everyday."
"I first saw Nat to help clean up my diet and get on track after developing some pretty poor eating habits. Nat's meal plan was perfectly suited to my lifestyle, the foods I enjoy and the changes I was willing to make. Even better, Nat made recommendations that supported my autoimmune disease and helped reduce joint inflammation. Following Nat's plan was really easy and it definitely improved my dietary health and choices!"
"I'd like to thank you Natalie for your amazing work and the help you were able to provide for me. Natalie is extremely knowledgeable, passionate and is always keeping up to date with the latest research. She is a modern day, high-level practitioner and I would highly recommend anyone to see her!!"
"Nat knows her stuff. She's been super helpful and supportive throughout my health journey. Her holistic perspective and accessible, balanced approach mean that Nat isn't just about helping you eat real food but improving your whole lifestyle. This is very valuable and not something you find everyday. I'd recommend her to anyone looking for genuine guidance and support with their health."
"I went to see Natalie after a particularly stressful few years, which had left me inflicted with shingles on my face so badly that it impacted my eyesight. I was extremely run down and underweight. Natalie organized a supplement and diet protocol that boosted my immune system and treated the actual wounds. Within 2 weeks I was feeling dramatically stronger. Natalie sat me down and advised me on my entire lifestyle. I've never looked back and still use all the tools Natalie gifted me with. Her knowledge and experience is extremely valuable to anyone experiencing health and wellbeing issues. I'm deeply appreciative and blessed to feel I have her in my corner. As my needs have now changed to fitness and anti-aging Natalie continues to educate me on things I don't know!"
"Before seeing Nat, I'd put up with 2 years of 'itchy' hives and allergies, I felt completely fed up and evey doctor I saw just told me to take antihistamines daily (which didn't help at all). During our first consult, Nat immediately outlined a range of changes that would help reduce my histamine intake. We did a detox by cutting foods with gluten and dairy, and started to use gluten-free grains that had been properly prepared. We also did a lifestyle overhaul; more relaxation, less stress, being kinder to my body and training smarter. Understanding that my issue was something I'd possibly need to deal with long-term was a turning point for me! Nat helped me understand that my body has a histamine "bucket", and helped me to keep it from overfilling using real food and supplements. My hives and allergies are now under control and no longer use antihistamines daily."
My experience so far on this health journey with Natalie has been life-changing. My only regret is not being exposed to this a lot earlier in life BUT better late than never. I'm in my late 40's and feel like my aging process has defintely been reversed a little. My energy & clearness of mind I thought I'd lost forever. I'm so grateful & looking forward to the year ahead on this journey with you Nat. You're a life saver & I'm recommending you to everyone I know. Thank you for helping me. I've gone from a place of desperation to a place of hope, confidence & control in such a short period of time. Our journey has only begun & I'm learning so much about myself, my body & my health. Love your work x