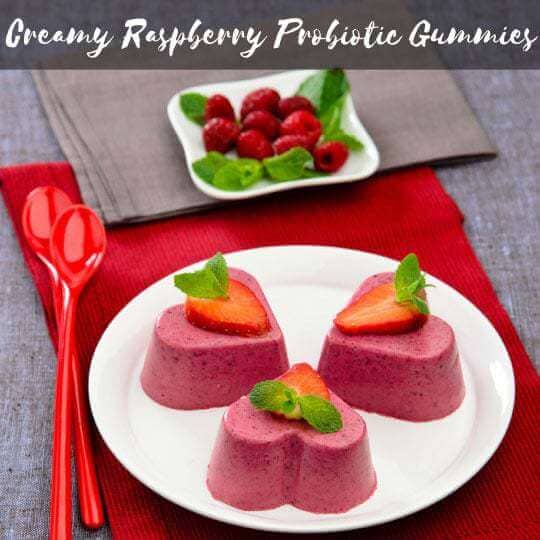 Probiotic Gummies
These Creamy Raspberry Probiotic Gummies are SO easy to make and pack a punch of gut healing goodness. With the benefits of probiotics AND gelatin (a potent gut healer) your insides will be feeling rejuvenated in no time. Plus they are delicious!
Ingredients
¾ cup coconut milk kefir (you can also use goat milk kefir, regular kefir, or coconut cream. However the probiotic benefit comes from the 'kefir' part)
1 cup frozen raspberries
2 tablespoons of sweetener of choice (e.g. honey, maple syrup, or rice malt syrup…or 5-10 drops stevia…Omit the sweetener if you like…it will still work!)
¼ cup grass-fed gelatin
Instructions
1. Place kefir and raspberries in a blender and combine until smooth and creamy. Tip this mixture into a saucepan.
2. Add the sweetener of choice (optional) and gelatin, stirring to combine and allowing the gelatin to mix through. It should form a thick-ish paste.
3. Turn the temperature down to low and continue stirring until the mixture becomes thin. It will take about 5 minutes or so.
4. Pour the mixture into a shallow baking dish, or some silicone molds if you have them. Allow the mixture to set in the fridge. It will take about an hour or so.
5. Remove from the moulds or cut using a knife if you have used a baking dish.
Enjoy!
PS. Can you do me a quick favour? If you love what you see then please SHARE IT and  spread the probiotic gummies goodness around!
Nat x
---
Want More Great Advice to Help Heal Your Gut?
If you haven't already received your FREE eBook, "The Perfect Digestion" solution, then lookout for the pop-up or banner.
I've also produced an amazing self-help guide on "Healing Digestive Discomfort"– this is the best resource on the market for beginning to diagnose and treat your own gut issues.
Healing your gut has been extensively covered in our discussions on "The Holistic Nutritionists Podcast".
I've written some in-depth articles in the past; you can search for these using the bar below, or try out this post on gut health.
I also have another delicious Choc Banana & Mint Gelatin Recipe!
And if you're still totally stuck, then book in to see me! I offer personalised Skype consults for anybody, anywhere.