#89 Endometriosis Management Using Traditional Chinese Medicine - with Elizabeth Cullen
The Holistic Nutritionists Podcast
LIKE WHAT YOU HEAR? Help us spread the love with a 5 ⭐ review on iTunes!
SUMMARY
In Episode 89 of The Holistic Nutritionists Podcast, Natalie Douglas and her guest, Elizabeth Cullen (Traditional Chinese Medicine Practitioner, Acupuncturist & Founder of The Dao Health Clinic), discuss how Traditional Chinese Medicine (TCM) works and the benefits of traditional Chinese medicine for endometriosis.
TOPICS COVERED
What is TCM and Acupuncture (myth busting)
A TCM perspective on your cycle
The drivers behind Endometriosis in TCM
Acupuncture for endometriosis
The best time of your cycle to get Acupuncture when treating Endometriosis
Dietary approaches or principles for Endometriosis in TCM
TCM Pain management for Endometriosis
TCM supplements in Endometriosis
The role of shared care and who Liz often works alongside when treating patients 
GUEST BIO
TRANSCRIPT
Intro 0:00
Hello and welcome to The Holistic Nutritionists Podcast, with your hosts Natalie K. Douglas, Thyroid Healer, and Kate Callaghan, The Holistic Nutritionist. Nat and Kate are degree-qualified dietitians and nutritionists, certified fitness instructors, speakers, and authors. If you love unfiltered banter, unedited bloopers, and authentic heart-sharing, then we are your ladies! Now it's time to sit back, relax, and get ready for our latest tips on living your healthiest life possible.
Natalie K. Douglas 0:35
As always, guys, before we jump into the interview with Liz, I really wanted to give you a bit of a background on her. So Liz is a traditional Chinese medicine practitioner and acupuncturist. She is the founder of The Dao Health based in Caringbah in Sydney's Sutherland Shire, where her and her team are dedicated to creating a practice where patients of the West can confidently and safely experience and benefit treatment learned from the East. Through the use of the latest evidence-based Chinese medicine and acupuncture research each patient is treated as an individual at The Dao Health. Liz seeks the root of the cause rather than the branch to restore the healthy balance both physically and emotionally. Liz has a particular passion and enthusiasm treating women's health and fertility, beginning with menarche and menstrual issues, including endometriosis, and polycystic ovarian syndrome, through to preconception behavior, natural fertility support, male fertility support, IUI and IVF support, pregnancy, labor preparation, and postnatal care. She treats a range of conditions in the clinic and has interest and experience in the treatment of Bell's palsy, digestive issues, skin conditions, sleep issues, chronic fatigue, musculoskeletal issues, mental health, and cosmetic acupuncture. Liz's ongoing curiosity with Chinese medicine inspires her to travel back to China for ongoing study. And in her spare time enjoys taking her two rescue dogs, Iris and Arthur to the beach. I absolutely loved this chat with Liz and I think this is a topic that deserves more attention that it gets. So I'm really excited for you guys to hear more about endometriosis management from a TCM perspective. Please make sure you share this information with any of your friends or family that currently have endo or suspected endo because it's something that could quite potentially change their life. All right enough for me. Let's jump into the show. Hey, Liz, welcome to The Holistic Nutritionists Podcast. How are you?
Elizabeth Cullen
I'm well. Thank you, Nat. Thank you so much for having me here today.
Natalie K. Douglas
You're welcome. It's been a long time coming. I feel like this interview has been in the back of my mind for ages because surprisingly, we actually haven't had anyone on to talk specifically about TCM or acupuncture yet despite both Kate and I being massive fan, so really exciting that we can and I'm sure we'll end up doing more than just one episode because there's there's so much it's like learning another language but it's so interesting, hey.
Elizabeth Cullen 3:19
Yeah, so wonderful. And especially because we work together a lot.
Natalie K. Douglas
Yeah.
Elizabeth Cullen
Today is going to be great.
Natalie K. Douglas 3:26
Absolutely. Yes. So for those listening who don't know, so, Liz, Liz practices near me in the Southern Shire of Sydney, Australia. I always have to clarify because we have listeners in New Zealand, across Australia, UK, and we often share care of patients and it works so well. So any of you guys that are practitioners listening or even people listening that are just being cared for by practitioners, it's so beneficial to have, like a team around you me and Liz have definitely found that, you know, you can't as a practitioner, you can't cover everything or know every single thing and it's so cool on. Yeah, yep, absolutely. So really awesome. Now, before we jump into all of that, what we always ask our guests are is one question to start with, which is what is your current morning routine?
Elizabeth Cullen 4:20
I love this question. So my current morning routine, not that I do shift work, but because of the clinic hours, my mornings are different each day. Some days I start very early, and some days I start at midday, although my morning routine is the same each day. Mainly my first thing that I do is I listen to my mind girl Sarah Blunden.
Natalie K. Douglas 4:43
Oh, voice of an angel. Everyone needs to look her up, Sarah Blunden. If you haven't heard her voice.
Elizabeth Cullen 4:48
She's amazing. So I will do a meditation in bed. And after listening to her I'll then do a body affirmation. So I'll make my body slowly from head to toe both spiritually and physically. And then from there, I then have a cold shower.
Natalie K. Douglas
I love it.
Elizabeth Cullen
Everybody that's um and that's actually I've watch for my dad's from when we're little we've been doing that forever. And then now I know all the benefits from it from a scientific perspective and thank you, dad.
Natalie K. Douglas 5:18
Oh, what a legend ahead of his time. Well, actually probably like, we're kind of going backwards in medicine now in terms of like going back to the things that we should have been just continuing to do for ages. I really love that. Do you still do your cold showers in winter?
Elizabeth Cullen
I do.
Natalie K. Douglas
I know, isn't it, it's funny, you get into a routine and it just doesn't. It's just not a thing as much anymore. I love, I love them as well.
Elizabeth Cullen 5:41
And I think the benefit from and how they make you feel it's worth it that quick little shiver. How it makes you feel for the day, so you feel very revitalized. So yeah.
Natalie K. Douglas 5:53
Yeah, I love them. I mean to ice baths at the moment as well. And to really enjoy those but it's they're much more like coach houses are much easier to just implement into your day as it like an ice bath, you really either have to have a lot of ice in a bathtub or have someone that has a chest freezer, but I love cold therapy. I think it's really, I was about to say cool, but pun intended.
Elizabeth Cullen 6:17
And we're getting a whole ice bag to do that.
Natalie K. Douglas
Pardon?
Elizabeth Cullen
We're getting a whole ice bag to do that.
Natalie K. Douglas 6:21
So, I, my friend that lives down the road, he has a big chest freezer. And so we just use that. So he gets down to like, half a degree. It hovers between like half a degree and two degrees. But you can't really tell the difference between like half a degree and four degrees. Like once it gets that cold. It just, I don't feel like you can physically feel the difference. It's just, it's just cold. Like, that's just how it is. We did try and do it in a big like blow-up pool once, we'd like heaps of bags of ice, but we only managed to get it down to about oh, I don't know, like 15 degrees. So it wasn't, it was like a cold ocean swim. But the chest freezes that time most people are doing it. They're doing it really regularly. And it's yeah, it's a good idea. I mean, it's a lot easier than buying bags of ice all the time.
Elizabeth Cullen 7:12
Yeah, it was in. I remember the first time, I remember it was in bring it on. I think that she weighed.
Natalie K. Douglas
Oh, yeah.
Elizabeth Cullen
I would love to do that every day.
Natalie K. Douglas
Yeah.
Elizabeth Cullen
The time-consuming side of things. Are you doing it once a week or?
Natalie K. Douglas 7:25
Yeah, pretty much, pretty much once a week on average. And I find it like, I just feel so good after. I do it more, but I just, I kind of it's not mine. So not just like, oh, hey, I'm coming over to use your ice bath. I mean, actually, he probably wouldn't mind but yeah, usually about once a week. I just don't do it when I have my period because it's like too much sensation all in one go.
Elizabeth Cullen
Too cold?
Natalie K. Douglas
Yeah, yeah, definitely. And you'd be all over that. So let's actually move into talking about acupuncture and TCM. So for those people that are listening, that maybe don't know a whole bunch about it and maybe associated or have a few misconceptions about it being not based in evidence or science. Can you break that down a little bit for us and share what your philosophy is around TCM and acupuncture?
Elizabeth Cullen 8:25
Sure. I'd love to. So I guess where we should probably start with is what TCM is and where does acupuncture fit into TCM. So, TCM, is Traditional Chinese Medicine. It's an Ancient Medicine of over 3000 years old that originated in China. Acupuncture is a modality of traditional Chinese medicine, as well as Chinese herbal medicine, moxibustion therapy, gua sha copying, and then the dietary benefit as well. So where we come into a place of misconception currently in the medicine framework where we are now is that people say that they don't believe in acupuncture. So that really needs to be rephrased to the people don't understand acupuncture rather than believing it because the research is there from a place of it's an Ancient Medicine with modern research. So over the last 20 years, most of the research has come out once we've begun to understand the mechanism of what acupuncture does to affect the positive body from a beneficial perspective. And so from there, there's been research that yes it's has done in China, but it is all also done around the world. So there's over 13,000 studies that have been done. And for the wider population who are listening today, the acupuncture bass pro research project is a wonderful website to have a little look at because there you will find all of your research and studies to back up. Another area to look at is the World Health Organization where it will also tell you conditions which acupuncture is effective in treating.
Natalie K. Douglas
Awesome.
Elizabeth Cullen
So yeah, so I think that's where to begin. Um, Joe Dispenza has a wonderful quote and he says science is the contemporary language that demystifies the mystical. And I think that's a really nice breaking down of acupuncture as well because it can be very unknown. And how does an acupuncture needle put or inserted into a particular part of the body? How is that going to affect my body positively, if I've got shoulder pain, and you're putting a point in my leg? So I think about understanding the medical paradigm underneath acupuncture and traditional Chinese medicine. And I think a big responsibility of that is actually acupuncturist and the Chinese medicine practitioners and how we educate.
Natalie K. Douglas 10:49
Yeah, I love that, because so often, people just aren't aware that there is science behind it. And also, I find it difficult to understand why people don't see something that has been used for so so many years before us. Why that doesn't constitute as evidence, like we call it traditional evidence. But a lot of the time, it's still dismissed, whereas I just, I think that's like, why would they be doing it and getting benefit from it for so long if it didn't work? But I think we're very called up caught up in only wanting to, like justify things if they've had randomized control studies around it. And I think nutrition is an area where that's really difficult as well, because it's so hard to do nutrition research well, because, you know, if you ask anyone on the street, like, what did they eat you know, for breakfast two days ago, most of them will struggle to remember, let alone recall more than that. And also, so often people don't tell the truth about what they're eating either intentionally or unintentionally. And, you know, it's it just yeah, going on a tangent. But it's, I think that traditional evidence, and anecdotal evidence and scientific lack randomized control trials are all really good. And I will pop those resources that you mentioned in the show notes as well because I think it's really important that people do understand things a little bit more for themselves before just borrowing other someone else's story about it. And also have an experience like go and have an experience yourself. I think that's really important.
Elizabeth Cullen
And I think it's also important with the randomized control trials and the meta-analysis as well. There is many effective trials out there, but as what you're saying Nat, sometimes it's very hard to do a blind trial if you've got someone who's having acupuncture part of the study group, and then the other half the study you're doing Chinese herbal medicine. So as you said, with traditional studies, it can be quite difficult. And I also like to just take a note on placebo as well. And that placebo isn't necessarily a bad thing.
Natalie K. Douglas
No.
Elizabeth Cullen 13:06
So a lot of the time when a GP and that's the other place where misconception, unfortunately, comes from is medical professionals, sometimes if they're not too sure of how acupuncture can complement their practice, which integrative medicine with acupuncture, that's where we're going. And you know, we're seeing wonderful outcomes when we work with other practitioners. So I think when, I don't want people to be scared if their doctor or specialist says, oh, that's just a placebo, because even though it's not a placebo, and that's an incorrect in to say, we know that a placebo can also give the body healing if someone is under the impression that it works. So I also think that I don't necessarily see that as something that's offensive. Because some people correlate placebo, it's such a bad word of oh, it doesn't have any medical research. So yes, it doesn't but an acupuncture isn't that but if your doctor or medical professional is saying, there's no harm in trying it, then we can really have to come in and then give you the education behind it and how it is back to the research.
Natalie K. Douglas 14:06
Yeah, exactly. And, yeah, I think I was listening to a podcast not too long ago, I don't know if it was with Joe Dispenza or someone else, I love him. And I think that, like there was saying, imagine if we could, you know, harness just like focus more on harnessing the power of the placebo effect. Imagine, I mean, but the problem with that is that so many drug drug companies would go out of business. And so unless it's free, like because it's just your mind, it's your mind.
Elizabeth Cullen
Power of mind.
Natalie K. Douglas
Yeah, so but I just find it so fascinating, for sure.
Elizabeth Cullen 14:38
Yeah. It's fascinating. And I also just wanted to take a moment as well Nat, if it's okay, just to say what the differences between dry needling as well and acupuncture.
Natalie K. Douglas
Oh, yes, good one.
Elizabeth Cullen
If that's okay. So I think it's really important for who's listening today or if you're going to recommend a friend to try acupuncture that you go on to that Ahpra website, AHPRA, and you look up a registered acupuncturist and Chinese medical practitioner who is very different to a dry needler. So a dry needler once registration came in with Chinese medicine in 2012. People who did not have a degree in traditional Chinese medicine and acupuncture have to start calling themselves dry needlers, which can be up to a 2-day course, up to 2-day courses, but more so it's about trigger point therapy, and it doesn't have the background of Chinese medicine philosophy and how to diagnose. So, I'm not saying that dry needling isn't effective. It's definitely effective from a musculoskeletal perspective for a physio to use it or an osteopath but we've got to make sure we're seeing the difference between acupuncture and dry needling because they're very, very different modalities.
Natalie K. Douglas 15:54
Oh, thank you for pointing that out. Because that would be such a common thought if we will, because we just you know, as people that aren't, haven't been educated in that way, we would just see a needle and be like, oh, yeah, you know, acupuncture, dry needling, whereas absolutely a difference, as you're saying. So, one of the areas that you and I often share care around is women with any kind of mental issues, period problems, endo, and so that's where we're going to focus a lot of our conversation around today because it is such a huge potential area where acupuncture and TCM can just work wonders. And I've seen that in some of the work that you've done, and that we've done together. So where I thought we'd start is just from a TCM perspective, can you talk us through what happens in each part of our cycle as women?
Elizabeth Cullen 16:49
Cool, so I would like to start with one word, which is too angry. And that's our menstrual blood so that is blood with purpose. So we're going to go a little bit back with Chinese medicine. And we'll begin we're going to begin to talk about the unique medical paradigm with traditional Chinese medicine is. And what that is, is we use the energy source of Chi. So if there's not enough Chi in the body, or if there's not a free flow, so if it gets stuck, then we're start going to start to see an imbalance in the body. And that embody is then going to be affected internally but it can also be from external factors as well. So I guess as we start to talk about menstrual disorders, or imbalances, or symptoms that are coming up each month, we need to start to talk about blood, which is the functional form of Qi. So you can't see Qi, but you can see blood. So where we start to talk about the menstrual cycle, if we talk about it from a monthly perspective, we have our follicular phase and then we have our luteal phase. And from that perspective, we'll start to talk about the start of the cycle, which is I believe, from day one of the cycle. Now, we need to start from a Chinese medicine practitioner perspective, which we try to educate our patients as well to start looking for is what is the blood doing? So is the blood moving smoothly and freely? What is the color of the blood? Is there any clotting? Is there any associated pain and how are you feeling mentally throughout this time? This is a Yin aspect of the body. So the Yin time of the body is female and it's also the time of quiet and coming in. So from that perspective, when we bleed is the time of the month where we need to start to become within ourselves and really looking after us. So this is the time where we scheduled downtime. This is our unique time of the month. So after this time, we begin to build up in and we're coming into really nice Yang time, which from a convention medicinal perspective, ovulation. After this Yin time where we've really looked to nourish ourselves and build ourselves up, we're then going to focus when we're coming up to ovulation to then build ourselves back up again, once we've lost our blood, so this is when we're starting to build up without estrogen levels. Our LH and FSH are rising and we're coming up to estrogen increase in a spike, which is then leading us to ovulation. So again, this is your time of creativity. This is our time when we're feeling really good. This is that time where we can push ourselves more at the gym and listen if we want to from that perspective of maybe getting our PB with weights if that's what we're doing to exercise at the time. And then from that perspective, that's where we're then transitioning over from Yin to Yang. So Yang is then represented as kidney Yang, which is then known as our progesterone from again, a different perspective. And in this Yang time of the month, this is when you know how on some of our menstrual cycle apps, we start to see the storm coming those little clouds before apps show you those and you know.
Natalie K. Douglas
Mine doesn't but I have seen some of the ones that do yeah.
Elizabeth Cullen
Oh, it does. Yeah. So um, so with this time that's coming up, so say for example for someone who is ovulating roughly around day 14, 15. If we're coming into that second half of the tail cycle a week later, then we're going to start to see that the liver meridian starts to come up. So we're starting to see when I talk about these different words of organs, what we're doing is we're representing the hormones with different organs in the body. Now, if those organs are out of balance, that's then representing a hormone imbalance from a Chinese medicine perspective. So for example, with the pre-menstrual syndrome, or tension, or breast tenderness, or if we're beginning to become bloated through that last bit of the cycle, just really feeling often tired and not like ourselves, we're starting to look at the liver Meridian, because the liver meridian from a Chinese medicine perspective stores the blood, so it's holding the blood and that's ready to be released when the liver starts to want to do that. So that's where acupuncture throughout your monthly cycle will be different depending on where you are in your cycle, so we can support that smooth fluctuation of hormones.
Natalie K. Douglas 20:59
Gotcha. Okay. So when you mentioned the kidney before, so what what was that associated with, again, in terms of the hormones?
Elizabeth Cullen 21:08
So the kidney is more so estrogen and it's a quality. So when we're starting to talk about fertility, and we're starting to talk about your gene, your essence in your body, and how you ovulate or are you getting a period even? Then we're starting to talk about the kidney meridian.
Natalie K. Douglas 21:24
I love it. I love all this association. And I'm totally like bringing in something off the side. But I remember when you first when I went to see you with a patient, and you first speaking about the spleen. Can you tell us about like that, because it seems to pop up a lot in TCM as being like something really important. Can you explain what its role is?
Elizabeth Cullen 21:45
Yes. Okay. So the spleen is sadly forgotten about a lot in conventional medicine as you would you would think that too. So the spleen from a Chinese medicine perspective is a very important organ that sometimes is forgetting about forgotten about. So I remember before I study Chinese medicine, I remember being like, oh, I didn't really realize the spleen had so much significance other than being linked to the pancreas. So it's been through my journey and my career, knowing how important the spleen is, I think it's really important to pass on the message of how the spleen nourishes the body. And it's also directly affected to the food and drinks that we eat, and that how the spleen then associates and absorbs the nutrients from what we eat, and then nourishes the body throughout. And this has a direct impact on our menstrual cycle because the Qi and blood that has been transformed from the spleen will then affect how your menstrual cycle is. If someone has an underlying condition as opposed to polycystic ovary syndrome, or if someone's not ovulating properly, or if they have cysts, you technically also going to look at what the spleens doing.
Natalie K. Douglas 22:56
Right. Makes sense. It's so fascinating just hearing it in different perspective. So I really love that. Okay, so in terms of speaking about endometriosis, because it's something that is. Well, I certainly am seeing it more and more and more in, in practice. And I think that it's something that our understanding of it is still evolving very much at least in the areas that I'm looking at it and there's, I definitely have found a relief from my own. And or with doing, doing TCM stuff and acupuncture. But what I wanted to ask is, what do you at this stage believe that some of the drivers behind endometriosis, endometriosis. I used to calling it endo. Endo are, and what's kind of happening or not happening from a TCM perspective? Yeah, maybe just start there.
Elizabeth Cullen 23:56
Okay, so I might start from a Chinese medicine perspective, and then come in with the research. Does that sound?
Natalie K. Douglas
Beautiful. Yeah.
Elizabeth Cullen
So from a Chinese medicine perspective, so endometriosis, and its associated symptoms, can be caused by a number of different patterns. So as we were saying a little bit earlier, with traditional Chinese medicine, we diagnose from a perspective of where is the imbalance in the body? And what's the pattern that's driving that, and the pattern that we treat will then start to relieve the symptoms of endo and its associated symptoms. So I guess where we should start is with our friend the uterus. And so with the uterus, where we should probably start is the connection that the uterus has to each organ. So when we start to talk about the heart, we then start to talk about mental health. And we talk about the Shannon spirit, that has a direct connection through the bao, my channel, through to the uterus, and so does the kidney. So the kidney through the byol meridian then connect through the uterus. So from that perspective, if the Qi in the blood from the spleen, the liver, and underlying with the kidney, if there's not enough energy there, we're going to start to see patterns of disharmony. Now, a common one that we continue to see is Qi and blood stagnation. So whether there's dysmenorrhea, or when we specifically talk about endometriosis and pelvic pain and masses, you've got a tendency to either see two common patterns, which will either be Qi and blood stagnation or cold in the uterus.
Natalie K. Douglas
Gotcha.
Elizabeth Cullen
So this is a with metaphor analogy, but I'll let's let's go with it.
Natalie K. Douglas 25:41
We're all about it. Go for it.
Elizabeth Cullen 25:43
Let's go with it. So when you think about butter, if butter was not melted, so it was cold, butter looks so lumpy, and it's all stuck.
Natalie K. Douglas
Yep.
Elizabeth Cullen
Yep. So it'd be hard to move freely and smoothly. Whereas if butter was moving, or if it was warm, and you just heated it off on the pan, what does it look like?
Natalie K. Douglas 26:07
Delicious? Slippery and smooth flowing.
Elizabeth Cullen 26:10
Yeah. And that would be if we were then to then represent that as blood, then the blood would, would then flow very smoothly.
Natalie K. Douglas
Hmm, gotcha.
Elizabeth Cullen
That makes sense?
Natalie K. Douglas
It was.
Elizabeth Cullen
So, so when it's cold, that's what I sometimes try to compare that to with the uterus because if the endometrium is cold, and it's not moving properly, then we're going to get that cramping. And then what then happens if there's more code in the uterus, everything kind of gets stuck. So from that perspective, you then saying that when the period does want to come, there's not a smooth flow and there's lots of traffic there if it was like a highway?
Natalie K. Douglas
Yep. Makes sense.
Elizabeth Cullen 26:48
So from that perspective, that's where we're trying to get the blood to move from a better smoother perspective to release the pain and pelvic masses. Now, if we were to jump back to what else the acupuncture does from a pain relief perspective, what acupuncture does is it excites the receptors in the nerve fibers in the stimulated tissue, which are then physiologically activated. So what we're trying to do from that perspective, is leading to an analgesic effect on the body, through then the activation of the endogenous pain inhibitory system. So trying to release the dopamine. So a lot of the time, what will happen is, that's where you'll get that pain relief as well. So yes, you put in local points through the uterus, depending on where you're treating your patient in their menstrual cycle but a lot of the time you're trying to do the pain relief points as well.
Natalie K. Douglas 27:35
Right, so fascinating. Okay. No, that that that makes a lot of sense. And in terms of like when you mentioned, blood flow, so and and having a cold uterus, in terms of if you were needing to, like, for lack of a better word, warm your uterus up, a lot of people might ask the question of, okay, so how soon leading up to my period? Do I need to do that or is it a matter of across the whole cycle you're making sure that you're doing things to create warmth in your body generally, which we'll go into soon. But is it like a whole cycle thing? Is it just before? Is it only in part of the cycle?
Elizabeth Cullen 28:18
Yes. So it's a whole cycle. So, so especially with women's health, I see lifestyle advice, and your routine is monthly, rather than weekly?
Natalie K. Douglas
Yeah.
Elizabeth Cullen
So it can be seen as how did you go that month? And how did you look after yourself and usually that can reflect the period. So I remember, I'm so somewhat of that monthly report card as you're speaking about the other day on the podcast. So I guess, um, I guess what we need to look at is that you need to be supporting the menstrual cycle throughout the entire month especially if you do have an underlying condition like endometriosis. It's something that you need to be considering that on how the body needs to be looked after and support it through the entire month from a perspective of yes, acupuncture, the acupuncture treatment you'll be focusing on warming that uterus the whole month. Yes, so whenever and say for example if you have acupuncture treatment for endometriosis it can take up to three months to start to see that full change or difference. So usually symptomatic that you starts to notice differences but it is that consistent care and especially with what you're doing every day. So, I always say to patients, if you're having that cold smoothie, and you're on a raw vegan diet, and you come to acupuncture once a week, that's good, but it's not going to be enough.
Natalie K. Douglas
Yeah. Yeah.
Elizabeth Cullen
It is what you do every day.
Natalie K. Douglas 29:40
Hmm. I think that's the key. And I think that it's it's one of the hard, I feel like it's one of the hardest lessons for people to learn that consistency actually is the key to a lot of these things. And we are so used to more responding from pain immediately when it's there and then making a change. And I think it's really important to remind ourselves that the decision I'm making today is actually going to affect my period in three weeks time, for example. So really important to come back to for sure. So when it comes to evidence on the use of acupuncture for endometriosis, is there anything that's been done around that yet? Because I know it's a, I mean, endo research in itself, I feel is still not as robust as it should be. But it's definitely more and more stuff is coming out all the time. And I'm just interested to hear if there's anything in relation to acupuncture yet.
Elizabeth Cullen 30:37
Yeah. So we were actually part of a trial in 2017 with Mark Armour and the team over in INC, who were part of Western Sydney Uni. And that was on pain related to endo. So there's definitely research happening in our hometown in Sydney, and areas around the world. So the research at the moment is focusing on pelvic pain, chronic pelvic pain, pelvic masses, and is starting to become research as well as of how acupuncture can start to decrease serum estrogen levels as well or estradiol levels.
Natalie K. Douglas
Oh, wow. Fascinating.
Elizabeth Cullen
Yeah, yeah. And then and then the other researches we're talking about just um, just before we started today, now, about decreasing CA one to five as well, the biomarker of endo, and how acupuncture can be involved there as well.
Natalie K. Douglas 31:29
Yeah, so interesting, isn't it? It's, I feel like we're slowly making traction in the endo world, even in terms of accurate diagnosis, because it is such a difficult thing to diagnose. And a lot of the time, the degree of pain that someone feels doesn't always reflect the degree of endometrial tissue growth of that's happened. And I think that's something that's difficult sometimes for people to wrap their head around, like you could have, you know, might like moderate pain, like enough to need to take a painkiller, for example, but not enough to be curled up in the fetal position and the painkillers are not working. And you might, you know, not have as much endometrial lesions, or you may have heaps more, it just it's so so very but it's good that we're starting to see more and more. Yeah, ways of diagnosis come out. That's probably something we should touch on a little bit. So you mentioned that marker, for people listening that aren't aware of it, is it something that people can request through their specialist or GP at the moment, or is it still in research?
Elizabeth Cullen 32:41
I think it's still from from what I know, it's still more so in research. So I know that you were saying was it in England last year that they were saying that they want to try and be able to get it to come out as a serum test?
Natalie K. Douglas 32:53
Yeah, I think it was, like I know, well I certainly haven't been using it yet in clinic because I wasn't aware that it was available. So I'm pretty sure it's still in in research. To my knowledge, the the gold standard is still a laparoscopic surgery, which for people listening is the surgery that they actually go in there to remove the tissue, they can do exams, like they can do internal exams, or ultra internal ultrasounds, and external ultrasounds to kind of screen, but if you get that done, and there's nothing visible there, it doesn't rule it out completely, because it's not a perfect test. It's a screening tool.
Elizabeth Cullen 33:34
And I think it's important also, for us to note here that that people. I was looking at the other day and how it's for women, they're spending over $12,000 a year with endometriosis. And it's for over, it's almost $4,000 on health. So it's and they can take seven to 10 years for them to be diagnosed. And it's this ongoing battle where they may have, as you said, a little bit of period pain, but they know something's not quite right. And if they you don't have that responsibility of their health, or if they don't do further investigation, this can be a continuous battle that's affecting their quality of life and not only work but as a mother or in their relationships with study. And I know it's one of these things where a laparoscopy yes it is the gold standard at the moment but as you would too Nat, there are patients who are continuing to have to have laparoscopy is. It's not it's as we know, it's not a cure and yes, it's a really good diagnostic tool at the moment, but we need more research to find what we can do for these women.
Natalie K. Douglas
Absolutely. And I think that's so important to note that it's it's not just a one, say you decide to do the laparoscopic surgery. It's not a one time, you know, once and done it's you know, it will keep coming back if we don't start to address the underlying root causes, some of which we know and some of which we don't know yet, but they're at least from you know, I know from your perspective and mind to, there's a lot we can do and that we've seen work. Yeah, naturally, holistically. And that's something to really consider because, yeah, it's it's horrible. Like it's a horrible thing to experience. And I think that as someone so for those listening, I haven't had a laparoscopy, but based on symptoms, etc, it likely that I have endo, and my period pain is horrendous on the Footloose at least it used to be, it's gotten a lot better since doing a lot of these things, but horrendous on the first day. And it's I remember going into you there's one day when I was on day one, and I just was I couldn't even hold myself. I just burst into tears as soon as you walked into the room, because it's, it's horrible. Like I used to have to go home from work, I would vomit, I would have diarrhea, I would just be. It feels like for those listening who aren't aware of what it feels like because I think it's really hard because if you haven't felt it, when someone says I've got bad period pain oh, yeah. It's annoying, isn't it? But this is on another level, this feels like someone is like stabbing your uterus or like ripping it out. That's the kind of sensation and sorry to be very graphic but I think that it's important that people don't have it also understand and show compassion towards people that are saying, actually, like, you know, I am in a lot of pain, because it's not just a matter of take painkillers, you know, suck it up and move on, it's really important to rest and to look after yourself through the whole cycle and to look into other things that can help to relieve a lot of that pain as well. So that's just something I wanted to put out there as someone who's experienced it and seen a lot of women experience it and my experience of it, I could say experience one more time, um, is actually not as bad as a lot of women I treat. So I know, it would be the same.
Elizabeth Cullen 37:04
And as we discuss Nat, you know, that anxiety coming up towards the cycle as well. But you know, for patients and for you, you know, it's one of those things, isn't it? Where you go, okay, I've had a period but oh, wait, there's another one coming. And this called Yin. So it see side of things where it needs to be acknowledged as well of how this affects you as a person and that your partner in your family knows what this is like for you. And I think educating them on a menstrual cycle is not a bad idea either. And, understand where you are in your cycle and, and forever that you know, depending in each in each endometriosis patient is so unique or when they experience pain. Isn't with the or is it when you ovulate or is it when you go to the bathroom to pass a bowel movement? So just that education of where you're at and the associated symptoms. It's not just that chronic pelvic pain or it's not just that period of pain, it's it's a mental health perspective of it. It's how it affects you passing bowel movements. It's how it affects your digestion. Every person is different.
Natalie K. Douglas 38:03
Yeah, totally.
Elizabeth Cullen
Yeah.
Natalie K. Douglas
So agree with that. And I love the idea of yeah, more education because I think that education creates awareness and I also think it breeds compassion as well, which is so important for a lot of these women that feel really alone because it's not something. I mean, for some people listening, talking about periods and poos is fine. And I think I live in a bit of a bubble, where that's what we talk about most of the time, but for a lot of people, it's like, we don't talk about that.
Elizabeth Cullen 0:35
We won't use the word period, we'll use the word thing. Okay, well, let's start to acknowledge this amazing thing that the that the women the female body does, but at the same time, sometimes, unfortunately, it's working against some women. And I think those acknowledgement is of what the what does the menstrual cycle do? And also taking the responsibility of your health back in your hands as well.
Natalie K. Douglas
Yeah.
Elizabeth Cullen
Not always going to find the answers first time.
Natalie K. Douglas 1:00
Yep, hundred percent and just not giving up, I think it's really important to know that there is answers out there. And even if you have, if you feel like you haven't found it yet, but I'm a, I just am such a believer that there's always hope and there's always an answer and a solution. And you just have to keep picking yourself back up and seeking out other opinions and experiences and never stopped listening to your own body because I think that we're so often taught to look outside of ourselves for an answer. And I think that sometimes gathering information externally can be helpful, but always coming back to is what they're saying, does that feel true for me? Like, if I use it all the time as an example, with thyroid patients where they go to their practitioner saying that they've got all these symptoms of an underactive thyroid, and their doctor says, oh, but your thyroid, but your thyroid looks fine.
Elizabeth Cullen
It's functioning.
Natalie K. Douglas
Yeah. And I just think, like, people are sitting there, like, I don't feel fine, like, frustrating anyway.
Elizabeth Cullen 2:04
And it's the same for you know Nat, with fertility patients as well. You know, once we hear from one, one practitioner or doctor that unfortunately, we may be deemed infertile but that's not always the case. And that's what I think we can carry these stories if we've been affected, and it hasn't been challenged. So it's always a second opinion for anything that you diagnose with a second opinion. And just the first set of eyes on your case and your condition is always a wonderful idea. And I know we'll go into shared care in a little bit. But I think that's where that really comes into play as well.
Natalie K. Douglas
Totally, because people will pick up on things that, you know, someone else misses, and not because they're not a good practitioner, just because we're all.
Elizabeth Cullen
We're all trying.
Natalie K. Douglas
Yeah, we've trained in different ways. We've had different different experiences, we see things slightly differently, and I think it's really important. So back on our endo talk a little bit. If someone is going to use acupuncture as part of their endo management, how often do they actually need to go? And is there a certain time of this cycle that is best? And does that change over time?
Elizabeth Cullen 3:15
Yeah, okay, so let's start off with how regularly. So with acupuncture treatment, I always to the first consultation is a 2-hour consultation, where we'll discuss dietary therapy, and lifestyle factors as well as the acupuncture. So for acupuncture, just a little bit of background. In China, you'd go two to three times a week, so in the hospitals over there, so that's not so doable for outpatients. So what I recommend is that with the lifestyle advice and acupuncture is that you come weekly for about a month. So for your first cycle, so we can see how you respond to that depending on the patients and individual, and depending on the severity of their symptoms, I like to then push them back to fortnightly from there. So just before ovulation and just before the period and then, we start to see that support. Again, depending on the patient, if we're not getting as much of an outcome I'd rather and I'd recommend to them okay, let's go weekly again. But it depends on how compliant they are. And it also depends on how their life is working. So I don't want another stress for them to get to an appointment. So that's why I'll push it out to two weeks because I find that that's effective enough for patients. And from that perspective. Again, if that individual their symptoms come at a different time of the month, then we'll start to tailor when our acupuncture is to support that. So from that perspective, I always recommend to a patient that come for a longer time rather than as frequent. So I'd rather them say okay, this is part of my lifestyle now, and that acupuncture I know around this type of my cycle will benefit me and support me to improve my quality of life when my endo does flare up rather than oh, I'm gonna give this a go, but I was just too much in, it was too much time and I can't I can't do it anymore. And then they stop. So it does take time and you may feel the difference after the first two treatments, but I always say it takes time for the body to heal, and never underestimate the ability of the body.
Natalie K. Douglas 5:22
Yeah, I love that. Okay, so talking about dietary strategy. So when it comes to endo patients and TCM, is there any dietary approaches or principles that you recommend for endo patients as things that could potentially help?
Elizabeth Cullen 5:43
Yes, yes. And yes. Okay. So this is probably one of the you know, I get so excited about this. But, um, from one perspective, with Chinese medicine, I think with Chinese dietary therapy plays a role in endometriosis, I wish we could educate all endo patients with this simple simple change with their diet, which is, drumroll Natalie, warming foods.
Natalie K. Douglas 6:08
And guilty as one of those non-compliant people for a few weeks.
Elizabeth Cullen 6:14
Only human. But um, yeah, from that perspective of where we, where we talk about Chinese medicine and Chinese dietary therapy for our cold uterus, we don't want to be using cold foods. So foods like ice cream, foods like your cold smoothies, foods like the raw food diet. They're not your friend, unfortunately. So from a Chinese medicine perspective, if we start to think about people of a Chinese background, a lot of the time, especially in China, that you know, the watercooler is, you know how you know, in China, they're hot water, they're not cold.
Natalie K. Douglas 6:50
Oh,
Elizabeth Cullen 6:51
So so for your digestion and, you know, we jump back into the spleen of its role of transforming and transporting fluids Qi and blood around the body is we want a warming environment rather than cold because if it's cold, it damages the spleen and, and from there, even if we speak about a non-women's health perspective, you're going to start seeing constipation, and bloating and, and one big change that you can make and you'll you'll notice quite a quick difference with these with your overall system is changing those foods to warming. So say for example, do love your smoothie because of the convenience? Well, that's okay, we just have it at room temperature. So don't use ice, don't use a frozen banana, have it as room temperature or just allow it to get to that temperature rather than having it straight from the freezer.
Natalie K. Douglas
Yeah, yeah.
Elizabeth Cullen
And then and it. Pardon?
Natalie K. Douglas 7:39
Don't put ice in it, a lot of people put like, heaps of ice in it, which I used to do until I learned otherwise.
Elizabeth Cullen
Saved at all.
Natalie K. Douglas 7:47
Thank you.
Elizabeth Cullen 7:50
And a big one is chilled water. So, instead of having chilled water, have a temperature water, but I think also the way that we cook our food. So if we can use the slow cooker, that is your absolute best friend, it's easy. You can use cheaper cuts of meat of high quality such as free-range chicken thighs, rather than breast. So you can use your grass-fed beef and get those cuts and then put them in the slow cooker before you go to work. And then by the time that you get home, you've got a beautiful meal ready there. Because it's been supported and it's been cooked slowly, with some beautiful herbs and spices, you've got a really nourishing meal for the body there. And from that perspective, there's a direct connection down to the uterus, that it will then be affected really nicely and warmly. So it's the same thing with bone broth, soups, all those type of foods and roasting or steaming your food, that's a much better option for you than having a raw cold diet.
Natalie K. Douglas 8:43
Yeah, yep. And I want to add to that, like you touched on the digestive thing. I always, any patients that I have that have gut issues, I will say, you know, at least 80% of your food needs to be cooked because it is much harder to digest if it is raw. Yeah, and I know yeah, that you've said the same thing in relation to 80% warming, 20% cold foods. And the thing I want. Yeah, the thing I wanted to ask you about as well just to clarify for people listening, a lot of people that own a lot but a big chunk of people listening to the podcast, really love kind of eating in association with what the weather is like outside or eating seasonally. So in summer having more salads and cold things. If you have endo, is it important to continue eating those warming foods even if it's hot outside?
Elizabeth Cullen
So I think for all patients and the general population, eating seasonally is wonderful and beneficial for the body as well as your relationship with your exterior environment by eating foods that are seasonal, but again, coming back to how you preparing it. So I recommend that you still do the 80 to 20% but say for example, have it at room temperature rather than cold. So say for example, steam your broccolini and pop that in your salad, roast your pumpkin and pop it in your salad, but then incorporate if you wanted to your baby spinach and your rocket, which is raw. And again, as we're just chatting about before, the acupuncture, the acupuncture.
Natalie K. Douglas
Yeah, put your acupuncture in your salad everybody.
Elizabeth Cullen
Very hazardous. Do not do that.
Natalie K. Douglas
Somewhere in here. Let's insert the medical disclaimer.
Elizabeth Cullen 10:33
But yeah, the avocado, pop that in there and make sure that your proteins are cooked. So from that perspective, you still, it takes a little while to get used to but once you're used to it, you don't go back.
Natalie K. Douglas 10:45
Yeah. Yeah. And it does. It does make a difference. And I and I think yeah, the one thing to remember because I could hear all the smoothie lovers heartbreak is that you can still have it if you really love it.
Elizabeth Cullen
Yeah.
Natalie K. Douglas
But just room temp.
Elizabeth Cullen
And pop some cinnamon in there because that's so warming for you.
Natalie K. Douglas
Oh, I love cinnamon, so delicious.
Elizabeth Cullen
It's actually a Chinese herb. And so and so herb that's a Qi warmer so warmer and circulated. So it's wonderful for women's health.
Natalie K. Douglas
Beautiful. I love it. Well, they're really good dietary tips. So thank you. Now, what about when it comes to pain management for endo? Are there any tips or tricks beyond what you've already mentioned that you find work really well?
Elizabeth Cullen 11:28
Yes. Okay. So I think when we're talking about the monthly cycle, I think we should probably start there. And from that social perspective, again, educating your loved ones and friends around you of what the menstrual cycle is like, and where you find that your flare-ups are so that everyone else is mindful around you, making sure we're only human and sometimes we get off the bandwagon with our diet. And I don't think having that associated guilt or oh, I should have done that today. I think just making sure that you've been really compliant through that luteal phase of the cycle and having food prepped for you with say, for example, slow cookers, they're very easy to pop in the freezer, and having those ready for you to support you when you are menstruating. And having that flare up is going to really help. Staying away from chili. Chili is too Yang for the body so it's too spicy. And sometimes I say in patients that it actually causes more of a flare up. So I would recommend staying away from Chili. And then from a perspective with we have a herb called moxibustion. So moxibustion is actually part of the mugwort tree or plant and it's anti-inflammatory. So, you know, the warming little herb?
Natalie K. Douglas
Yes, that is delightful.
Elizabeth Cullen
Yes. Do you know, how that directly feels like it's going through to the uterus?
Natalie K. Douglas
Yeah.
Elizabeth Cullen
So teaching you how to use that at home is a wonderful tool as well. Magnesium spray on the lower abdomen with a heat pack always works quite well. Making sure that you're meditating and looking after your mind, scheduling downtime, and healthy boundaries. And then as you would say Nat you know, your magnesium in there and using you can and then we go down the Chinese herbal medicine route as well.
Natalie K. Douglas 13:14
So speaking of yes, supplements, and TCM, herbs, and therapy there, are there any ones that pop up regularly in endo, and obviously we'll preface this by saying always individualize but in terms of just ones you find yourself prescribing frequently that people should explore with their practitioner. So you mean mentioned cinnamon? And what's the what's the Chinese medicine name for that because I know it's not just cinnamon?
Elizabeth Cullen 13:41
Gui Zhi.
Natalie K. Douglas
Okay. Got it.
Elizabeth Cullen
GUI ZHI
Natalie K. Douglas
I know. I was trying to pronounce mine the other day and my husband was like, what are you saying? Just like, just need to take it is.
Elizabeth Cullen 13:57
I know, Mandarin and then you pull up on the Australian accent. I'm just about to start another Mandarin course because when I'm over there my accent just like the locals just look at me are just like what? You know, you're trying.
Natalie K. Douglas
Oh, that's hilarious. Okay, so besides cinnamon, I'm gonna call it cinnamon because I don't want to embarrass myself more than I already do on the podcast sometimes. What else do you find frequent prescribers for you?
Elizabeth Cullen 14:24
So depending on the individual, so I always like to have the vitamin D checked to see what's going on from there. Again, this is all for an individual and I'd always recommend as you said before that check with the practitioner, magnesium, zinc. I think we probably probably can't say product names, can we?
Natalie K. Douglas 14:46
Oh, no. You can if you want to. I think I know you're gonna say, you can say it. I know what you're going to say. Yep. Yeah, please on that one.
Elizabeth Cullen
Yeah, yeah. So coming down the central nervous system again. So just making sure that patients in their penis and I hope that, oh, PNS.
Natalie K. Douglas 15:05
Make sure they're on their penis? Oh my God, I'm not editing that out. That's amazing. This happens to me all the time. So I'm glad someone else's experiencing it.
Elizabeth Cullen
Yeah, always putting that.
Natalie K. Douglas
Everyone will remember that.
Elizabeth Cullen 15:15
Yeah, yep, so parasympathetic nervous system we want to we want to get back in there. So rest and digest. So let's support our body by trying to stay in there as much as possible. And one way I really recommend is with your magnesium as well as is a wonderful support for the entire body. And then we've got some Chinese herb. So Chinese herb, always acupuncture is the lesson, and acupuncture and Chinese herbal medicines are the homework. So with the homework side of things is one depends on what your online pattern is. So the herbs that you're taking are for blood stagnation.
Natalie K. Douglas
Yeah. Yeah.
Elizabeth Cullen
So, depending on the endometriosis, and the underlying pattern is the Chinese herbs that you'll take. And depending that can depending on your practitioner, that can also change throughout the month of what actual supplementation you're taking.
Natalie K. Douglas 15:59
Mm hmm. Awesome. I love it. And it yeah, it's it is so important that it's individualized when it comes to supplements because as you said, things everyone, every patient is a little bit different. So just remember that.
Elizabeth Cullen 16:16
The probiotic, our friend the probiotic.
Natalie K. Douglas 16:17
Yes. I know there's so many we could we could mention. My so a couple of extras that are my favorite that aren't necessarily TCM related, but I love curcumin. Is that too though from a TCM perspective, is that to like, like, like Yang or is it not classified as Yang?
Elizabeth Cullen 16:35
It's just, I'll say another product name if that's okay.
Natalie K. Douglas
Yeah, go for it.
Elizabeth Cullen
The Inflavonoid Sustained Care. I've got sustained care. I've got, I used, I do manage a lot of patients in their pain with that rather than using anti-inflammatories.
Natalie K. Douglas
Yes.
Elizabeth Cullen
And um, no, I think it's a wonderful support. Curcumin is yeah, as you yeah, forgot about that one. It's your best mate.
Natalie K. Douglas 16:57
Yeah, I love that. And I also love PEA, which I get the long name for it. And I'm not going to try and attempt it. I'll pop it in the show notes. I find that one.
Elizabeth Cullen 17:07
The Biomed1?
Natalie K. Douglas 17:08
I've been using the BioCeuticals one, but there's heaps of different ones. And I've found, I've had patients use different different brands and still had good results. The research isn't there specifically yet in relation to period pain, but there's a lot of research behind it in pain generally. And I found it to be really effective. Pardon? I'd yeah, I've used it for myself. And it did really help.
Elizabeth Cullen 17:30
Because we've just got it into the clinic. I have, so I'm just beginning to use it now.
Natalie K. Douglas 17:34
Yeah, I I've used it on myself and a few patients. And I'd say around about 70% of people have found it, that I've prescribed it to have found it to be helpful. And then as always, there is a few outliers that that haven't, but definitely worth discussing with your practitioner for those of you listening, who are like, why are they talking about PNS and peas. So, PEA is a supplement. Okay, so now, I want to move on to the second last question that I have for you, which is really around shared care, which we've touched on throughout the podcast a little bit, but I you know, we both absolutely love it. But when it comes to endo and your endo patients, are there any other types of practitioners that you encourage them to also work with?
Elizabeth Cullen 18:30
Yes. So with, can I talk a little bit about shared care?
Natalie K. Douglas
Yeah, go for it.
Elizabeth Cullen
Is that okay?
Natalie K. Douglas
Yeah.
Elizabeth Cullen
So, I really, if I could encourage one part of that responsibility of your own health, is try and get your practitioners and your doctors and specialists speaking. And even if it isn't via email, or whatever it may be, if you ask your practitioners to write letters of just where you're at with your treatment, and what you're taking at the time, and just give it to your specialist or to the other practitioners, a lot of the time the practitioners and your doctors are so open and really are willing to discuss and work on your outcome together, because that's the reason why they do the job. So I think it's that side of things. So, don't be afraid to ask, and also don't be afraid to tell your specialist what else you're doing with other therapies and complementary therapies, because I think sometimes there are patients get a bit nervous to speak up as well.
Natalie K. Douglas
Yeah. Yep.
Elizabeth Cullen
Yeah. So I think, just just to make a note on that. But on additionally to you Nat, and for further testing, I recommend seeing a pelvic floor specialist as well. So an internal women's health physio, I find a lot of women who come into the clinic and I recommend them to see one of our local physios around the area for an internal women's health check-up. It is they get such a benefit out of it. So just to see what's going on from their pelvic pain perspective, and seeing that improvement with intercourse as well from doing that, and then having those direct effects on their relationships as well, which I find to make such a difference in. On the pelvic floor perspective, I think we should be doing that from a preconception perspective anyway. So, especially if you're our endo patients and just improving their quality of life, also finding a gynecologist that you feel really supported with. I think it's it's really important and and from that perspective, someone who is open as well as working as part of an integrative medicine team, there's many out there that acknowledge the support and benefit that you can get from managing your symptoms of endo. And yeah, I think that's.
Natalie K. Douglas 20:39
Yeah, I so agree and I refer to similar similar people. So usually the little, the gift, the trio is. So Charlotte from Flow physio is what is who Liz was referring to, that's the local one that we refer to, but there's plenty.
Elizabeth Cullen 20:55
Hear a millions from Flow Physio too.
Natalie K. Douglas
Yes.
Elizabeth Cullen
Yeah.
Natalie K. Douglas 20:58
Like, plenty around. Like they just wanted to local to us. But there are other ones around, we actually interviewed a pelvic floor physio from New Zealand, I think she was based in Monaco. So everyone can go back and listen to that episode as well. So our New Zealand listeners can go and see her or even reach out to her if you're not exactly where she practices find out if there's someone that she knows of that does. And then I also I love what you said about finding someone that is at least open. So I think sometimes we get really hung up and almost it stops us taking action when we can't find the most perfect integrative doctor or specialist that is just knows everything about everything. And is, you know, arms wide open with all of the things. I think that that's would be amazing if we could all find that but I think the most important thing is finding someone that will listen to you, that will work and honor the way that you want to kind of, you know, treat your body to an extent and not be dismissive about things that they don't know anything about but just be honest and curious. Because, as Liz and I are saying throughout this whole podcast, like, no, no one is going to know everything that is possible that they can do for you. And that's why that team environment is so important in terms of having a few different eyes, looking after different aspects, and communicating what they're doing. And I think it it makes as a patient, it makes people feel really empowered and cared for, and not this kind of feeling of like, oh, I'm seeing that person and they said one thing and then the other person said, I can't do that, and I shouldn't and I it's a waste of money. And I think that that creates so much stress. So I think it's really important to find just people that are open-minded and then are willing to to communicate, and there are heaps of them out there.
Elizabeth Cullen 22:57
And Nat, I'll be interested in your thoughts on this. I've kind of, I've come to a place as well of with with patients of them creating the integrative team. So as as giving them the resources and the and the referrals, but when they when they see, when they see their specialist, but creating that conversation because a lot of the time depending on the specialist, they're not going to bring it up. They're there to talk about is there going to be another lab. Then their specializing on the endo. So we're looking at that person as a whole person and bringing that conversation up so that you've got that respect for your body that you know that there's that awareness that is necessary and saying look, here it is and this is what I've been doing and you know what, I've actually been finding, I've been getting a benefit from it. And after a few times, they're gonna listen.
Natalie K. Douglas
Yeah.
Elizabeth Cullen
Depending on, depending on your gyne, and the other and the other part is. I don't know we said it before, but again another second opinion. Don't, if you if you're not satisfied with your first opinion from a gyne or someone else, go and have a chat with someone else. You don't always have to action plan it just go and have another little chat.
Natalie K. Douglas 24:02
I agree. I so agree and I think it's so something I'm really passionate about like you know endo or other things is that your like if sometimes it comes out too harsh and I don't mean it to be harsh, but like you are responsible at the end of the day to to fix. I guess you're like you're the only one that can fix yourself. There is all these amazing people that can support you, educate you, and give you options and and kind of steer you in the right direction. But you're the only one that can you know, that's with yourself 24/7 that can implement some of those things that can move on if something or someone isn't working for you. And not just falling into that victim mindset of, you know, poor me or nothing works. I mean, I say that with such compassion because I've been there like I've so been that person, but the moment like you let yourself sink into that for too long, it's the moment you give up the power to actually make a change. And so I think that even though it is bloody exhausting sometimes to continue telling your story over and over again, there will like, when you tell it to the right people, and you have the right attitude and mindset towards making the changes, and you're consistent, not perfect, but consistent. I do believe that, you know, healing is possible because our body wants to be well, I really believe that.
Elizabeth Cullen
And, and if you're ready to do the work, you can do it, you can do it and creating those healthy habits that are going to help you every day. Try and do that and be really compliant when you will, because it's a lot easier to do that way when you're not. And I think that perspective of educate yourself in as many ways as listening to podcasts, getting different perspectives. And yeah, just find your team because there is a way to manage it.
Natalie K. Douglas
Mm hmm. Yeah.
Elizabeth Cullen
Yeah, but it isn't. I know, there's no cure at the moment but if we can find a way to improve quality of life for each individual, it's doable.
Natalie K. Douglas
Absolutely. And I think, also eyes on your own lane, because sometimes it can feel really upsetting when you're like, well, so and so like, eats whatever she wants, and, like parties or like, does too much exercise and her periods aren't even painful at all, like why me? And I again, I've been that person. And I just think like, this is like, this is your story at the moment, this is your experience. And that's okay. It's like, it doesn't get you anywhere, by comparing yourself to other people and that goes for whatever health thing you're experiencing, like, you'll always be able to find someone that is, you know, quote-unquote, better off than you and worse off from you. And I think if you focus on that, then you're taking away so much energy that could be put towards your own healing instead of putting it into your own suffering.
Elizabeth Cullen 27:03
Yes. 100%.
Natalie K. Douglas 27:04
So that is our lecture for today, friends. Just kidding. It was. I do have one final question, actually, which I love to end the podcast on, which is, what is one thing that you do with your health daily at the moment is that you're really enjoying?
Elizabeth Cullen 27:24
So Nat, I've been a little bit cheeky with this answer.
Natalie K. Douglas
Go for it. I'll accept the cheekiness.
Elizabeth Cullen
Okay, I couldn't think of one. So create an acronym.
Natalie K. Douglas
Oh, I like, I respect the creativity. So I'm gonna allow it.
Elizabeth Cullen 27:38
Thank you so much. Um, so it's M, M, and M. And so that is movement, meditation, and mental health.
Natalie K. Douglas
I love it.
Elizabeth Cullen 27:48
So, I, my main philosophy for myself is be responsive rather than be reactive. And I know is if I look after my mental health, through meditation through rest through my eight hours of sleep, which is a relationship that I've really only created probably in the last, probably in my late 20s, I realized how important sleeping is. But yeah, that is for me is if I'm coming from a place of response throughout my life, and clinically, but also through personally, I find that my physical body will always benefit. So if I don't make those reactive decisions, and I come from a place of response, and I come from a place of respect towards myself, is that I'm always better off.
Natalie K. Douglas
I love that.
Elizabeth Cullen
Yeah.
Natalie K. Douglas
And I bet that you're more creative now that you've had more sleep, which allowed you to come up with that very amazing acronym. I love it. That's so good.
Elizabeth Cullen 28:44
Oh, I was gonna say with movement. And with that, I also knew that endo, if I could just bring that back to endo.
Natalie K. Douglas
Oh, yeah, please do.
Elizabeth Cullen
Movement is so important for the body from a Chinese medicine perspective because liver Qi gets stuck if we don't move. So I just think it's really important for our endo patients who feel that they can't get to HIIT classes, like their friends, or going to yoga classes, their worst nightmare, that even just gentle, very, very gentle movements, such as Tai Chi, or going and swimming in the pool, or some of my endo patients go to acro aerobics, that that's a wonderful option for you. And just that gentle movement helps the head in the mind as well. And that let's not forget mental health and how chronic pain affects our mental health as well. And that's why we have mental health care plans in Australia. I'm not sure what it's like in New Zealand, but I'm sure not sure. But that side of things if I always I think that an intelligent person will always have a chat if they need to because there's no point you carry those rocks on those shoulders that are bugging you every day with those negative thought patterns if we can work to unpack it and support the body because you'll find that physically that will also support you too.
Natalie K. Douglas
Yes, yes, psychologist and that side of things is another referral that often goes out? Which it's funny, we always do as well. So, absolutely, absolutely. I love that and so important. And I really hope that everyone listening has taken a lot away from that conversation because I certainly have, I've learned a lot actually, even in just the hour that we've spent together. And Liz, for people who want to continue following you, or if they're in the local area where we are that want to come and see you, where is the best place to find you.
Elizabeth Cullen 30:35
So the clinic is in Caringbah. So myself and there's four other practitioners, as well at The Dao Health. And if you do, if you're not from Sydney area or not from the Southern Shire, you can always email us and we'll do our very best to find you an acupuncturist as well because we do recommend referring around Australia and to New Zealand, we have people around the areas who are registered acupuncturist who do treat very, very similarly to us. So I think, yeah, that's, that's where you'll find us. And then yeah, we're not hugely active on our social media, we probably could do a better job at that but we are on Instagram.
Natalie K. Douglas
Busy treating people.
Elizabeth Cullen
Yeah. I think we kind of, we kind of got to this point where we thought, you know, where is our time best spent? And we came to the point where we go education through podcasts.
Natalie K. Douglas
Yeah.
Elizabeth Cullen
And, and yeah, and through treating. So yeah.
Natalie K. Douglas 31:29
We appreciate you educating us. So thank you, I'll pop all the links to your website to Instagram, all that kind of stuff in the show notes for anyone that wants to follow up with it. What were you going to say?
Elizabeth Cullen 31:36
Sorry. Can I also say, there's just some books that I am, I've wrote. I wanted to give you to recommend.
Natalie K. Douglas
Yes, go for it.
Elizabeth Cullen
It's Chinese medicine ones as well because people do ask a lot. I know that you would already recommend Lara Briden's period.
Natalie K. Douglas
Yes.
Elizabeth Cullen
That would be and then and Healthy Hormones as well.
Natalie K. Douglas
Yep.
Elizabeth Cullen
Well, yeah. But the other two was Yang Sheng, so the art of Chinese self-healing, and that's by Katie Brindle.
Natalie K. Douglas
Okay. Yep.
Elizabeth Cullen
And Recipes for Self Healing, which is by Daverick Leggett.
Natalie K. Douglas 32:09
Oh, I love it. Okay, I'm gonna pop those in the show notes as well.
Elizabeth Cullen 32:12
Yeah. So um, just just as a little bit more, and then yeah if people are looking for any more resources or anything like that, you can always just email us and we'll get back to you.
Natalie K. Douglas 32:20
Amazing. Well, thank you so much. And I'm sure, everyone is going to go away and have a warm lunch or breakfast or dinner whenever they were listening to it.
Elizabeth Cullen 32:31
Yes, we would be very happy.
Natalie K. Douglas
I love it. All right, ladies. Well, we'll have to have you back on again.
Outro 32:37
Thanks for tuning in to The Holistic Nutritionists Podcast. Remember, we love to make the show relevant to you. If you have any questions or topics you'd like us to discuss, just submit them to [email protected] and we'll get them answered for you. Also, don't forget to subscribe, rate, and review the podcast on iTunes and share it with your friend. And if you're looking for more info about how we can accelerate your journey to your optimal health, you can find me, Nat, over at NatalieKDouglas.com, and Kate, at TheHolisticNutritionist.com. See you next time!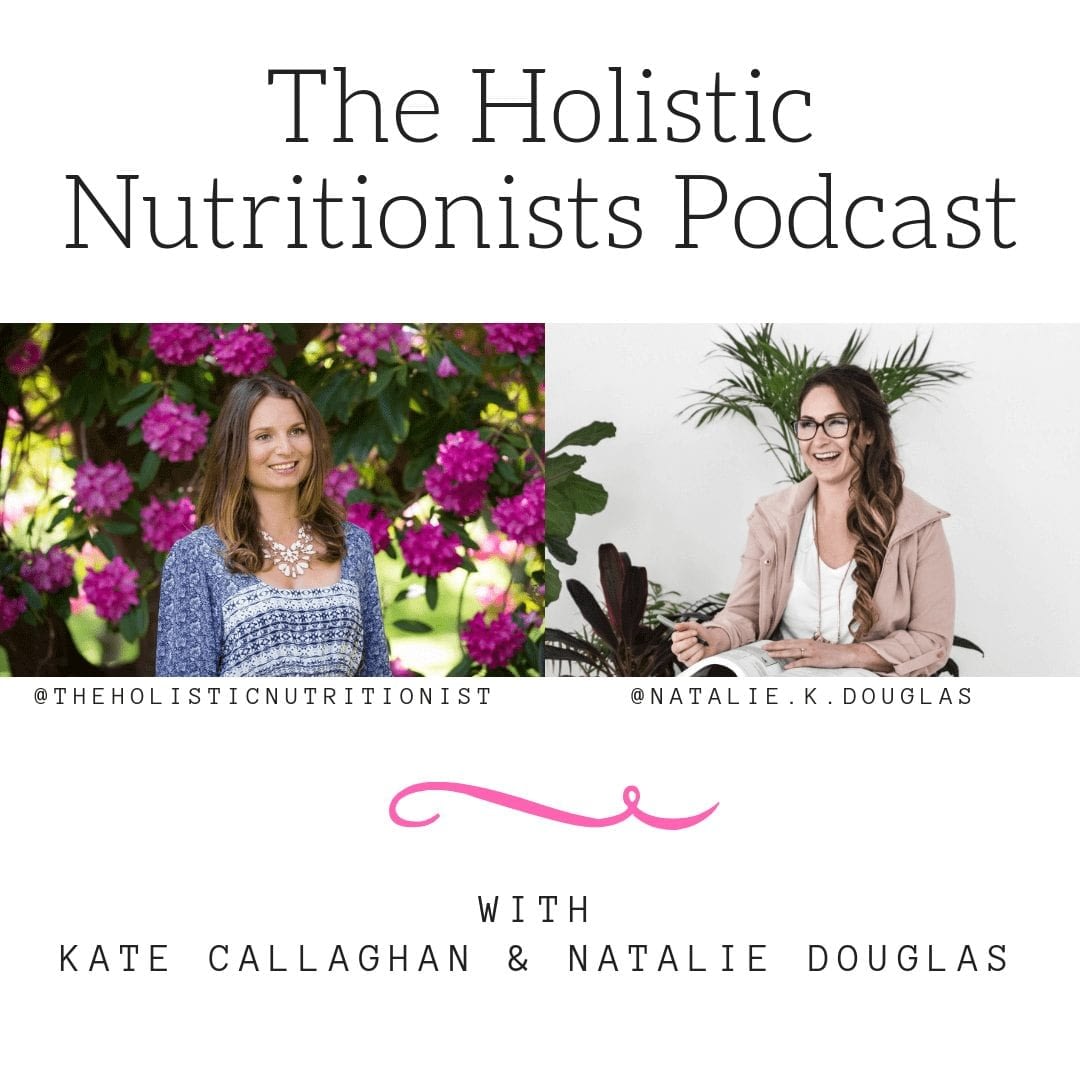 Welcome to The Holistic Nutritionists Podcast!
If a professional, polished, well-edited podcast is what you're after…then we're not for you!
But if you love unfiltered banter, unedited bloopers and authentic heart sharing then we are your ladies.
We also have the most practical tips on holistic and alternative health care too 😉
Have a question that you want answered on the podcast or want to be interviewed? Get in touch!
Search my content by category…
LIKE WHAT YOU HEAR? Help us spread the love with a 5 ⭐ review on iTunes!