#86 Menstrural Cycle Upgrade & Creating Cycles You LOVE - with Nikki Gonda, founder of Moonbox
The Holistic Nutritionists Podcast
LIKE WHAT YOU HEAR? Help us spread the love with a 5 ⭐ review on iTunes!
SUMMARY
In Episode 86 of The Holistic Nutritionists Podcast, Natalie Douglas and her guest, Nikki Gonda (Founder of Moonbox & Female Hormone Advocate), discuss what a normal menstrual cycle looks like, the signs of a healthy period, and how to keep track of your period.
TOPICS COVERED
Nikki's doorway into optimising women's cycles
What a healthy period looks like
PMS – normal or just common?
How to support the follicular phase of the cycle
How to ensure you ovulate and how to know if you have
Supporting your luteal phase
Menstrual cups and period undies 
Ways to track your cycle
Natural contraception – what are your options
All about Moonbox
Final question; what is one thing you do for your health daily? 
RESOURCES
GUEST BIO
TRANSCRIPT
Intro 0:00
Hello and welcome to The Holistic Nutritionists Podcast, with your hosts Natalie K. Douglas, Thyroid Healer, and Kate Callaghan, The Holistic Nutritionist. Nat and Kate are degree-qualified dietitians and nutritionists, certified fitness instructors, speakers, and authors. If you love unfiltered banter, unedited bloopers, and authentic heart-sharing, then we are your ladies! Now it's time to sit back, relax, and get ready for our latest tips on living your healthiest life possible.
Natalie K. Douglas 0:37
Hello lovely people. Welcome to the first episode dropping of 2020. Pretty exciting. Yeah. And what a wonderful way to kick it off with an interview with the beautiful Nikki. Nikki is a period expert and founder of the epic company Moonbox. Moonbox is about transforming the way women experience their periods. It's about busting period to booze and creating a world without period pain, shame, and monthly suffering. It's about providing a holistic, effective, and long-term approach to balancing hormones and relieving menstrual symptoms naturally, without the pill, without drugs, or surgery. We are going to share all about how you can get amongst this goodness Nikki has created in the podcast, so make sure you listen to the end. And in the meantime, enjoy all of the incredible information that Nikki has shared with us in this episode. And a quick reminder that if you haven't completed my thyroid symptom checker quiz, now is the time to do so. This is a completely free way to screen your thyroid personally developed by me that has seen thousands of women take advantage of already. If you're ready to find out more about your thyroid health then head to NatalieKDouglas.com/free-thyroid-test or head to my Instagram page at Natalie.K.Douglas and just click through the link in my bio. Hey Nikki, welcome to the podcast. So awesome to have you with us. How are you feeling?
Nikki Gonda 2:18
Thankfully, I am feeling good. I'm feeling revived and refreshed over the weekend.
Natalie K. Douglas 2:25
Lovely that's what you want to feel. Nice. And did you have a nice Christmas and New Year's break?
Nikki Gonda 2:29
I did. Well, I didn't, I did work most of the time to be honest but I did get some time to just pull back on the hours which was nice and catch up with the fam and friends and yeah spend spend a lot of time dipping in the ocean and just regrounding.
Natalie K. Douglas 2:45
So good. So good, isn't it? I went to go for a swim this morning but the surface like massive and I tried to be like and it says beach closed or whatever. I was like beach closed whatevs.
Nikki Gonda
Ignore.
Natalie K. Douglas
And like went out there and I go like halfway in and one of the lifeguards is like calling me back and I'm like, oh, this is a little bit embarrassing. And then as I was turning around to look at him, one of the waves hit me and had a bit of sideboob popping out and I was like, oh, I wanna I considered for a moment should I put on a foreign accent just so I could make an excuse as to why I could not read the sign but I didn't I just walked off and did a bit of a shame walk.
Nikki Gonda
Pretended didn't happen.
Natalie K. Douglas 3:38
Yeah, I was like, I don't know what you're talking about. Anyway, so to start the podcast, we always love to ask guests a similar question because I'm just fascinated by morning routines. So my first question to you is what's your current morning routine, like?
Nikki Gonda 3:50
So my current morning routine is to be honest, very flexible. I used to be really strict on my morning routines. And I guess the beauty of working for myself is that it can be flexible and at the moment my body's craving rest and I'm really honoring that so I'm sleeping in more. My body clock wakes me up at around seven. I always start my day off straightaway jumping into meditation or breathwork practice that I love then followed by a Moonbox Elixir and I'll always have that in bed. And that's when I usually use that time to tune in to how I'm feeling when I'm not in my cycle and my journal a little bit and just set myself up for the day. Then it's always a coastal walk and then jump in the ocean and then I'm set.
Natalie K. Douglas 4:38
Beautiful. Our morning routines are like almost exactly the same, I'm like, have you been in my my world? I so feel you. Yeah. And it's funny because you notice how my at least I know I should speak for my, I noticed such a difference when I do have that kind of morning versus I went through a phase that getting up going to making coffee and then starting work straightaway just thinking, oh no, I just I have to get into it and get it all started. And I noticed if I ever do slip into that for some reason, it just starts me off so not in a really anxious place whereas I totally, like feel you on the meditation or breathwork. And then yes, coastal walk and ocean.
Nikki Gonda 5:22
Agree. It's so true. Like it gets, like really low as the cortisol to start the day. I feel like jumping into it straight away. My cortisol is already high, and I'm stressed.
Natalie K. Douglas
Yeah.Exactly.
Nikki Gonda
So it's like, by grounding process.
Natalie K. Douglas 5:33
Yeah. And then it gets to like 2 PM and I'm like, I haven't left the house yet. So which maybe not a problem for everyone listening, but definitely a problem for some of us who run businesses from home. So yeah, I love that morning routine. So what actually inspired you to create a whole business around periods? Is there a personal backstory to this?
Nikki Gonda 5:57
Yes, absolutely. I thought I could somewhat cliché in that, I guess my inspiration came from my own struggles with menstrual health. I definitely was a team that suffered from terrible period pain, PMS, skin issues, and that those symptoms are what led me to go on the pill. And then I was on the pill for six years of my life. And then it was when I came off the pill, all my symptoms returned. And I, it was the first time I started to question well, hang on, why, you know, what was I just putting in my body for the past six years? And surely, there has to be a better alternative, a more natural approach. And I guess that, yeah, I just started jumping into the natural route of like healing and sort of studying nutritional health science and making changes in, you know, my food, and really getting to a place where I was like, whoa, food is so powerful, with the health of hormones and overall health. And it was from making those changes that I got to a place in my life where I no longer experienced, you know, PMS and mood swings, or the cramps, and my skin cleared naturally. And I was like, hang on a second like, why doesn't every single woman know about this, I'm surrounded by friends who complain about their periods and hate them. And I was actually, you know, got to a place where I was enjoying them and looking forward to the arrival. That sounds crazy but that's, that's where I got to, and I and I guess that's what kind of where Moonbox came from the idea of wanting to be a voice and the support, provide the support for women that I was, you know, well, that wasn't there. Um, the more natural approach, so that's, that's where Moonbox came from.
Natalie K. Douglas 7:40
I love it and, you know, I, I so agree with you, it's, it's almost like the reason why it sounds crazy for you to say, I, you know, enjoy my period, or at least don't dread it, is because it's actually so common for women to have the opposite experience of their period, or just beyond the pill where their hormones are completely shut down. And so I love that you say that, because for so many people, it would just be like, what? Enjoy my period girlfriend, are you serious? Whereas I feel you. I think there there actually is a way to get to that place, you know, and it often does come with starting to understand your cycle a little bit better as well, which, for me talking to so many women, you know, in one-on-one consultations, it's amazing to me how many women and this is not a judgment, it's more just like an observation. Don't know that there are phases of their cycle. Don't know what to look for in terms of what ovulation looks like, don't know what a healthy period looks like a full stop. And I guess that's what I want to dive into today because it's really important, I think, as a foundation to know what all of these things mean. So do you mind talking us through what a healthy period looks like?
Nikki Gonda 9:07
Mm-hmm. I'd love to. I think it's going off what you said, it's so important that we can understand what a healthy period looks like because it is an absolute reflection of our overall health. I think one of the cool things is that, that I always like to add in is that like, your period is classified as your fifth vital sign, right? So just like you were spiritually right, your heart rate, your blood pressure, your temperature, your period, the symptoms you have in your period, and how you experience it is going to indicate a lot about your health or any underlying condition. So that's why I feel it's so important. We understand what a healthy cycle period does look like. And I'd say like number one, the first thing is your, I know a lot of people can get confused around you know, what is a healthy cycle length, and everyone will say if it's not 28 days, then mine's wrong, when that's just, you know, that's an average. But if your cycle length is anywhere from 21 to 35 days, that's considered you know, a healthy cycle like, then with the length of your period, anywhere between 2 to 7 days, is considered a healthy flow, if you're going less than two days, more than seven days, you know, it starts to look at those some kind of underlying imbalance there as well, then the same as one thing I love and really encourage women to look at is the color of their blood.
Natalie K. Douglas
Yes.
Nikki Gonda
And color can indicate so much, you know, we want to, we want to aim for our period to be like a bright cranberry, red, brightly colored cranberry juice, as opposed to say, like watery pink color, which can indicate say, maybe estrogen deficiency or low estrogen levels, or maybe nutrient deficiencies, or, you know, if your period is really dark, purply colored might say another thing, maybe it's too much estrogen, it'll say a lot about what's going on. So always check the color of your blood, then the same as the consistency of your periods. I say, if you're someone with like, lots of clots, look at how big are the clots, because you know, big clots bigger than the 20 cent piece, it's probably going to say a little bit as well. So you don't really want lots of clots in your period either. And then with how much period blood you losing, on average, healthy loss of blood, and this will come as a surprise, because I know when you know, I know women think that they lose heaps of blood on their period.
Natalie K. Douglas
Like I'm basically gonna die.
Nikki Gonda
Like, it's actually it's two and a half tablespoons, right. So that's on average, like 30 to 50 mils, of blood. So changing, so I think it equates like something like 10 regular tampons over the entirety of your period. So if you're changing your tampon every hour, or, or every one, you know, every two hours, you know, that's, that's quite a heavy flow, that's indicating or if you're changing it once a day, it might be something you know, it's a light period. So kind of also taking note as to how often you're changing a tampon or filling up your menstrual cup, like take note of how much blood you're losing. And then the last thing I'll add to indicate indicating of a healthy period is symptoms. A healthy period should really arrive with minimal to no symptoms, right? Breast pain, premenstrual headaches, cramps, bloating, just you know, intense cravings. These are signs of underlying imbalance.
Natalie K. Douglas 12:33
Yeah. All those like wild mood like mood swings where your partner or friends are like, what just happened. I know I've been there.
Nikki Gonda
Totally.
Natalie K. Douglas
I definitely been there.
Nikki Gonda
Right?
Natalie K. Douglas
So, I remember my husband or partner at the time he, like the heater wouldn't turn on. And he came hot, like I was trying to turn it on myself. And he came home. And he was like, oh, what happened? I burst into tears. I was like, I just don't understand this thing. So and I know, I'm not alone in having had that experience.
Nikki Gonda 13:08
I think. I think when especially when women don't track their cycle, they'll go through that premenstrual phase speaking that something is wrong with them. They're like, why am I anxious? Why do I feel depressed? Why am I crying at the drop of a hat? And then they get their period? And they're like, oh, that explains it. But I'm always like, imagine if we tracked our cycles, and we're aware, oh, I'm you know getting my periods soon. I'm gonna be, you know, more kinder on myself this and really accept that, oh, this is why I'm emotional in this way. I think it really forces like a new level of self-awareness and self-acceptance. So that your aware, you know, you know why you are feeling more emotional?
Natalie K. Douglas 13:44
Yeah, absolutely. It's like working with your body, instead of trying to force it against it like, we are not just like, we are not men like we don't just have flatline hormones. And I actually think when you learn to harness the power of your cycle, and what happens throughout the phases, you can use it to your advantage, like there are times when I feel super energetic and super creative, or there are times when I feel more introverted and need more rest. And I think what happens, what I see a lot is when there's a disconnect or a misunderstanding of that, and then this force thing or disconnect from like body and mind and like, why aren't you doing what I told you I want you to do. Whereas if you start working with it, it's just so much more helpful but I feel like the foundation of that is understanding well, what the heck is going on throughout that phase? So what are kind of let's start at the beginning. And I'd love for you to share with everyone, what are your favorite ways to actually support the follicular phase of the cycle?
Nikki Gonda 14:49
Sure. So I guess it is so there's two parts of the follicular phase we start off with menstruation. And this really is a time I just think menstruation I think of rest and reset, you know, our hormones are at their lowest, which means, you know, usually our energy and our moods and our motivation are going to be their lowest as well. And naturally, our body is going to want us to rest more, you know, we're literally shedding and it takes energy. So we want to be resting as much to really allow for our body to allow that process to naturally take place. So for me, this is where the time where I really, really tune into how I'm feeling, and I honor that. So I rest more and that might mean going to bed earlier or maybe if I can, in the day sleep a little bit later, I'll ensure that I'm eating a lot more nourishing warming foods that are really, you know, nutrient-dense. We are losing nutrients, you know, through the blood we're shedding. So we want to make sure we're, you know, replenishing them. And also, I'm not going to force myself to go and do super intense forms of exercise. This is the time where I'm like, okay, I'm not going to go to the gym today, if I'm not feeling like it, then I'm going to go for you know, a slow walk out in nature, or I'm just going to stretch or do yoga. Um, yeah, I would say this as the time where I just, I really, I rest more and take care of myself.
Natalie K. Douglas 16:13
I love that. Yep, that's been a lesson for me as well as a recovering gym junkie. I definitely used to just push, push, push.
Nikki Gonda
Totally.
Natalie K. Douglas
And now I just, yeah, wake up and take the days that comes in and particularly in that phase. Like I try to do it the whole time but I think it's so so important that your schedule when it comes to if you're someone who has like a on Monday I do CrossFit, on Tuesday I do yoga, or like if you have a schedule for that time like, what I tell people is to try and instead of having a weekly exercise schedule, maybe even have like a monthly exercise template, where you look at okay, well during this time, I know my energy is naturally a little bit lower. So I focus more on doing gentle activity. And then, you know, when I have, you know, when I'm just leading up to ovulation, I have like lots more energy. And I feel like that is what I naturally want to do. I go and do my more intense stuff and being more flexible with that. I think that's really helped me.
Nikki Gonda 17:13
Absolutely. I think so too, I was the same as you. I used to be a gym junkie and when I wasn't in tune with my cycle, I would really, that would be you know, us fighting against, you know, unnatural fluctuations, and really fighting against that internal rhythm. So and that is what sets you up for later on in the month in being fatigued, it can, you know, set you up for further hormone imbalance, and, you know, really exacerbate PMS as well. So I think yeah, I know a lot of women who still push during that menstrual phase. And I feel like when you you rest more how you support yourself during menstruation and the more you rest, it's really going to set you up for know how you experience the rest of your cycle, you have more energy and that's when you take advantage of you know, using that heightened energy for more exercise. Yeah, I totally agree.
Natalie K. Douglas 18:01
Awesome. I love it. Okay, so well period, and then what about, what happens next?
Nikki Gonda 18:07
So with the second half of your, well, the second half of the follicular phase, I'd say around day three or four of your period, your hormones start to rise again. And with the rise in hormones, it's bringing up your energy as well as it's kind of like you're emerging from your period cave, and you're ready to take on the world again. Right?
Natalie K. Douglas
It feels like that.
Nikki Gonda 18:27
Yeah. It totally does. I love it. I feel like it's the best feeling.
Natalie K. Douglas
Same.
Nikki Gonda
Yeah, it's the best. So that's a time where I know okay, my, my productivity is high. And I'm going to really get my you know, set out my to do lists and plan for the month ahead. I'm going to be more social as well. And I'm going to start exercising more that rising the rising hormones brings provides an energy and I'm going to take advantage of that during the follicular phase for sure.
Natalie K. Douglas 18:55
Awesome. I love it. Okay, and then what about ovulation?
Nikki Gonda 19:00
I love ovulation.
Natalie K. Douglas 19:02
I know, it's great. I feel like it's it should be the like the focus of this whole in my opinion of the whole cycle.
Nikki Gonda
Really.
Natalie K. Douglas
But we so often just focus on the few days of bleeding. So let's talk about your favorite ways to support ovulation.
Nikki Gonda 19:16
So so with ovulation, I feel like it's kind of like the second half of the follicular phase on crack.
Natalie K. Douglas
Yeah.
Nikki Gonda
So your hormones are increasing even more. It comes with an even bigger boost. You know in your energy levels, your motivation, your confidence in your body, your libido is going to increase, you're going to feel sexier, more flirtatious, and take advantage of that. That's what I do.
Natalie K. Douglas
Yes. Yes.
Nikki Gonda
You know, to support myself during this phase. I mean, this is the time I'll take advantage of you know, this is when I'll set the workshops. If I'm running workshops or speaking events, podcasts, social events with friends, want to go on a holiday during this phase, that's when I'll book it in. I'll also make sure I'm supporting my body nutritionally. I'll make sure that I'm eating loads, more grain, like leafy greens, and fruit and especially cruciferous vegetables like your broccoli, kale, cabbage, cauliflower to really help the liver detox those excess hormones as well, which is going to, you know, set you up for a better premenstrual period when that comes along. But yeah, I feel like ovulation is really the phase where like, look good. We feel good. We get shit done.
Natalie K. Douglas 20:25
Yes, yeah. That is so good. I feel like I like come out and put like my Wonder Woman, like outfit on like, I'm back bitches that just feel really, really good. And I think something really important to say here is that if you're listening, and you're like, oh, I don't feel like that. What are they talking about? Chances are that you aren't ovulating. And that's something to look at. And I think that you have, I think of ovulation as it's not just a given it's kind of it'll happen if you look after yourself and nourishing your hormones throughout the whole month, not just like, oh, shit, I'm about I should be about to ovulate. I better do something good for myself. I think it was Lara Briden that called your period, your monthly report card. And I like how you've, you know, set like made a similar comparison of it as well, in terms of a vital sign. I think that's really important to remember. So if anyone listening is like, oh, I don't feel like that, then that's probably something to look at in terms of okay, am I doing all these things these girls are talking about throughout the whole month and not just during ovulation or when ovulation should be happening. When we're talking about ovulation. What kind of signs do people look out for to know that they are actually ovulating?
Nikki Gonda 21:45
Ovulating? Yep. So one, I'd say one sign, some women will experience might be ovulation pain. So it's called middle smarts, that's how I pronounce it, some people feel ovulation pain, there'll be you can track it you track your cervical fluid. You'll be aware that in the days leading up to ovulation, your cervical fluid will change today more of like an egg white consistency, so clearer, stretchier, stickier. As well as your temperature, if you're taking your basal body temperature when you ovulate your progesterone rises and your temperature is going to increase as well. I'd say that the and the changes in your cervical position. I always encourage women to get you know up close and personal with their cervix and learn it because it changes you know around ovulation your fertile stage, your cervix position is going to become it's like oh, usually your normal cervix position is low and you can feel it if you put put your finger in, it's harder, it's firm. And then when you are fertile, it opens and it's higher. And it's you know, it's softer and wetter to touch. These are all indications of you know around ovulation.
Natalie K. Douglas 22:59
Yeah, and I, like I so agree with you in terms of encouraging people to actually do that, like you get to know your own anatomy your own physiology. And there's not like absolutely nothing gross or shameful about doing any of those things because it can be such a good like tool and source of information like that how. People when you hear about people doing like the fertility awareness method and those kind of things, you know, tracking cervical mucus, tracking basal body temperature, tracking you know cervix position, all these things are really important. And it sounds like to some people are so airy-fairy, and that are like, oh, what if I get it wrong, but you won't get it wrong. It's your body and no one knows your body better than you do. But you have to start with actually getting to know it. And, you know, you will notice what your patterns are. And a lot of women will notice that if they've had a really stressful month that they don't actually get that same fertile mucus or some of those things won't won't happen and usually that's because they haven't ovulated that month. So I agree with you, like just track, track things.
Nikki Gonda
Track. Highly recommended.
Natalie K. Douglas
Take note of it. Yeah, yep, totally. And if you're not sure and you need like guidance with it, then you know, make sure you invest in something or someone like Moonbooks that can actually help like in understanding what what what happens and what should happen and what do you need to look out for. So I love that. Okay, so on from our ovulation. What is next? So in terms of our luteal phase, your favorite ways to support this phase of the cycle.
Nikki Gonda 24:42
With the luteal phase. I feel like the first part of it you still might be writing the highest ovulation if that's there like you said. And then as you start approaching menstruation, you know your hormones, they might, you know, they're going to start to decline as well. And this is definitely the stage where people can women, a lot of women will start to experience PMS. So I will always say, this is the phase where you crown yourself like self-care queen. You know, be gentle on yourself, kinder. This is the time the best way I support myself is by setting boundaries. Being, you know, as you know, as you're winding down in the second half of luteal phase, energy might be lowering as well. You might not want to be as social and that is okay. Be okay with saying no, that is my number one like support with the luteal phase is boundaries because I never used to set boundaries, I'd be terrible. And even if I was tired or not feeling like I wanted to socialize, I'd be like, yeah, sure, I'll do that. I'll go to coffee with you. I'll do that work meeting. And it's like, how can we plan our lives a little bit more around being you know, living more in sync with our cycles, and honoring how we're feeling in each phase. And during the luteal phase for most of us, we're going to want to hibernate a little bit more in preparation for menstruation and wind things down. This is the time our metabolism was also increasing. So it's going to increase our appetite. So I'll always, you know, make sure I'm eating more grounding like root vegetables. And then also increasing my intake of like, your omega-three fatty acids, which can help with any inflammation it might bring on your symptoms, as you approach menstruation as well. Yeah, also, during this phase, I love to pre-prepared meals. I put them in the fridge and really stock up the fridge for when I'm on my period as well because I don't really want to cook them.
Natalie K. Douglas
Yeah. Totally.
Nikki Gonda
Right, I use the time as like, you know, taking off some big things off my to-do list and winding down.
Natalie K. Douglas 26:45
Yeah, I love that. I really yeah, great practical tips. I agree completely with that. And I really find that if you stop trying to fight against that feeling of feeling more introverted like you're saying it's just makes life so much easier. I agree with you. And I think there's, there's so much to be said by setting boundaries and I love that you brought that up. So switching gears a little bit. I wanted to get your thoughts on menstrual cups and period undies because there's, I feel like there's half of the women in my circles that are like all about it and know about it. And there's another half that are just like, what are you doing? So what are your thoughts and experiences on maybe let's start with menstrual cups?
Nikki Gonda 27:35
Yeah, so I think I love both, I'll put that, I'll say that straight off.
Natalie K. Douglas 27:42
I'm a favorite child.
Nikki Gonda 27:45
I think it's supposed on these under menstrual cups. I've been using a menstrual cup for about 10 years now. But I will never ever forget when my best friend told me she started using a menstrual cup. And I was like what?
Natalie K. Douglas
Yeah.
Nikki Gonda
Gross. And I really judged her for, not have to apologize, Daisy.
Natalie K. Douglas
Same.
Nikki Gonda
Being like I'm so sorry. You're actually way too fast, you should have been judging me. But with the menstrual cup, it is oh my gosh, one why I love the menstrual cup is because once you become aware of a lot of the toxins that are in, you know, generic conventional tampon and pad brands, you you want to avoid them as much as possible. I think that's something that I wish more women knew about was the the dioxins and you know, the bleaches, and the pesticides, and the fragrances in conventional products that really can affect our hormones, our fertility. And you know, everything we put inside our bodies, outside our bodies is absorbed into our bloodstream. So as much as we can absorb, I'm sorry, as much as we can avoid toxins. You know, that's going to be for the better. And that's where my introduction to the menstrual cup came in. That's why I first started using it. I think it's one of the main reasons why we used to talk about I still do talk about it all the time and why I love it. You know, you can wear it in for up to 12 hours. You can sleep with it. It's you know, it's more, I find that it's a lot more hygienic and easy to use. Once you pop it up there you forget it's there.
Natalie K. Douglas 29:22
Yeah, like string light. If you go to the beach, there's no chance of the string just like coming out on the side and you're being like.
Nikki Gonda 29:29
Totally. And I love it because you can also see. You can really see how much blood you're losing like I said before being able to track that and also the color.
Natalie K. Douglas 29:38
Yes. They're my favorite. Favorite things. Yeah. I love that. Yeah, like because I think that it's so like the color will change once it's been absorbed by something like a tampon or a pad. And I think that it's much harder to see clots as well, particularly in tampons or how big they are because it kind of all mushes together. Whereas when you've got a menstrual cup, it's, it's so much easier. And I think that a lot of women have concerns around, you know, the hygiene side of it, but I just tell them that as long as you're applying it and removing it like with clean hands like you don't have to sterilize it between, like taking it out and putting it back in because your vagina is not sterile like.
Nikki Gonda
Yeah.
Natalie K. Douglas
Plenty of things in there. And it's not to say you want to make it dirty, but it's just saying it doesn't have to be treated like a complete sterile instrument when you're just taking it out empty and keep it a wash put it back in kind of thing. Do you have any thoughts on that side of things when someone's like, but Nikki, it's unhygienic.
Nikki Gonda 30:45
I just think tampons are 10 times more.
Natalie K. Douglas
Yeah.
Nikki Gonda
Do you know what I mean? I'm like we're literally putting pesticides with like cotton inside of our vagina.
Natalie K. Douglas
Yeah.
Nikki Gonda
Compared to you know, the like I agree with you. I'm someone you know, yes, I'm a very hygienic person. But you know, the menstrual cup I just rinse it under the sink, probably straight up and then with each with each new cycle, like I'll make sure like I'll put it in boiling water. Some people like to add a tea tree or put it out in the sun, you know because sometimes it can maybe get discolored. Yeah, I don't. I don't question that the hygiene side of it at all.
Natalie K. Douglas 31:26
Yeah, and I do the exact same thing as you in terms of like during the cycles boiling water. I usually drop I have some doTERRA oils and I just use the On Guard or tea tree and yeah, leave it.
Nikki Gonda
Yeah.
Natalie K. Douglas
Just like for a little bit and then I do put it out on the window sill where the sun comes in which you may have to check with your family that that's okay, like mind on and not all of my family does know what it was.
Nikki Gonda 31:51
Oh, I did the same thing. I had a boiling and I put it in a pot and now I just have a separate pot for myself but when I first started I was like whatever no tampons at my pot. My tampon's probably like what the hell.
Natalie K. Douglas 32:07
I know, this was my my mum's partner that was like, and we already are it's yeah, it was a little bit I don't know.
Nikki Gonda
Very funny.
Natalie K. Douglas
But that's okay, first world problems, so I agree in terms of yep doing it that way and I don't have any concerns around the hygiene aspect of it. What about period undies? I confession, I'm yet to try them out. I've been in a menstrual cup user for a really long time but I haven't jumped on that on the on the undies.
Nikki Gonda
On the tribe.
Natalie K. Douglas
Bandwagon. Yeah, for no other reason that I've just been lazy but tell me let's let's.
Nikki Gonda 32:41
So, I was honestly the same as you until last year. So early last year. Modibodi actually reached out to me and I was like, oh, I don't know. I'm a bit I'm a menstrual cup gal.
Natalie K. Douglas
Yeah. I've been approached by the doctor.
Nikki Gonda
I don't know. I don't obviously had heard so much about periodic sounds like you know, it's time to just try them. Everyone always asked me so why I should try there and I'm like it's very much in this world.
Natalie K. Douglas
Yeah.
Nikki Gonda
Honestly, I now use period undies more than my cup. I am obsessed with them. I question.
Natalie K. Douglas 33:18
So, what?
Nikki Gonda
Yeah?
Natalie K. Douglas
What, like is it a period like so for the people listening who have never heard of them before? Can you explain what it looks like?
Nikki Gonda 33:26
Okay, you know, like Bonds underwear that used to buy as a kid like cotton Bonds undies. They feel like that. Look like that. I originally thought oh, that maybe that because I've never been a pad girl ever. I always hate the idea of pads. I was like, oh, they're probably being bulky and uncomfortable, and do you feel the wetness etc. None of those things. With I speak just from what I've tried, and I've used Modibodi. I've tried two other brands, but I didn't love them as much, but with Modibodi, I know that they have like I think there's three layers to their undies and they're highly absorbent. The first layer is all like, like all about I think the first layer designs like kill the bacteria, the middle layer is like very absorbent and honestly, I use what I love about them is that there's so many different sizes and shapes, right? You can get the high waisted ones. You can even get a g string virgin version. Virgin?
Natalie K. Douglas
Virgin. You're selling some good things over there.
Nikki Gonda 34:26
But yeah, they honestly look like normal undies. So just a little bit thicker pattern. They're so comfortable as well. That's why I love them. I love wearing them to bed especially. But it will also depend I think people's biggest concern is leakage when it comes to the undies. And I guess my answer to that always is well does a tampon leak? Does the menstrual cup leak? And it's really about learning your flow and how often you just have to change your undies. So you can get ones that are very much catered towards like the heavier days which more absorbent and then there's lighter day undies and on a heavy day I might go through peak three pairs, right? And on a lighter day, it might be one to two pairs. Everyone's gonna be different but yeah, I absolutely love them.
Natalie K. Douglas
And do you. Had you wash them? Like, do you just put like how you wash them in between?
Nikki Gonda
So easy. You just rinse them on the cold water and then just chuck them in the washing machine.
Natalie K. Douglas
Perfect.
Nikki Gonda
Just so easy. Yeah, and then I just probably out to dry. And then yeah, just straight undies drawing out they come every cycle. I really look forward to them. I'm obsessed with the high-waisted ones because they they hold your little tummy too. If you're feeling a bit of bloat.
Natalie K. Douglas 35:33
Yeah, I love that. And you're like sometimes you just want some extra comfort around that.
Nikki Gonda 35:38
Yeah. Just like granny pants.
Natalie K. Douglas 35:39
Yeah, just like give that a warm hug around your belly, okay, yes, I'm so I'm gonna, I'm gonna go and order some after this.
Nikki Gonda 35:47
I'd start. I'd start with like three pairs to begin with.
Natalie K. Douglas
Yeah.
Nikki Gonda
So, I just ordered three different pairs, and see how you like them. And then like, that's what I started with. And now I add to my collection.
Natalie K. Douglas 36:00
Yeah. Like, like a yoga type collection?
Nikki Gonda
Yeah, it is.
Natalie K. Douglas
You've gotten that period undie collection.
Nikki Gonda 36:04
Seriously it is because I want to I want to try all of their types.
Natalie K. Douglas 36:08
Oh, my God, you need to like build up that collection and then take a photo. You know how like some women take a photo and just like, they just got shit tons of shoes, or bags, or whatever, you should just do a period undie one, start a revolution, create a hashtag.
Nikki Gonda 36:20
I actually should that's hilarious.
Natalie K. Douglas 36:26
You really should. I will support that. And so everyone listening. That's awesome. All right. So we've spoken a fair bit or alluded to a fair bit around, you know, track your cycle, know your cycle, all that kind of stuff. And a question that often pops up is well, how do I track my cycle and what app do I use? Because there are so many out there that are available. Do you have any favorites? And if you do, do you have a reason why it's your favorite?
Nikki Gonda 36:50
Um, I. Do you know what? I used to use period apps. And I don't anymore, but I highly recommend them. I know that I used to use the clue app.
Natalie K. Douglas
Yeah.
Nikki Gonda
And I really liked that. But I was also someone I I know that I know, my sister uses just a general period tracker app. I think it's dependent on what interface you like, you know what I mean? Flo. The Flo app is a popular one as well or if you're someone to track your basal body temperature, Kindara is great for the fertility awareness method side of things. I think there's so many apps today that I'm like, just download a few and then see which one.
Natalie K. Douglas
Yeah, totally.
Nikki Gonda
I know that sounds very unhelpful but I know some people prefer a prettier app or simpler. And there's definitely some are free, some are not free. So it's dependent but I'm I'm actually to be honest, for me, I love journaling. And I know I've won, I've gotten to the stage where I know very much know my body and the signs that I don't I don't really use the app anymore. It's funny, I kind of just phased out of it. But I do encourage everyone, I mean, everyone who does my program, I'll always recommend if they've never tracked their cycle before an app is the best place to start.
Natalie K. Douglas
Hmm, yeah.
Nikki Gonda
I record, so record every day. Like not just on your period. I always will say record obviously like symptoms you experience on your period, but also throughout the entire month, because it'll enable you to be able to pick up patterns, and maybe what influence to how you're feeling in each phase.
Natalie K. Douglas 38:21
Definitely. And I, like anyone who sees a practitioner as well. Like, I can't tell you how helpful we find this when you tell us when you've got a record because it's it's hard sometimes for people to look back and think what was I feeling one on the day I ovulated or around ovulation, like it's, you know, making stuff for us to remember. And I think having that kind of stuff written down is is really helpful and using that app to guide you first and then when it feels right if it feels right moving to yeah, like the way that you're doing it if that if that's what works for someone as well. I think that having some form of ability to track it. So like you said you can pick up on on patterns that are happening and also improvements that are happening because.
Nikki Gonda
Exactly.
Natalie K. Douglas
Sometimes we forget to just celebrate the small wins in terms of our hormones and our cycles, and I really encourage people to remember. And Kate and I always reminding people of this, that when you're looking at how your period is this month, you can't just think about, oh, what was I doing last week to make this period so good or so bad? It's what have I been doing for the past 1 to 3 months, like.
Nikki Gonda
Agree.
Natalie K. Douglas
In happening. And I think that's like, really comforting sometimes to people to remember because it can be really disheartening. If you've been like, well, I said no to all of these social catch-ups this week, and I'm still got period pain. So look back.
Nikki Gonda 0:48
I agree. That's one of the main things I really emphasize as well, I think the biggest question I always get is, I'm on you know, I've got cramps right now, what can I do to relieve that?
Natalie K. Douglas
Yeah.
Nikki Gonda
I'm like, well, at a time, it's what you were doing, yeah, up to three months ago. Definitely, that it's going to influence how you experience your period three months / more later. That's why like, for me, with the journaling side of things, I'll do daily journal journaling, and I'll be able to, if I'm on my period now, and I'm feeling super fatigued, and I've got cramps, or, you know, whatever was going on, I'll be able to rewind and look back and be like, oh, that's, you know, that's what was going on in my life, then, like, maybe I was, you know, not sleeping well, maybe stress was super high with Moonbox. And that is going to influence how I'm feeling.
Natalie K. Douglas 1:35
Yep. Yeah. And it's information. And I feel like when you have more information, you feel more empowered, and you feel less of a disconnect and betrayal by your body. You're like, okay, I understand why this happened. I get it and just move forward, like no shame, no guilt, just okay, cool. This is what happened in this time, because of the choices I made in the last one to three months. How can I make small steps to making different choices moving forward? I think that information is power, but there's no need to have any yeah, guilt or shame around what happens because it doesn't make moving forward any easier. So I think that's very important to remember. Now, what about when it comes to contraception? So we kind of have talked about well alluded to, and Kate and I have definitely talked about this on the podcast many times the downfalls of the pill. So let's leave that conversation aside for now. But what options do women have for contraception? And do you have any favorites? So we've kind of mentioned the fertility awareness method, which I love. What are your thoughts on on contraception methods?
Nikki Gonda 2:47
Yes, so. I guess I'll look at it in terms of like hormonal versus the nonhormonal options and like you mentioned, there's the pill, and you've got the implants, the injection, the vaginal ring, the patches, and you've got the Mirena IUD, so they are the hormonal side of things. Um, and I guess when it comes to them, they use steroid drugs to suppress ovulation. Which, you know, to me I'll look at is not the best thing. Well, in general, so the best thing because ovulation, you know, as you were saying before, it's so important. It's the main event of a healthy menstrual cycle. and it's what enables the production of progesterone and in trying healthy period. So I for one, I'm not a huge advocate for the hormonal forms of contraception unless it's absolutely necessary. But my favorite like, well, my favorite two is fertility awareness method when looking at the nonhormonal side of things, then the other options are things like the Copper IUD, and why I guess that's a more favorable favorable option for some women is if they're so if they find it quite overwhelming to do fertility awareness method. I'm thinking about the Copper IUD it doesn't suppress ovulation or the hormone side of things, you know, it's the copper ions they work to impair their sperm motility which is, you know, it has I think it's like the highest user satisfaction rate of all non-hormonal forms of contraception. Then you've also got the well, you've got condoms and I know condoms get a bad wrap, but guys they're not talked about.
Natalie K. Douglas 4:26
Yeah, it's kinda lot better. You can get some really thin good ones.
Nikki Gonda 4:29
Agree. You can get some great ones. There's also oh my gosh, what's that? I will think about but there is a brand that enables this, like over 60 different types and sizes. You can get online.
Natalie K. Douglas
I need to know about this. I'll Google it.
Nikki Gonda
Yeah. Google it.
Natalie K. Douglas 4:47
We'll put it. Yeah, I'll put it in the show notes once we figure it out. Don't worry, everybody.
Nikki Gonda
My myOne Perfect Fit. I think that's what it's called.
Natalie K. Douglas
Okay.
Nikki Gonda 4:55
That's what it's called myOne Perfect Fit. And then you can also, there's options for the most are non-toxic forms of condoms, which I'm a massive advocate for as well, like I think it's Glide, and the Sir Richard's, and Johnny condoms are great as a brand as well. So condoms are another favorite of mine, then you've also got the diaphragm in the cervical cap. Both I've never used but I have friends that use diaphragms and love them.
Natalie K. Douglas 5:20
Hmm. I've never used them myself, either. I'm a condom and fertility awareness method, or I combine them kind of person. But I it would be interesting to hear from someone who has tried some of the other methods as well because I think it's also about trying a few and seeing what what you like.
Nikki Gonda 5:38
Totally agree. I totally agree. Um, I've been I don't know, I think it's a brand Caya, which does the diaphragms and I was actually put on my to-do list just out of curiosity to purchase one to give it a go because yeah, who knows, I might love that too.
Natalie K. Douglas 5:55
Yeah. You might end up with a Caya collection. If someone and breaks into the house they'll be like, what is going through this house? I don't want to take anything from her.
Nikki Gonda 6:05
They would also find I love. I also, I do like their Daysy fertility monitor as well.
Natalie K. Douglas 6:15
Oh, yes. That's on my kind of wish list at the moment.
Nikki Gonda 6:20
Yeah, so, with anyone, like I'll use that in combination with fam because I just think it's so empowering to know the signs of fertility that your body gives you but Daysy is amazing in that. It literally take a temperature every morning with it and it's a computer algorithm that pretty much does it for you and indicating your fertile and infertile days because it's synced with I think it's based with over 5 million women's cycles. So it's about accurate. That's another one of my favorite.
Natalie K. Douglas
Yeah, I love that.
Nikki Gonda
Options too.
Natalie K. Douglas 6:51
Yep. Oh, so good. So many options to choose from so.
Nikki Gonda
There are.
Natalie K. Douglas
I love that. Now, I'm really curious about well, I would really love you to share with everyone about Moonbox like, tell us what it is. And what yeah, what, why, why you created, and what the aim is for people going through it.
Nikki Gonda 7:11
Yeah, so Moonbox is, well, I've definitely started creating it about three years ago. It took me I only launched last year. It's weird saying last year, 2019 in July but it's very much a holistic approach and a natural approach to empowering women with the information and the support to balancing hormones and relieving menstrual symptoms. So it really guides you over and why it's 12 weeks, it's like where you said before, this isn't any quick, you know, it's not a quick fix, it's not a four-week challenge, it's 12 weeks of really learning how to live your life in support of your hormone. So it covers all of the foundations and in a lot of depth. So from nutrition, how to eat for your cycle, to how to move through the different phases of your cycle with exercise looks at all of the lifestyle factors, then how the environment can influence the health of our hormones, as well as like the importance of looking at your detoxification pathways as well. And so you've got the online program side of things, which is video lead, and you're supported by a few naturopaths as well that work for the program. And then you also receive a monthly, that's my dog in the background, sorry.
Natalie K. Douglas
That's all right. Aren't we like dogs here?
Nikki Gonda
You also receive a monthly delivery of Moonbox products. So I've developed these products it's about 25 different products all up that you received over the three months in different boxes. And they're they've been developed in collaboration with the most amazing naturopath and the herbalist as well. And these are to really support and complement the foundational shifts you are making. So I am so passionate about that because I think that so many people will think oh, cool, I just used the box of products and everything will be fine or I'll take one supplement, and that'll fix everything. And I cannot emphasize enough holistic approach.
Natalie K. Douglas
Yes, preach I hear you. Absolutely.
Nikki Gonda
We are looking at the whole self and if you you know making changes in little you know, just simple shifts. This is what's so amazing about our body is that it responds so well to a natural approach, simple shifts in food and lifestyle and then you know, the added support with Moonbox products, which include anything from you know, really beautiful, powerful teas, which can help with cramp relief, then I've got a tea that supports you every day of your cycle. Then there's, you know, different elixirs that I have to magnesium oils, to essential oils, it's a whole range of products, which will really support you every day of the month, not just the days and when she believes um, yeah, so that yeah, it is very much about empowering women with the with the knowledge and support that I believe that we kind of didn't get when we were growing up.
Natalie K. Douglas
Yeah.
Nikki Gonda
Yeah, that's that's that's Moonbox in a nutshell.
Natalie K. Douglas
I love it. And can people join any time or is it like a it's around a certain, like, every so often like, is it any time thing or you do have certain launches throughout the year?
Nikki Gonda
You can actually join any time now. Last year, it was every 12 weeks, and now I've opened up the doors. If you want to start Moonbox today, you can receive your box within well, the same week, and start the program when you like and join the I have an amazing online community. We have the private Facebook group, there's like over 800 women in it now. In the yeah, since July, which I'm just so stoked about.
Natalie K. Douglas
Amazing.
Nikki Gonda
And everyone is so supportive of each other, you know, you're you're in it together, there's no I feel, I think a lot of women will feel alone when it comes to their periods and hormones and you're not alone. That's the thing. Um, and it doesn't have to be as complex and overwhelming. As we you know, it can often be made out to be but yeah.
Natalie K. Douglas 11:05
I love that. What an amazing program you've created. And I will definitely pop the links in the show notes for all of that. And one final question before I let you go is what is one thing that you are doing for your health daily at the moment that you're loving?
Nikki Gonda 11:27
One thing I do daily, well, I try and prioritize it as much as possible, is that I will go outside and soak up 20 minutes of vitamin D.
Natalie K. Douglas
Yes.
Nikki Gonda
That is seriously my priority because I think it is one of the most overlooked foundations to health not just the health of our hormones, but overall health you know, hormone regulation, moods, bone health, cognitive function, immunity, vitamin D is where it's at. So that's what I prioritize daily as much as I can.
Natalie K. Douglas 11:56
I love that. And we should keep doing it while the beautiful sun sun is out.
Nikki Gonda
I know.
Natalie K. Douglas
Minus the smoke, but that's fine. Oh, that's so good. And I agree with you. Mine. Mine at the moment is an ocean swim every day. I live near the ocean so I have no excuse.
Nikki Gonda
I'm right there with you.
Natalie K. Douglas
Like amazing. And you probably could probably do two in one, vitamin D and vitamin sea.
Nikki Gonda
I definitely do.
Natalie K. Douglas
I love that.
Nikki Gonda 12:21
Even the ocean you can't beat it.
Natalie K. Douglas 12:24
I know. I know. I agree. Well, it was so lovely chatting with you. And hopefully, we can have you back on the podcast at a future time because there are so many more questions that I'm sure people would love answered. But in the meantime, everyone listening can go and follow you on Insta and I will pop all the links to Moonbox in the show notes. So thank you so much Nikki.
Nikki Gonda
Thanks, Nat! Thanks so much for having me.
Outro
Thanks for tuning in to The Holistic Nutritionists Podcast. Remember, we love to make the show relevant to you. If you have any questions or topics you'd like us to discuss, just submit them to [email protected] and we'll get them answered for you. Also, don't forget to subscribe, rate, and review the podcast on iTunes and share it with your friend. And if you're looking for more info about how we can accelerate your journey to your optimal health, you can find me, Nat, over at NatalieKDouglas.com, and Kate, at TheHolisticNutritionist.com. See you next time!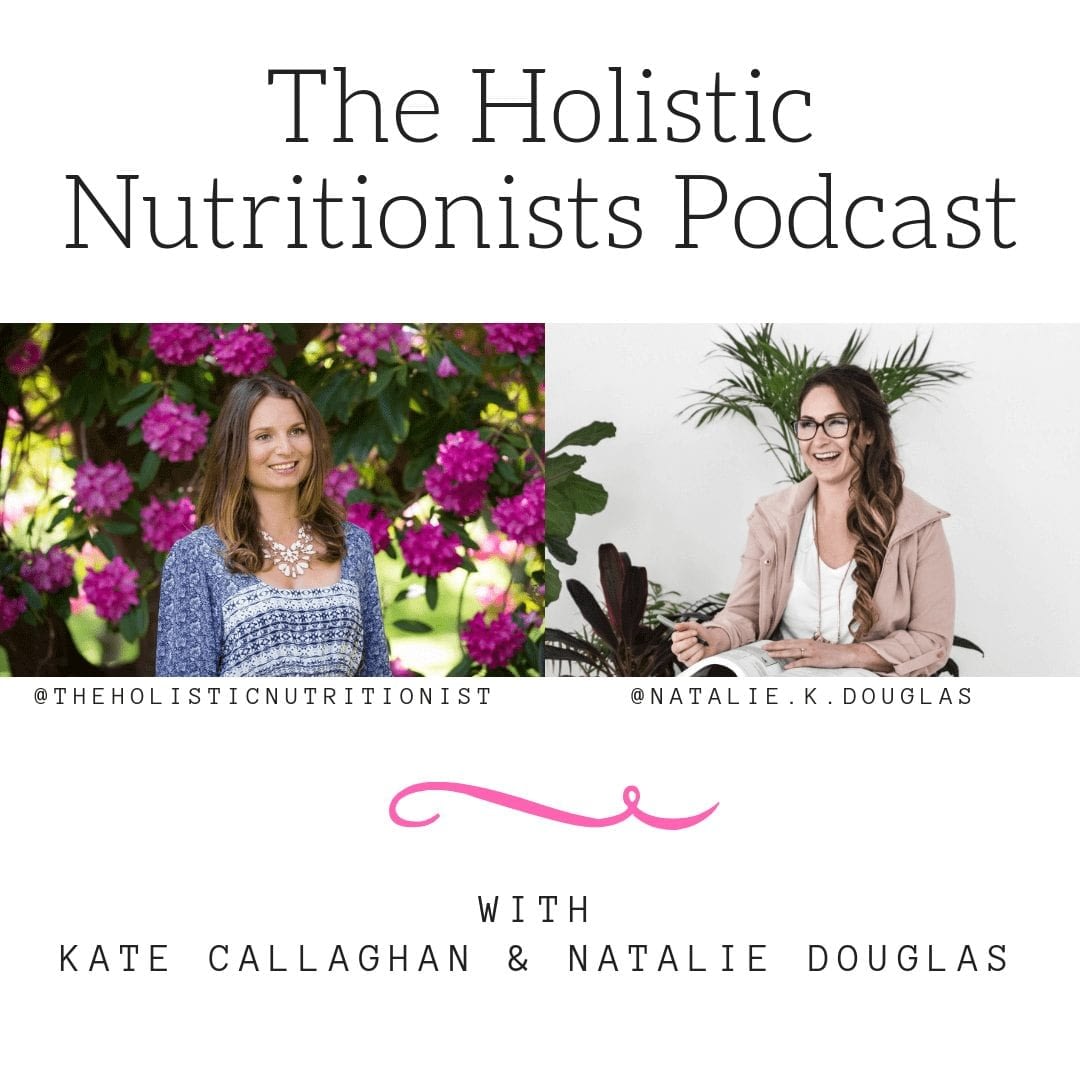 Welcome to The Holistic Nutritionists Podcast!
If a professional, polished, well-edited podcast is what you're after…then we're not for you!
But if you love unfiltered banter, unedited bloopers and authentic heart sharing then we are your ladies.
We also have the most practical tips on holistic and alternative health care too 😉
Have a question that you want answered on the podcast or want to be interviewed? Get in touch!
Search my content by category…
LIKE WHAT YOU HEAR? Help us spread the love with a 5 ⭐ review on iTunes!