#85 Enemas for Gut Health - with Zhenya Gerson
The Holistic Nutritionists Podcast
LIKE WHAT YOU HEAR? Help us spread the love with a 5 ⭐ review on iTunes!
SUMMARY
In Episode 85 of The Holistic Nutritionists Podcast, Natalie Douglas and her guest, Zhenya Gerson (Colon Hydrotherapist & Holistic Nutritionist) discuss how an enema works and the benefit of an enema for gut health.
TOPICS COVERED
What is an enema?
The difference between enemas and colonics
When or why someone would choose to do an enema over a colonic
Different types of enemas and why choose one over the other
Who enemas are a good idea for and who should not be doing enemas
A walk through exactly how to perform one at home
Diet prep leading up to enema
Frequency to avoid dependency or damage to the gut
Risks associated with doing them at home
When purchasing an enema kit what the do's and don't s are
A few bonus Christmas tips to stay on track
RESOURCES
GUEST BIO
TRANSCRIPT
Intro 0:00  
Hello and welcome to The Holistic Nutritionists Podcast, with your hosts Natalie K. Douglas, Thyroid Healer, and Kate Callaghan, The Holistic Nutritionist. Nat and Kate are degree-qualified dietitians and nutritionists, certified fitness instructors, speakers, and authors. If you love unfiltered banter, unedited bloopers, and authentic heart-sharing, then we are your ladies! Now it's time to sit back, relax, and get ready for our latest tips on living your healthiest life possible. 
Natalie K. Douglas 0:41  
Hello, beautiful friends. I am so excited to bring you another interview with Zhenya. So we actually had her on the podcast a little while ago teaching us all about colonics and we couldn't resist getting her back on again to continue the poop talk really. So in case you missed the first interview we did with Zhenya, she is an I-ACT certified colon hydrotherapist with level two study in certification. She's a holistic nutritionist, wellness consultant, and yoga instructor with 16 years in the wellness industry. She is driven to empower people to be aware of their own bodies, to live a healthy life, and make conscious decisions about their own health and for their personal well-being. Zhenya is also the co-owner of PROPPR, which is an elegant Australian designed footstool to get you in the proper position for your next trip to the bathroom. I really hope you enjoy this interview as much as I did with Zhenya. And please let us know if you have any questions after you listen to the podcast. Enjoy!
Natalie K. Douglas  1:57  
Zhenya, welcome back to the podcast. Thanks for coming on for a second time. It's really exciting that we get to have you back so soon after the first one. 
Zhenya Gerson 
Yeah, thanks so much. So, you know, anyone who wants to talk about poop and the different ways to make our poop move better? Oh, come on. 
Natalie K. Douglas
Oh, this is why we're friends. Actually, I lost my poo. You know, the little poo emoji. 
Zhenya Gerson 
Yeah.
Natalie K. Douglas
I have it as a keyring and I lost it along with my keys but I'm more concerned about losing my poo emoji.
Zhenya Gerson 2:30  
Well in the clinic, we in the clinic one of my friends and clients brought me the poop emoji pillow. Though it's just in our reception area. Everybody loves it and makes them feel like really calm when they come in for some reason.
Natalie K. Douglas
Yeah, well probably they say like, okay, so we can talk about. She can talk about poo and she can laugh about it. Because it is I think, you just got to break it down. I think we all do it. Well, some of us known enough, which is probably why we're having to do so many podcasts about it. So, just a bit of background for people. If you haven't listened to the first episode we did together, it was all about colonics or colon hydrotherapy. And from that it actually sparked a whole bunch of other questions that a lot of people had around enemas, and is what we're actually going to talk about today. Before we jump in, I like to start the podcast off whenever we have a guest with something completely unrelated to the topic, which or maybe not, which is what's your current morning routine or how do you like to start your day at the moment? 
Zhenya Gerson
Okay, well in the morning I kind of have lost control of exactly how I want to start it since we have, Pixie, our dog. So, I pretty much get up just sort of quickly put on my sneakers and take her for a walk, like this morning we did a beach walk because I had the time. Normally I'll just take her and give her a walk from neighborhood for good 40 minutes, then I'll come home. I'll you know, have my supplements, drink my water, all that sort of stuff, and then sort of get ready for the day. Lisa Messenger, I don't know if anybody follows her but Lisa Messenger had a great you know, recommendation. She was like you always have control over your morning. You know whether it's two hours or whether it's an hour or whatever it is. And then once you hit the work button shit can hit the fun, you know like you've got no control anymore. Something might have come in that, you know, you need that you didn't think you're gonna have to address on that day. So anyway, so the morning, yeah, I do the walk and then I come in have my supplements, made a cup of tea or a coffee, my breakfast, and then I get ready for whatever else it is I need to do.
Natalie K. Douglas 4:49  
I love it. I love hearing people's morning routines because I am such a morning person. I just, I've always been that way though. I love mornings and I'm that really annoying friend in the morning. That's a bit too chirpy but I'm not a nighttime person. It's funny, me and my husband are like opposites. He's very much a night owl. And if you try and like talk to me past about 8:30 I'm like, no, I'm out. 
Zhenya Gerson
Yeah, let's change. I used to love a good sleeping. But now if Dixie it's like 7:15 is the sleep time. And for some reason she knows that Sunday is Sunday because Sunday she lets me sleep till eight. Felt like, yes.
Natalie K. Douglas 5:31  
Oh, that's so good. 
Zhenya Gerson
Yeah. 
Natalie K. Douglas
All right, so on to today's topic which is about enemas. And the obvious place to start would just be to describe or tell people what exactly is an enema?
Zhenya Gerson 5:45  
Okay, so very simply, an enema is just a treatment or procedure, if you want to call it where liquid was inserted into the rectum and kind of just goes in really low wants to like anything, water will always soften something. So it just wants to soften what's ever sitting in there. And then hopefully, it comes out but simply, it's just water into the rectum. 
Natalie K. Douglas
Right. And so, obviously, when we had our podcasts on colonics, water is also entering the rectum at that in that kind of procedure as well. What's the difference there between an enema and a colonic? 
Zhenya Gerson
So enemas were sort of the first things on the scene, right? So if we look through history, we can see that it's been recorded in Egyptian times in, you know, the days that we held core, you know, kings and queens and that sort of thing. So it's a very much more simple and basic procedure but it's, it's basically the same. An enema though will not go. The water will not go in as far or for as long. Sometimes there's a colonic, whereas a colonic is kind of multiple enemas happening over 35 to 40 minutes where you put water in, you let it come out, you put more water in, you let it come out. With an enema, generally speaking, if we're doing an enema at home and we'll, we'll get into exactly how later but you put water in, you might be able to let it sit for five minutes, you might be only let it sit for a minute. And then you sit on the toilet and then you let it out. And then if you were going to go again, you've got to do the insertion again, a little, little speculum that goes into the rectum, and then put more water in, and then again, see how long you can hold it. So it's a little bit of sort of, off and on until you get used to it.
Natalie K. Douglas
Yeah, okay.
Zhenya Gerson
I know some people who've been doing enemas for years and they can hold the water for one to two hours. 
Natalie K. Douglas
Yeah. Right.
Zhenya Gerson
I mean, they've been doing it for a really long time. 
Natalie K. Douglas
I can't remember how long. I've done like a few enemas a while ago, but I can't remember how long I was able to hold it.
Zhenya Gerson
20 minutes is usually the general sort of norm, I guess, or average I should say. 
Natalie K. Douglas
And so you know, if if you can do enemas at home, and that sounds. I mean, for a lot of people that might sound much more convenient and maybe even less intimidating in some ways. Why would someone choose to do you know, one or the other when it comes to an enema versus a colonic? Is one better than the other or is it just kind of pick, you know, choose your own adventure? 
Zhenya Gerson
Someone would choose to do an enema over a colonic for a few different reasons, right? So if we've got that chronic constipation, and we've got a clear problem that the bowels really aren't moving. Sometimes it's in the elderly. Sometimes it's in people that are really sick, people that have been hospitalized, children. You want to do an enema. Some, I had a client not that long ago, her daughter it's I mean she's had chronic bowel issues for pretty much her entire life. And her doctor wanted her to do an enema. She wasn't too sure. She said can you, can I bring her in? So yes, I have smaller speculums for her kids. She wasn't really young. She was old enough to have a colonic. And it just gave her the confidence to see how to do it. And then I said okay, at home this is what you would do. So yeah, so children, aged care, elderly, people who have been in hospital, those people who might be undergoing treatment through like the Gerson Therapy Center or something like that work where enemas and colonics are part of their routine for a prolonged period of time. We'll do it at home but again we can overdo it if we don't need to be doing it so often.
Natalie K. Douglas  10:10  
And when you, you mentioned before about, you know, when you're saying definition of an enema, it's really about liquid entering the rectum. So that begs the question of, well, is it always just water or are there other solutions that people are inserting? So I know coffee is one of them but is there any other ones? 
Zhenya Gerson
Yeah, well, I just had a client the other day, you know, came to me and said, oh you know, I do a couple of enemas at home. I'm like, oh great, you know, I'm thinking it was it's just gonna be water. But here in Australia, and I'm sure in the US as well when I was doing the research, this particular one comes from the US. So it's called Microlax. So some people will say, I'm doing enema but what they're actually doing is more of like a suppository. So micro, so be can be considered a medicinal or fleet enema, if you've heard the word fleet enema before?
Natalie K. Douglas
Yeah.
Zhenya Gerson  11:07  
So, it's got a couple of, it's got a couple of additives to it. So, medicine to it. So, sodium citrate, saline is one of the most like sort of effective laxatives. Microlax is one of the major ingredients in it. So, Microlax is a sodium citrate. Saline, it's an effective osmotic laxative, which means that it extracts bound water from the stool and pulls it back into the large bowel. So, basically, what happens then is the increased water content that's being brought into the colon clearly softens the stool and then stimulates the bowel to sort of more creating that peristaltic action. It's also got sodium lauryl sulfoacetate. Again, sort of trying to release the water into the colon. And then it's also got a little bit of cholesterol in it, which cholesterol acts as a lubricant. So it kind of lubricates the stool that's in there and then helps to come out. So, it's basically like you've taken an a laxative, and just put it up the rectum. So, it's not really injecting any, it's like tiny, it's this tiny ampule that goes in. So, it's not a huge amount of water that goes in. So, that's one type of enema that when clients do come in and say, oh, I did an enema, and then I find out that it's that, I'm like, no, you just did a laxative up the bum.
Natalie K. Douglas 12:47  
Yeah. Different story.
Zhenya Gerson
Different story. So, then we have just our straight-up water enemas. So purified water, not alkaline water, because as you know, certain organs need more acidity and the large bowel is one of them. So, don't want to use alkaline water.
Natalie K. Douglas 13:03  
What temperature should the water be? 
Zhenya Gerson
Room temperature?.
Natalie K. Douglas
Yeah, okay. 
Zhenya Gerson
Yeah, room temperature. That's really important, you know, not too cold and you definitely don't want it hot. You just want to sort of let it sit out at room temp. 
Natalie K. Douglas
Yeah. 
Zhenya Gerson
To water enemas you can add herbs, right? So, if you've been prescribed liquid herbs from your naturopath and nutritionist, you can put it in and that's awesome. You can, so anything that you would take by mouth, you could pretty much put into an enema bag with water so.
Natalie K. Douglas
Do people ever put Epsom salts in there or like magnesium sulfate?
Zhenya Gerson 13:45  
They could. Yeah, they could. But again, that's going to act as like a massive laxative. So, I would probably say if you're gonna do the magnesium or the salt, I'd do it by mouth. 
Natalie K. Douglas
Yeah, yeah. 
Zhenya Gerson 
A little extra time to get it through. 
Natalie K. Douglas
Yeah.
Zhenya Gerson 
So you can do your probiotics. You can do garlic, lemon juice, ginger, you can do things like that. You can do oil, a little bit of flaxseed oil because again, it's going to act as that natural lubricant, that would be really good, especially if the wastes in there is really hard and impacted. And also, you know, those like those, you know, like detox tea bags, or any of those sort of really nice herbally tea bags. You could make it with that. But again, let it cool to room temperature. 
Natalie K. Douglas
Yeah. 
Zhenya Gerson 
And then like you mentioned, we've got the coffee, which is a pretty popular one. And I had one colon hydrotherapist in California say to me, coffee should only be entered into the body in one way and this is it. But there's a lot of controversy around coffee enemas, right? So coffee enema should, you know, the idea is that it stimulates the hemorrhoidal nerve which are your nerves in the anus that causes the bile ducts in the liver to open up and then release bile. So, that bile can be very toxic. It was really introduced by the Gerson therapy in the 40s. And he made it a big part of his protocol in his treatment centers. So, coffee enemas helped make glutathione, which is an antioxidant that sounds poisoned packing, that was his words. So, I don't like everyday use of coffee enemas, I don't recommend it at home. With the coffee, you want to be at a point and the Gerson Therapy Center does this, they don't introduce coffee enemas until you're, you're clearly comfortable with enemas and colonics, they've been at the center for a little while.
Natalie K. Douglas
Yeah.
Zhenya Gerson  15:44  
And you want to be able to hold that water. So again, go back to how long can we hold it, you want to be able to hold it for good, you know, 10, 15 minutes, so that it can get all the way up to the liver, which is right underneath your right rib. So, that coffee is going in through the anus has to go all the way up the left side of the descending colon, cross over to the transverse colon and make its way to the liver to really sort of work. Do what it needs to do through that liver. So that's like, you know, 10, 15, 20 minutes. So, that water needs to sit in there and travel up. So I think personally, coffee enemas should be done with a therapist or somebody who's given you a protocol. And it's not like you're going and getting crap coffee either. You need to make sure you have good organic coffee, and that you did a post the other day about great coffee brands. So things like you want to be using something like that. 
Natalie K. Douglas
Yeah, yeah.
Zhenya Gerson 
And not too much because I had a client years ago came into the clinic. And you know, she's been doing coffee enema every day for 10 days. And then, you know, all of a sudden came to see me because she stopped doing and her bowels stop working. I'm like, well, you put in a stimulant for 10 straight days. And of course, they're going oh, I don't really need to do anything now. It's muscle memory. The colon has muscle memory, like any other muscle in the body. So if we're constantly giving it a stimuli, it's going to go. Oh, I don't really need to do much anymore. 
Natalie K. Douglas
Yeah, such a good point because I think that sometimes we can oversimplify recommendations. But I think you're right in terms of well, yes, you can use them, but here are the times and the context in which you should use them. And I think that's really important because that's easy to get carried away, especially if someone finds a benefit from something doing it once. It's easy to think of more is better but I actually think a lot of the time, less is more, which I really like that approach. But it's you know, not as sexy as more is more so that's okay.
Zhenya Gerson
Yeah. Less is more. 
Natalie K. Douglas
Yeah.
Zhenya Gerson
Like essential oils. 
Natalie K. Douglas
Yes, yes, exactly like essential oils. Less is definitely more. And I think, you know, you touched on who enemas would be appropriate for already and I'm assuming there is a little bit of overlap with who colonics are appropriate for as well in terms of constipation, so everyone can go back and listen to the previous podcast for an expansion on that. But when it comes to enemas in particular, is there anyone who you wouldn't recommend having an enema? 
Zhenya Gerson
Yeah, um, so we're gonna say no to anyone who's got severe painful hemorrhoids. So, it's the same with colonics. So, there'll be a no to that. Severe and painful colitis. So inflammation that's really active at that point, we want to get the inflammation down first and then work towards having an enema. And then that would be when you might want to put some like good anti-inflammatory type herbs in there. Anyone with fecal stones, or rectal obstruction or a tumor, you know, right down in, in the inner rectal area, prolapse, active coronary heart disease, and then of course, anyone who's sort of non-compliant. And when you're in the hospital, they will give it to people who have been in a coma sedated for a long time, just because bowels need to be evacuated, but that's different. That's under nurses' and doctors' care. So they will do it then. 
Natalie K. Douglas
Okay, perfect. And what about it with pregnancy is the same deal as it was with colonics?
Zhenya Gerson
With pregnancy, I say yeah, go for it. Again, so you're going to do a very gently it only goes into that lower bit of the colon. And you know, 20 years ago here in Australia as soon as you started to go into labor you got an enema. As soon as you got to the hospital, the nurses are giving you an enema to evacuate the bowels. So you know, and I've spoken to lots of naturopaths about this and some naturopaths will send their, you know, their pregnant clients to me. No problem. Some don't but an enema is fine, you know, and you'll have somebody doing it with you. You're laying on your left side, which is the recommended side when you're pregnant. Anyway, and I would just be using water, I wouldn't be using anything else in, just water. 
Natalie K. Douglas
Perfect. Yeah, I think that's sensible advice. And it makes, I mean, I personally think it would be safe in that context of just using water, and making sure that you understand how to do it properly. So you know, in terms of what it actually looks like to have to do and to perform an enema at home by yourself. Can you walk us through how we would actually do that for people who are thinking, oh God, I don't, I want to do this, but I don't know. I don't know how. Can you give us a bit of a step-through of what happens? 
Zhenya Gerson
Yeah, so I can talk you through it. And then also, there's a lot of videos on YouTube that you can go to that are actually quite good. Some are done by nurses. And then some you can see are people who've recorded it at home, so you can get a visual. So basically, if you've ever seen an IV bag, this is what I was described as, so the enema bag that just holds the water is basically an IV bag, you've filled it up with your water. And just like an IV has that long tube that comes out and then it has an insertion piece on the end, the insertion piece is very skinny, like the width of maybe a pen. So we recommend that we do it you know, in your bathroom so that you're close to the toilet, some people will make it a really nice ambient, light some candles, bring a magazine in, which I do recommend, put some nice towels down because you are either going to lay on the floor or in your bathtub, whatever you want. So you'd bring your knees up to chest roll onto the left side, you the enema bag kit will have a clip so no water is coming out you've clipped it, you've sealed it, it's on off, let's say. Rolling onto the left side, we're gonna lubricate the insertion piece with whatever you have, you can use coconut oil, you can use a Purple solution, whatever natural sort of lubricant that you have.
Natalie K. Douglas
How far like the insertion piece do you lubricate? Like do you lubricate the whole part of it that will be inserted or just the tip? 
Zhenya Gerson
You only need to lubricate the tip. So let's say like the first two and a half centimeters or one inch.
Natalie K. Douglas
Yeah.
Zhenya Gerson 22:48  
And then the rest of it slides in. So the rectum, you kind of you don't have to push very hard. Actually, as soon as you put the tip in the rectum kind of draw in any way. So you're not really pushing, there's a point where it just sort of lets it in. And when we're doing an insertion for a colonic, when people are laying on their left side. As a female, when we're doing working with females, when you we're doing the insertion, you're aiming towards the belly button. So if you can kind of imagine that with the insertion piece, you're aiming towards the belly button. With men, it's a little bit straighter, you're kind of aiming towards a little bit more towards the spine. So, and that's just anatomy of what's going on down there. So anyhow, so that goes in, I'll go in really gently, don't necessarily shove it in, just let it sort of naturally glide in. And if you've gotten to a point where it go oh ouch, then take it out a little bit you just at the wrong angle, and then try a slightly different angle, and then it'll go in really easily. And then once it's in, you're comfortable, that sort of little clip that's on the enema bag should be near you, and then you'll open it, let the water start to flow in. Now, gravity, right? Lesson in physics, so you don't have the higher you sort of hang the bag. So you're gonna probably, you know, think about your towel rack, right. So if you're laying on the floor, your towel rack might be really high. The higher you let that bag or container sit, the faster the water is going to come in, you only mean that bag to really be above the hips, so that gravity will take it down. So the lower you have it, the slower the water will flow in. The higher you hang that bag, the faster it's going to come in. So I suggest that you either maybe bring in a chair if your towel rack is too high. Bring in a chair that sits a little bit lower but it has to hang so that it can easily sort of come down. So and that's basically it, so then the water will start flow in and if you've never had a colonic or never done enema before. All of a sudden you feel it go and it's like shit I need to go to the toilet right now. So we take a nice deep breath. And we sort of cap it off. So stop it, let that water sort of settle, take a couple of big belly breaths, and then open it again, let a little bit more of water flow in, and then you'll get comfortable with it. And then there'll be a point where you'll feel sort of almost full. And I say, stop it there. Not when you're already full, just kind of like when you're eating, right? So just stop it a little bit before you're full and then just let it sit. There it's when your magazine comes in, you can have a little flip through your magazine and read your book, stay off social media, we don't need social media.
Natalie K. Douglas
Too much extra stimulation.
Zhenya Gerson
Pretty much. Yeah. So yeah, and then just let it sit and hold it long as you can. And then if you know you're not going to put any more water in, you could lay on to your back if you wanted to. Again, clients bring your pillows in, make it very comfortable for themselves. Hold it as long as you feel comfortable, when you're ready, sit on the toilet with a footstool underneath your feet. 
Natalie K. Douglas
Yes.
Zhenya Gerson
Yeah. Yeah, sit on the toilet, and you might sit there for 10, 15, 20 minutes. And then you can just do that. That's it or you might want to go again, if you still have some of that water left into the in the container, you could go again.
Natalie K. Douglas 1:35  
And do you have to like, this is a question that will come up. So I'm, I'm being that person? Do you have to clean the insertion piece before you insert it again if you're doing it in the same session?
Zhenya Gerson
I'd give it a wipe. Yeah, I'd give a bit of a wipe. If you've got baby wipes around. Everyone's got baby wipes around, give it a little wipe with the baby wipe. You want to lubricate it again. Yes. But yeah, you don't have to, like fully clean it afterwards. Fully clean it when you're done.
Natalie K. Douglas 2:04  
Yeah. And so with the, like with enemas and enema kits, do that, are they disposable or do you clean them? Like how does it work? Are there a few different options with that?
Zhenya Gerson 2:16  
There's a few different ones. Happy Bum Co has a nice silicon one. They're an Australian brand out of the Sunshine Coast. And yeah, they're like they're silicon-based, you basically just want, want it to be sort of a non-toxic type plastic. So it can, they're even stainless steel ones that are really cool. They just kind of look like a bucket of stainless steel one, you just hang it and so they're totally reusable for as long as, as long as time. And you can even buy single-use ones. You can either get them on eBay or there's another Australian website I love called Love Thyself, she has a lot of great enema bags and single-use ones on there as well. And there's even, there's even one that kind of looks like a douching bulb. So, you can use that as well. So that's like really simple, that's when you would use for children is just looks like a bit of a ball but it only has a little bit of water in it, maybe 250 mil, maybe a cup, and then you would just sort of squirt that in. So that's another option. That's kind of the one that I, that we, you see used for children.
Natalie K. Douglas 3:29  
Right. Okay.
Zhenya Gerson
Yeah, you can saw that on her website, Love Thyself.
Natalie K. Douglas
Cool. And I will pop all of these links in the show notes if anyone's frantically thinking they need to take notes I will pop them in. And in terms of leading up to like performing an enema, is there anything we need to either avoid or make an effort to consume either food or drink wise?
Zhenya Gerson  3:54  
Empty stomach. So we don't want to have any food in the last two hours same as colonics and you know nothing that you know makes you bloated or makes you gassy. So just steer away from that even the night before.
Natalie K. Douglas
Yeah.
Zhenya Gerson 
Make sure you're well-hydrated throughout the day. Again, I'd say no water for about an hour and a half beforehand because you don't want to be laying there and have to empty your bladder.
Natalie K. Douglas
Yeah.
Zhenya Gerson  
So, it takes about an hour for water to get through the kidneys and then to the bladder. So I say no water for about one and a half hours beforehand. And then I mean really think about the day before, you want to have a really good bowel movement, right? So, have lots of good fiber and make yourself a smoothie that has some raspberries and berries and things like that in there and handful of spinach just to kind of really get that fiber up for the for leading up to it. 
Natalie K. Douglas 4:50  
Okay, perfect. And how often should people be doing them at home? So, we talked about this in the colonic episode around, you know, sometimes less is more. What are we looking at in terms of if someone was using enemas to let's say, let's first say treat constipation? How many enemas should they be doing and how far apart should they be done, or is this kind of an individual thing that you would suggest they discuss with the practitioner first?
Zhenya Gerson  5:23  
I say discuss it with your practitioner first, because it's like, okay, what else are we doing? You know, let's adjust the diet a little bit. Let's maybe introduce some fiber. Let's sort of do a couple of other things first. But you know, I'm thinking right now I have a client she's been she's in her 60s, she's been constipated since she was 15. So for her, you know, I'd love to see her do an enema once or twice a week at home.
Natalie K. Douglas 
Yeah. 
Zhenya Gerson 
Yeah. So that would be okay. But I mean, it's such a tough question, because it's really is a case-by-case basis, you know, if we're doing some sort of detoxing or cleansing or parasite cleansing or something like that, we might need to have you know, if we can't afford to come in for clients, we might need to do three colonics in a week for two weeks something like that. Sorry, three enemas in a week. 
Natalie K. Douglas 
Yeah. 
Zhenya Gerson 
You know, for if we're working through something. So it's tough. It's definitely a sort of a case-by-case basis. But like I said, in the other podcast with colonics, you can overdo it. So we don't want to overstimulate and makes the bowel over lazy to say, oh, I don't actually need to do anything, something's going to come any minute. So yeah, constantly chat to be chatting to either. It doesn't have to be your colon hydrotherapist, it could be your naturopath, your nutritionist, even your doctors, doctors are open to water enemas much more so.
Natalie K. Douglas 6:51  
Yeah. And I think it's important, as you said, so that you can have that conversation. And also make sure that you're using the enemas, and also looking at, well, why is this issue with constipation or bloating, or whatever it is that drew you to going to get enemas or colonics. Why is that happening? So, that you can kind of address it from both different sides of the coin, so to speak. So, I think that's really sensible advice. And I would encourage everyone to do that. I think sometimes we can get in trouble with Dr. Googling too much. I mean, I'll be the first to admit that every now and again, it can be helpful. But I really think that having someone who knows what they're talking about, at least put you on the right track, like to know, okay, where should I be directing myself to make sure you stay safe, and also that what you're doing is actually effective, because it really should be something that, you know, first causes no harm. And then he's actually providing you some relief to your symptoms while looking at what's going on for you that's driving that problem. So we mention, well, you mentioned that dependency, doing it too often, too often can be a risk. Are there any other risks associated with enemas or doing enemas at home that people should be aware of?
Zhenya Gerson  8:14  
One of the biggest things that happens is, the water is too hot. So we've decided to do a coffee enema, we've decided to put a tea bag in it. And we haven't waited for that water to cool down enough. You have to make sure that water.
Natalie K. Douglas
Put that in rectum.
Zhenya Gerson
Not good, Nat. Not good. So you really, really have to make sure the water is at the right temperature. Look, you know, people will say oh, would, you know, I can hear the questions now perforated bowel or something like that. So that then goes back to the insertion. It's very thin, you're not jamming it in there. You know, you're doing it really gently. If it feels uncomfortable, take it out. And that means something's going on. Sometimes people will freak out if they take the insertion piece out, and they see a little bit of blood, right? So sometimes we can have a little bit of an anal fissure going on inside and I kind of describe that as like a paper cut on the inside of the rectum. And you didn't really know that no, it was there or you might have a tiny little hemorrhoid inside. Again, you didn't know it was there when you pulled it out. If that blood is fresh, really bright. We're okay sort of like as long as it doesn't continue bleeding. Don't freak out. It's probably just something was there that you didn't realize. But yeah, just mostly sort of not making sure we're gently inserting the insertion piece and making sure the water is at the right temperature is probably our two major things to be aware of when we're doing an enema.
Natalie K. Douglas 9:48  
Yes, you do not want to burn rectum everybody. So, good advice. So, you mentioned just before a few brands of enema kits that or websites some people could get some of the kits. Outside of that, so I will put those websites links in the show notes. But generally speaking across the board, when people are going to purchase an enema kit, is there any kind of do's and don'ts or things that they should be aware of or looking for or looking to avoid?
Zhenya Gerson  10:19  
Well, no. Not really, I would just get sort of want a nice natural-silicon based one or the stainless steel one. But, I mean, there's nothing out there. They're all pretty much surgical grade. Anyway, so I haven't. I personally, I haven't come across any of that or like the wrong material or anything.
Natalie K. Douglas 10:40  
Yeah. And was it Happy Bum Co or just?
Zhenya Gerson 10:44  
Yeah. Happy Bum Co.
Natalie K. Douglas 10:47  
Okay. Cool. All right, I will pop that in the notes as well. Any other before I get to my final question, which is not related to enemas. Any other thoughts or tips or anything else that we haven't covered about enemas, that you think people or you get asked about a lot that you wanted to share with anyone listening?
Zhenya Gerson 11:06  
Oh, well, I guess in clinic. Most people are to just kind of like, oh, I can't do this at home. But you can, it's not gross. Oh, okay. So, the we have a sphincter muscle, right? The sphincter muscle only opens when the brain says, generally speaking, if we have incontinence issues, of course, that's a different story. But the brain has to tell the sphincter that it's time to evacuate bowels, so it's time to open. So, that is something that people get really worried about whether it's an enema or a colonic is like oh my God, when I take this out, is there gonna be like poo flying everywhere. And there isn't. 
Natalie K. Douglas
Yeah.
Zhenya Gerson
Poo doesn't fly everywhere. 
Natalie K. Douglas
No, it does not.
Zhenya Gerson
Sphincter muscle closes, it waits for you to sit down on the toilet. And then again, there's that muscle memory. It knows what it's doing when it sits down. And it's like, oh, we can open up and evacuate now. So that's something that comes up. It's like they're gonna be poop everywhere. 
Natalie K. Douglas 12:04  
Yeah, a valid question, but I'm like, no, no, they won't be. 
Zhenya Gerson
Yeah.
Natalie K. Douglas
But I know I had that. So, when I first did my enemas, a long time ago before I was even into the profession I'm into. And I remember having that fear, I remember thinking oh my God, I'm gonna shit all over my bathroom floor. I don't care because I need one of these. I was so unwell, but definitely, a few that popped up. 
Zhenya Gerson
Yeah.
Natalie K. Douglas
The other thing I wanted to quickly touch on because it's coming up to Christmas time. And I've actually been in my Thyroid Rescue group, which is my program. We've been having discussions around healthy gift ideas, and one of the ones that came up was actually your footstool PROPPR. And I know that we've spoken about it in the previous podcast episode. But for anyone who hasn't listened to that yet, would you be able to share just what the PROPPR is and how people could get their hands on one if they wanted to give it as a Christmas gift? And I think it's such a great gift.
Zhenya Gerson 13:07  
Yeah. I honestly pretty much almost sold out of the white one. So if you want the white one, then call me quick. They've been massive this Christmas so that's been great. Okay, so the PROPPR, P R O P P R is a toilet footstool that I co-own. And it's this beautifully, kind of Scandi style footrests that you put under your feet while you're sitting on the toilet. And what happens is, once you put your feet on it, when you're sitting on the toilet, the knees come above the hips, so that puts us in the squatting position. So unless you know you're a dancer, you're doing yoga or you're super flexy you know, squatting can be difficult for those of us who are sitting in chairs all day long. So this replicates the squat position, and there's been tons of research that has come back to light, right? So we're all into our gut health these days. So, it's all come back to light how squatting is super important. So, we've brought the squat to you with our footstool. Yeah, and it comes in a couple of different materials. Like I said, the white one, I've got a we've got acrylic ones, and we have timber ones as well.
Natalie K. Douglas 14:21  
Perfect. So, definitely get on to that and I will pop the link to the website in the show notes as well. And people can also follow you on Instagram, which will all be in there too. Now, the final question of the podcast is what's one thing that you're doing for your health daily at the moment that you're enjoying?
Zhenya Gerson 14:43  
Um, well, like I said in the beginning, I'm always doing the walks with the dog and now that it's summertime definitely we get down to the beach more often, although I'm a bit of a wuss when it comes to the temperature of the water.
Natalie K. Douglas 14:55  
Oh, we need to hangout I will get you over that. I love, I'm the water fan. Swim through winter.
Zhenya Gerson 15:01  
But look, on a daily basis. On a daily basis, I make sure I take the supplements that I personally need at that particular time. And I always have this one-liter water bottle, like all my friends kids know that that's my water bottle. They think it's hysterical. So it's one liter, I know that I need to get through that a couple of times. So water is like a major factor in my life. 
Natalie K. Douglas
Yeah.
Zhenya Gerson
Yeah, and, you know, like you said, the holiday is coming up, your rules of daily health and living don't have to like be thrown away, we can still have a great time this, you know, in this month or this period, right? Because it's summertime here in Australia, everyone goes crazy. But we can still kind of stick to our values. And know, okay, if I'm, if I have a dinner event or if I have a lunch event to go to and I'm not quite sure what the food's gonna be like, I make sure that I've eaten something beforehand, just so that I am prepared. And, you know, for those people that I'm getting a lot, you know, I've got so many events to go to blah blah, I don't want to drink. I don't want to drink every night this week. I don't want to do that. And try.
Natalie K. Douglas
You don't have to.
Zhenya Gerson
You don't have to.
Natalie K. Douglas
That's my answer. 
Zhenya Gerson
Great excuse is just drive. 
Natalie K. Douglas
Yeah. 
Zhenya Gerson
All right, folks, I'm just I'm driving tonight. And that's like an easy excuse if you don't want to just say no, I don't want to. 
Natalie K. Douglas
Yeah. 
Zhenya Gerson
And yeah, so like saying, you know, I've got a couple of things this week it's a bit busy. But, you know, like I said to my friends, like, well, I'm driving, so you know, I'm not gonna drink. And that's the thing that again, that sticks to my values. I don't drink every night. You know I'm not a big drinker, ever. But you know, just stick to you know, what you value every day. And what keeps you well, and what keeps you healthy every day so that it's not worth it. You know, that the extra few nights of going out and eating and drinking or whatever. You don't want to feel like crap. 
Natalie K. Douglas
Yeah, exactly. 
Zhenya Gerson
When you know, Christmas Day rolls around or New Year's Day. I'm like, no, I'm still feeling good.
Natalie K. Douglas 17:12  
Totally. And I think that's what I come back to is when I'm making a decision, what comes into play for me as well is well, how do I want to feel tomorrow? And is doing what I'm going to be worth how I'll feel tomorrow? And sometimes like every now and again it is and I will eat something that is maybe higher in sugar that usually makes me feel not very great the next day, but it's about how often you're doing it and the why. And I think I call a lot of people out on the oh, but I have to, like no, you never have to. You always have a choice.
Zhenya Gerson  17:45  
Yeah, that have to, I think is like, is like one of the crappiest sentences in the English language, you know? You don't have to.
Natalie K. Douglas
No. Exactly. I think.
Zhenya Gerson
And if you want to learn how not to just contact Nat or myself when?
Natalie K. Douglas
Yeah. But I'm not bit too good at it. No, I'm not. I have my weaknesses too.
Zhenya Gerson 18:08  
Of course. Yeah. Like my husband's Christmas party was on Friday at Pilu at Freshwater and I hadn't been there. It's like super fine dining and it was amazing. I said yes to everything. 
Natalie K. Douglas
Yeah. Like I'm a yes person tonight. 
Zhenya Gerson
Yeah, I mean, there was like, like whipped ricotta of Sardinian pastry for dessert. And I'm not I can't have a lot of dairy. But I'm like, I'm gonna eat all of it. 
Natalie K. Douglas
Yeah.
Zhenya Gerson
And so, Shawn looked to me. He's like, Oh, my God, you ate the whole thing. I'm like, mm-hmm.
Natalie K. Douglas
Yeah. I did.
Zhenya Gerson 18:41  
And we all have our moment. Like I wanted to, I didn't have to, but I wanted to.
Natalie K. Douglas 18:44  
Yeah. That's it, I think it's about like owning the choices that you're making, instead of saying sort of blaming the situation or the people around you. I think sometimes it can be harder to choose to stick to your own values than it is to just kind of fly under the radar and fit in. But I always think like I have to live in my body 24/7, and I really want to feel good. And I know the things that make me feel good. And I know the things that make me feel not good. And I think it's all just about what I encourage people to do is just recognize that there's, there's pros and cons to whatever decision you make in a lot of situations that come up over, you know, the silly season. And it's just about making a conscious decision before you're in the situation because I think sometimes it can be harder when we're in a situation where everyone else is doing something or people are peer pressuring you. Whereas if you know, you make a decision like no, I'm going to drive or I'm going to have something to eat beforehand or look up the menu ahead of time and be like I am going to choose this instead of getting to last-minute decisions. I think it's just about what's you know, what's going to make me feel best overall, and sometimes it's the dairy or the gluten or the ice cream or whatever it is. But for the most part, it's not, and it's about just having the stuff, you know, 80% 90% of the time, whatever you want to put on it, that's gonna make you feel good. And I think that's definitely something I've learned over time and being. Now I'm not as, now I'm not really, you know, embarrassed about saying no, whereas when I remember when I was younger, like people, you know, to make me feel so bad, or like, I wasn't fun if I didn't want to drink, but I just.
Zhenya Gerson  20:35  
It's different now. I think, I think people are way more health-conscious. And I think, you know, we're, we're really valuing ourselves a bit more. So yeah, it's, yeah, like saying, like, 10 years, even 10 years ago, if my husband would be out and I drive, you know, at first it was like, every week, it was like, she's definitely pregnant. 
Natalie K. Douglas 
Yeah.
Zhenya Gerson
It's like no people I'm not pregnant. I'm just saying. Yeah, so now, you know, I don't get that question. Nobody even thinks twice if I'm having a soda water or you know not drinking whatever, I never get asked. Oh, she must be pregnant. No, that is not happening. So yeah. So but yeah, now people are more and more accepting and oftentimes, I still get from, from a few people it's like, wow, that's so good. 
Natalie K. Douglas 
Yeah.
Zhenya Gerson 21:29  
I'm hoping I'm leading by example. 
Natalie K. Douglas 21:32  
Yeah. And I think it's more, I think what's more admirable about that is being able to stay true to what you want. It's not necessarily about, you know, not having alcohol or having alcohol. It's about honoring your own choice because I think sometimes, yeah, people say that to me a lot too. And you know for me, it's not willpower. It's about making a decision that is in alignment with how I want to feel and how I want to live my life. It's you know?
Zhenya Gerson 
If you want to nourish your body? 
Natalie K. Douglas 
Yeah, exactly. But equally, there's no, and I know this would be the same for you, like, no judgment for people who do choose to drink if that's what they really want to do, like, go for it. It's just about, like, what makes me sad is people making decisions based on other people's pressure or expectations, or just going you know, fitting in so to speak or if this is just what you do without checking in to be like, actually, like, is this what I want to do outside of everyone else's opinions or situations or pressures? Is this what I want? But it's a journey to get to that place for sure.
Zhenya Gerson  22:42  
It is. And if you're like my friend, she's got a teenage daughter and we just went on a walk the other day, and her daughter was really nervous because she was going to this party. She's really sweet girl. And she said, I think that I think some kids are going to be drinking, you know, and mom gave her you know, exactly said pretty much verbatim what you just said, you know, you can make your own decisions. You don't have to do it, because everybody else is doing it. If you are going to do it, let's talk about doing it in a responsible manner. Have a little bit, notice how it makes you feel then decide if you know, so yeah, there. I think parents now they can have these really great open conversations so that you can teach your child that they can say no, they can limit, they you know, don't have to go with the flow. They don't have to succumb to the peer pressure. And then they can be nice, healthy adults.
Natalie K. Douglas 23:33  
Exactly. I love it. What a great impromptu chat with that. Hopefully people, I'm like yes, now I feel like I could go into the rest of because it's always Christmas. Oh my God, it really is, isn't it? It's like 17th of December. So, I'm going to try and release it the same day or the next day. So, there's some really, hopefully, great tips people can take into the silly season. Thank you so much for coming back on.
Zhenya Gerson
Thanks so much for having me.
Natalie K. Douglas 
I'm sure that it's not the last time. There'll be more things we think of to ask you. Oh, fantastic. I love it. I love it. And I'll make sure I pop all the links that you've mentioned in the show notes and I will let people know where to find you and you have a beautiful Christmas and I'll see you soon.
Zhenya Gerson  24:19  
Thanks so much, Nat. Have a great Christmas.
Outro 
Thanks for tuning in to The Holistic Nutritionists Podcast. Remember, we love to make the show relevant to you. If you have any questions or topics you'd like us to discuss, just submit them to [email protected] and we'll get them answered for you. Also, don't forget to subscribe, rate, and review the podcast on iTunes and share it with your friend. And if you're looking for more info about how we can accelerate your journey to your optimal health, you can find me, Nat, over at NatalieKDouglas.com and Kate at TheHolisticNutritionist.com. See you next time!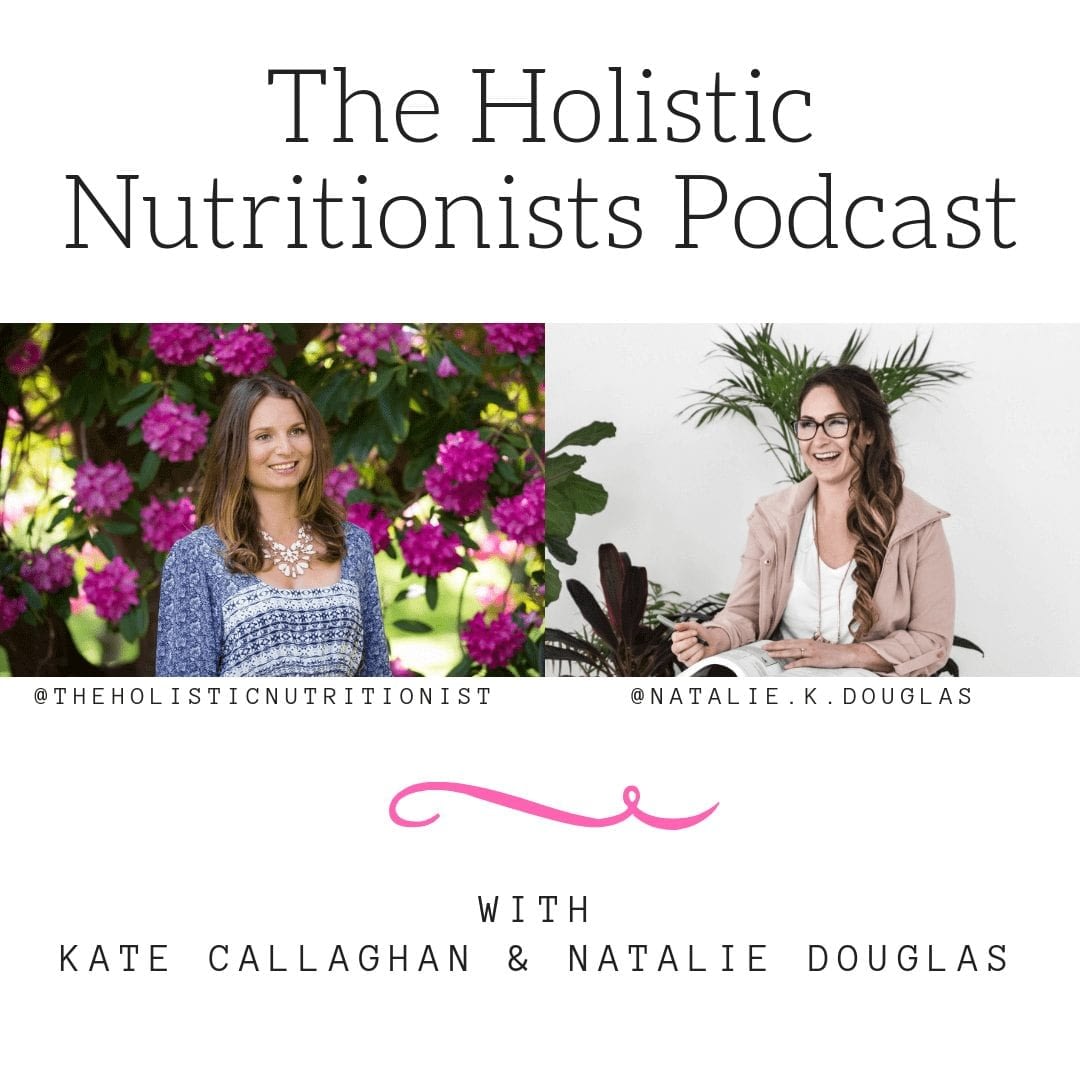 Welcome to The Holistic Nutritionists Podcast!
If a professional, polished, well-edited podcast is what you're after…then we're not for you!
But if you love unfiltered banter, unedited bloopers and authentic heart sharing then we are your ladies.
We also have the most practical tips on holistic and alternative health care too 😉
Have a question that you want answered on the podcast or want to be interviewed? Get in touch!
Search my content by category…
LIKE WHAT YOU HEAR? Help us spread the love with a 5 ⭐ review on iTunes!