#63 Orgasms, Libido, Sexuality & Masturbation - with Nina Powell
The Holistic Nutritionists Podcast
LIKE WHAT YOU HEAR? Help us spread the love with a 5 ⭐ review on iTunes!
SUMMARY
In Episode 63 of The Holistic Nutritionists Podcast, Natalie Douglas, Kate Callaghan, and their guest, Nina Powell (Psychologist, Sexologist & Somatic Sex Coach) discuss how to enhance your sex life and various orgasm benefits like decreasing stress.
TOPICS COVERED
What Nina does and how she got into it
The importance of orgasms in sexual intimacy
Is it normal for women to not be able to orgasm (every time, or not at all), and if not normal, what can be done about this?
Top tips on improving the sexual experience and orgasm
Thoughts on masturbation? Where can you buy cheap batteries?
Thoughts on toys? Do we need to go full "50 shades of grey" or are their other, less intense options
My (Kate) libido disappeared since pregnancy and birth (18mths ago). Advice, please!
Thought on postpartum sex, loss of libido, lack of confidence, mind over matter with pain?
Can people be sexually incompatible on a physical/chemical level?
Sex during breastfeeding and why am I so dry? And just don't want it!
Can all women have vaginal orgasms with penetration only? (I think we previously had a question around the difference between clitoral and vaginal orgasms, and if vaginal orgasms were actually a thing)
If someone has experienced trauma (either from birth or sexual trauma in the past), where should they start on the road to recovery (physical, mental and emotional)
What does a session with Nina look like and what does she actually do in a session?
Nina's upcoming retreats and programs for women
Where you can find Nina
GUEST BIO
TRANSCRIPT
Intro 0:00 
Hello and welcome to The Holistic Nutritionists Podcast, with your hosts Natalie K. Douglas, Thyroid Healer, and Kate Callaghan, The Holistic Nutritionist. Nat and Kate are degree-qualified dietitians and nutritionists, certified fitness instructors, speakers, and authors. If you love unfiltered banter, unedited bloopers, and authentic heart-sharing, then we are your ladies! Now it's time to sit back, relax, and get ready for our latest tips on living your healthiest life possible. 
Natalie K. Douglas 0:41 
Hey guys, it's Nat here. You are going to absolutely love this chat with Kate and Nina. I certainly do but before we jump in, I wanted to remind you guys of two things. Firstly, the next round of my 12-week Thyroid Rescue Program is launching next week. And I'm actually hosting a free launch webinar, where you'll be able to learn about the step by step process I use with my patients to heal their thyroid, adrenals, and digestive system, and how thyroid health impact so many areas of your health. There'll be of course information on Thyroid Rescue and what is included in the epic 12 weeks I have planned. So, if you want to be involved with that you can join live or listen to the recording by going to my website, NatalieKDouglas.com, and clicking on the Thyroid Rescue tab at the top. It's completely free, and there are no obligation to purchase anything. So you've got nothing to lose, except some time learning some life-changing information. The other announcement I have is that as an end to financially sale, I'm offering 20% off my initial consultations for seven people. So, if you booked in before June 30th or before those spots get taken, you get 20% off your initial consultation with me. So, you don't have to have your consult in the month of June but you do have to make your booking by then. So, to do so go to my website and click on the work together page, and enter the code EOFY19 to get 20% off. And remember guys, I consult online. So, I see patients across Australia, New Zealand, the US, Canada, and the UK. So, hopefully, that covers all of our listeners because I'd love to be able to help you guys. So you can check out my Instagram page for the conditions I specialize in. They are listed under the image associated with this discount. So, enjoy this wonderful chat with Nina and Kate and I will talk to you guys soon. 
Kate Callaghan 2:31 
Hello and welcome back to another episode of The Holistic Nutritionists Podcast. This is Kate here. I am without Nat today but I am with one of my very good friends Nina Powell and I am interviewing her on all things sex, orgasms, intimacy, all the things that I'm really excited about it. Nina, I'm going to tell you a little bit about her before I introduce her. And so Nina is a guide for high performing women to access their full sexual potential for fulfillment and deep connection in relationships and using the erotic for power, magnetism, and creativity, and business. Her work is rooted in her long term tantric meditation practice. And she is trained in psychology, Somatic Experiencing, Somatic Sex Education and Coaching, and Holistic Pelvic Care. Nina, welcome to the podcast! 
Nina Powell 3:21 
Hey, thank you. 
Kate Callaghan 3:24 
How are you? 
Nina Powell 3:25 
I am very well. Thank you. It's great to be here and chatting to more and more women about pleasure and bodies and sex and yeah, so this is great. 
Kate Callaghan 3:36 
I'm really excited about this because it's not something that we've talked about at all really on our podcast in the few years that we've been doing it. I think it's such an important piece for optimal health and happiness and success and well being and life in general. So thank you, I have the fortune of spending four days with you on the Milford soundtrack where I got to really pick your brain and basically spend four days talking about orgasms. It's awesome.
Nina Powell
Yeah, that's amazing. Once you start talking about sex and orgasms and pleasure how much everybody loves the conversations. 
Kate Callaghan
Exactly, exactly.
Nina Powell
Oh, no, no, it's such a huge part. I mean, I think really like my perspective is that we are like, naturally drawn to what desiring like love and connection in our life like it's like, probably like one of our ultimate strongest longings in life is to have that. Like to have a partner, to have beautiful connection, and it's the thing that brings up the most challenges that the sexual aspect just brings up. Yeah. So, many challenges for people and yeah, yeah. 
Kate Callaghan
I'm going to dive more into that but first, what we ask all of our guests. Question really start off with is, what did you have for breakfast? 
Nina Powell 5:01 
Oh, well, I don't know that you're going to ask that.
Kate Callaghan
Sorry.
Nina Powell
At the moment they're thinking I didn't plan this one. I, today, I had an omelet. I hadn't had any eggs in the cupboard for a few days and you will definitely hear my Kiwi accent if anyone foreign, this is how we say eggs. So, I had an omelet with cauliflower, organic veggies, cauliflower, and I got it from my garden that I fried in coconut oil and made an omelet. And then I put a bit of cheese on top and put it under the grill. It's delicious. 
Kate Callaghan
Yum. That feels sound good.
Nina Powell
Yeah, and I had pesto on the side. It's my dip. 
Kate Callaghan
Did you make it yourself?
Nina Powell 5:44 
I actually did for the first time. I grew basil in my garden and I was like, I'm gonna turn this into something. So, I did yesterday, my pesto was like dandelion, and basil, and plantain. 
Kate Callaghan 5:57 
Nice. 
Nina Powell
Yeah, it was yummy. Sounds really healthy. 
Kate Callaghan
Well, you are really healthy. Even on the meal food tracking, out all these goal meals, getting herb leaves, in the middle of nowhere when people are having dehydrated. These packed foods and you're like, oh I just got all these organic babies. I'm just gonna mix up here. 
Nina Powell 6:16 
Yeah. And very lots of cacao. I'm kind of like a raw cacao themed, a little bit. Although I'm laying off it a little bit at the moment because I was reading about cadmium in cocoa recently, which isn't very good for us. So anyway, that's another conversation but.
Kate Callaghan
We might need to be back on to talk about cacao because you're.
Nina Powell
Yeah. 
Kate Callaghan 6:36 
Those are like crack anyway. 
Nina Powell
Yeah. 
Kate Callaghan
Another day. So, before we go any deeper into the question because we've had a lot of questions sent in from listeners. Can you tell us a little bit more about what it is you do and how you got into it? That's quite unique.
Nina Powell
Yeah. So, what I really do is I mentor and guide woman. And what that means is like in both, like coaching and supporting people to bring change in their life, and also teaching. So, I teach, like, I teach all these practices that basically help you to really be a new stay in your body and get away from this, like, busy, busy mind. And, yeah, allow you to actually experience this incredible potential that's within you, you know, our bodies are covered in these delicious nerve endings that makes sensation feel good. And, you know, we have all this amazing potential within us, but actually, the lifestyles we live, like the busy lifestyles, they're like tiredness, you know, all these things are pulling you, all these different directions can make it really hard to just be in the moment and really experience that potential. So, that's largely like what I do. And I work a lot with women with like, anxiety, and yeah, they're all these different things, but what they usually, woman normally come to me and saying that they have some kind of yeah, some kind of challenge going on around libido or orgasms or like a lot of effort to get to, like really efforting, having to work really hard. And just the sense, I think, woman know, like, most woman seem to have a sense that there's something more inside them, but they just don't really know how to tap into it. And it's this like, longing, like an unmet longing for experiencing this more, whatever that looks like. So, yeah, that's kind of like what I do with the people, and how I ended up here is pretty windy windy journey. So I, interestingly enough, when I was like, 18, a friend of mine said to me, you should be a sex therapist. And I was like, okay, you know, 18 year old, I don't really know that much yet but I thought that was pretty interesting because between then and like, now. I went to London, I've, you know, I've been to university, did all this sort of studies really, and worked very much in very like corporate environments. So, I came from a hippie background, you know, hippie kind of appearance in the country in New Zealand, growing up in that way. And I always had this idea about being a professional, like, you know, when you come from like, wildness, you're like, I want to be a professional. I don't want, none of us in the family happiness. We had tailored clothes and I want to. Yeah, exactly, exactly, exactly. And I had this real thing about being a professional. So, I spent many years in corporate world and got married, and to the sky had a had a bit of had an awful sexual trauma incident when I was at uni. All this kind of things sort of happen that we're supposed to just wasn't really living like what was natural and a natural way to me. And at the end of this relationship, when I finally kind of got the guts out to leave, this awful relationship, it was no one's all bad. You know, it was always this sort of swing between that but ultimately, I didn't really have my power in that relationship and when I finally got the guts to leave him, I started to question like, everything in life. I was like, questioning my work, questioning how I was living, and I and I picked up this book on my mum's bookshelf called Wishcraft. And it was like, totally radical to me. And it was about like dreaming your life into being. And like visioning, like how you want to actually be living, like what your day looks like, what kind of environment you're in, and all this kind of stuff. So, I started this big deep dive into, who I am and visioning my life. And then you know, how many years later now? I suppose that was that sort of began about eight years ago. And yeah, I just started to follow like, what I really wanted. It was like, oh, I really want to go on meditation. I want to go to this retreat. Oh, now I'm doing a conscious sexuality workshop. Wow, that was amazing. Oh, I might do another one. And before I knew it it was something just started to unfold. And, and then it was just taking the taking the leap. Like, there was this point of me still in my corporate job, like secretly starting to do this other thing on the side. And I just had to, I just had to take this leap. I just had to, like, I asked them for a sabbatical and I, I'd been planning to ask them for about I don't know six months. And by the time I got to the point of asking them, I actually sort of didn't want them to say yes, anyway. And they didn't, they said no, if you want to have a break, it was like, okay. And I did it. And now here I am been doing my own, like practice full time for about sort of three and a half years full time now. So yeah, it's amazing. Now, I work with woman and I bring incredible transformation into people's lives. And I just, honestly can't think of anything. I'd rather be doing I just love it so much. It's just um, yeah, I've seen people's lives change. They're deeply like people that are single like meeting the you know, they're fully aligned partner for the first time ever in their life and feeling empowered, and like they're really choosing. That's been a really big part of my journey it's like this, like choosing for self like really, really choosing for self. Like for what you're like, I use the word soul, like what and shows up in like your body. Like what your body really wants. 
Kate Callaghan 12:59 
The alignment, if you're in alignment it's what you should be doing. 
Nina Powell
Yeah, and it's so clear, because like, my last year of working in corporate, I got sick 12 times. 
Kate Callaghan
Wow.
Nina Powell 13:09 
It was just like, you got to the point where it was, like, no longer sustainable to be living like that. My body was just like, nah. 
Kate Callaghan 13:17 
Yeah. Listen to those whispers. I can't listen to the whispers in terms of big brick wall crashing down on you, doesn't it? 
Nina Powell 
Yeah, and like life passing you by. I just kept on thinking, oh my God, am I really gonna be like, is this going to be my legacy, like, you know sitting in this room sometimes have nothing to do on a computer. 
Kate Callaghan 13:40 
But a stable career.
Nina Powell 
Stable, stable wage, like I just said that, oh, my God. I literally only live once. 
Kate Callaghan
Yeah.
Nina Powell 
I felt like that was what was the gift at the end of that relationship was like this really big awakening into like, being alive. And then once I was alive, I was like, holy I can't, I've got to live in ways that make me feel alive. 
Kate Callaghan
Yeah, that's incredible. And what you're doing is so important and so needed. And I mean, it's something that's probably not spoken about enough. You know, even still now might say, orgasm. You get like schoolyard people. 
Nina Powell 
Yeah. Yeah. Yeah. 
Kate Callaghan 14:20 
When we really shouldn't. I mean, the orgasms are fabulous. And you mentioned that most women come to you for support with their orgasms and achieving their orgasms. And so, can you tell us a little bit more about how important you think orgasms are in, I was going to ask in sexual intimacy, but I want to know your thoughts on orgasms in life in general? 
Nina Powell  14:48 
Well, yeah, I think that's a great question because it's like not just about the moment of orgasm, but it is also about the moment of orgasm. So, I think a lot of woman could probably relate to having sex with their partner. Particularly with a partner, because this is where the like the unfulfilled experience can probably arise more often because you're like, it's somebody else's rhythm and time, and fuel, and particularly if you're in a relationship with that with a male, but also, I guess what, you know, with any partner, you know, when they've had enough, they've had enough kind of thing, but particularly with your relationship with the male, because when they, when they have the orgasm, they basically just want to fall asleep. And even if you want to carry on it just doesn't have the same energy about it. It just doesn't have that like, it's like they've kind of stolen the.
Kate Callaghan
Yeah.
Nina Powell 
The like the font of the flame. It's like, what? So yeah, it is about orgasm and actually, what happens in that moment, women will have what is called a negative dopamine release. So they will start this buildup of this energy and if you don't have that, like, if your body is like building and building pleasure, and then it's like, just stopped. It's that you get negative dopamine, which is why it feels so gut-wrenching. Like I couldn't believe that I would feel so devastated as the rational brain itself. It's just an orgasm. What's the big deal? Like, you can have another go tomorrow or.
Kate Callaghan
Yeah.
Nina Powell 
Actually, in the body, it can feel really devastating, like really unfulfilled. Really, like, so kind of like sadness. Can you relate to it?
Kate Callaghan
Yeah, I can totally relate to it. 
Nina Powell 
Yeah. 
Kate Callaghan
I never, I never knew that. Wow. 
Nina Powell 
Yeah. So like, all these women are kind of trying to, like, rationalize and tell themselves that it doesn't really matter. But honestly, this is like what is going on in your body, it just isn't natural to have that happen. You know, it's much more natural for us to be the ones that just like get brought up to this incredible heights of pleasure and have orgasm after orgasm. That's like what the woman's body is capable of. So, I think that's why we feel so gut rage as well because we both like can sense that there's so much more in there. 
Kate Callaghan
Yeah. 
Nina Powell  17:18 
Going somewhere amazing. And then you get to take your partner with you. He gets to or what he or she gets to ride that wave of, like your intense arousal but so then how that orgasm then like flows into your life? It's, I mean, it's pretty clear. I think for most people, if you've had like, an amazing orgasm, then the next day, you just want that day, you know, you just feel better. It's like you've got that little bit of swagger on, you know, you've got that little bit of smile on and you're in your body, you know, you're like actually kind of like feeling your body, you know, you're much more grounded in your body. And that just helps everything. Like, you can think clearly. Nothing is a big deal anymore. Like that pile of dishes or whatever. It's like we're whatever. You know things stop mattering as much here. And then and then you can use that for your career. It's really creative, like lifeforce energy. So, what that means that might sound a little woo-woo. But what that means is like, for a woman, your creativity is connected to your sexuality, and money as well actually. They all like intermingle together. And if you start to have really amazing orgasmic experiences, there's like flow can happen in your life where you all of a sudden, you're like, I don't know, writing a new book, or like, in my case, leaving a corporate job. Like I just got all this confidence, and creative, like flow of like what else I could do. Yeah, everything you read, if you start researching it, you'll find like lots of like, creatives, like you'll, you'll be reading this story and it will be like when they hit this lover, and all of a sudden, like all this art, or this book gets written or yeah. It's like the feminine as of true feminine awakening to like your whole self is accessing this pleasure. Yeah.
Kate Callaghan
That they're important. 
Nina Powell 
It's really important because we want you to show up fully as your whole self. No, that's like what's needed. 
Kate Callaghan
Totally. I read something the other day that the best cure for a migraine is actually orgasm. 
Nina Powell 19:43 
Yeah, yeah. And period pains have an orgasm. And it's just relaxes everything. 
Kate Callaghan
Now, I know that what you just said then period pains, have an orgasm. I know some people but what do you mean? Do you please yourself during your period, or do you have sexual intercourse with your partner during your period? 
Nina Powell  20:07 
Yeah, I think that's a really personal thing. And I guess the question is like, what is stopping you from having both? Like is the reason that you might not do with shame around the blood or maybe you've been shamed at some point, had a partner kind of be grossed out or just through like the media or your own upbringing around your own menstrual blood. I mean, we've pretty much told that it's like, disgusting, you know, from an early age. So if that's the reason that you're not, then, you know, that could definitely be worked with because there is a lot of pleasure available in that time and like a different level of connection with a partner, because you're open in a different kind of way but it does take a partner who's like, able to be really, really prisoned. You can't, it's not the sort of time to have like, the sort of sex that you might have when you're ovulating, which is more like, let's just get it on. Like less caring about emotional intimacy, and more about pleasure. And I think during your period, then it's like that emotional intimacy is really, really important. 
Kate Callaghan
Yeah. Definitely. 
Nina Powell
So, yeah. And it's just personal. Some woman feel like it's just not the time to have anybody else come into their body. And it's just really the time to be with yourself. Yeah. 
Kate Callaghan 21:40 
Yeah, thank you for sharing that. And so, a little bit earlier on in the chat, you mentioned, you mentioned something about multiple orgasms, and how our body's designed to be able to do that. I know someone would be going, I'm lucky if I can have one orgasm. And I know a lot of women who struggle to orgasm, either every time so speaking to a friend of mine, and she was talking to me about this super hot guy that she'd been seeing and having sex, like five times a day and like, oh, my God. I only have it like once a week. 
Nina Powell 22:16 
Yeah. Wow. 
Kate Callaghan
She's a lot younger. And you know.
Nina Powell 22:21 
When you first meet someone that hormones a lot.
Kate Callaghan
Yeah, yeah. yeah. And then she said, I said, but I don't. I don't orgasm every time. And if I might orgasm once every five or six times we have sex but I also have friends in the past who have said they've never orgasmed at all, either through sex or otherwise. So, what would you be done about this? Is that normal? 
Nina Powell
Yeah. I would say it's common. For sure. And, and there's a few things going on, like, yeah where do we begin this one? So, one aspect which is really important is really, really knowing your own body. So, I think it's the statistic is like something like only 50% of woman self-pleasured when they were young. So, if you were one of those, you probably got like a lot of catching up to do. You know, when you, when I make people that are that were giving themselves orgasms from like the age of seven or something, they're like very easily multi-orgasmic. So, that's part of it is like really like knowing your, your own body, not just knowing your own body, but I mean, like regularly getting your body into high states of arousal, because that makes it much easier with a partner to enter into those states. So if you're like just waiting for your like, once a week, sex state, you're basically like, cold, like, you could say your body is cold, like the sexual energy isn't really there. Whereas if you're already like warm, then it's going to be much easier to have an orgasm. So, that's one part. The other part is, did you know that it takes like 45 minutes for a woman's body to become fully aroused or could be longer? 
Kate Callaghan
I did not. 
Nina Powell
Yeah. So, I think if we're leading especially if we're partnering with men, and if we lead in male sexuality be the lead, you know, they get their sexuality is very different. They can get you know, aroused. Like they get a hard on like in an instant. And our bodies are like endows when they talk about woman being water. And I really like this metaphor because women are water minifier. And if you think of a pot of water, if you like put it on the stove, you know, even on a high heat, it takes some time before it even gets warm. And then once it gets to simmering, it doesn't take that long before it gets really hot but you've got to like get your body like simmering and I think women put a lot of pressure on themselves to get like instantly aroused and instantly turned on. And if your partner is like, instantly turned on, often, they could be kinda like fast. Like, they've got this fire energy. So it's like, oh, you know, all this energy flowing around. 
Kate Callaghan
I'm a very visual person, right? 
Nina Powell
Yeah. Whereas, like, your nervous system is very important for female sexual arousal. So, if you don't get really relaxed, and like blissful, then you just can't get aroused. This is not blood flow to your genitals and to enable you should get like relax and blissful. You need like language awakening. The stuff in the movies where people have like sex in the corridor or something to slay in an instant, and she's like heaviness, incredible orgasm? Well, I don't know if that's actually true for anyone, probably only if she just already like, I don't know. I had an incredible orgasm a few hours earlier or something and her body's really open and receptive. Maybe? Yeah, so that's. So, there's still more to that isn't there. So, some people. Yeah. So, when we're having enough time, having your body be like receptive so that you've like, regularly having pleasure enables you to have pleasure more, it's like you, if you don't use it, you lose that kind of thing. So, that's definitely part of it. And, and also, just like being the guide for your body, so during pleasure if you haven't really spent much time really thinking about what you want. And you're maybe tolerating during sex, there's a lot of that happening, where women are, like, not communicating like the inside, you know, thinking, I just wish she would go to the left or just slow down, or I wish to be but softer or over, you know, and not. And so all of that is taking you away from the moment and not really feeling and you're not really receiving what your body wants. So, yeah, there's lots of layers to these things, I think. So, it's kind of about inquiring about, like, what part might be your part. There's like, there's always, I always think of these like keys in the door and you have to kind of like find the key that's going to unlock the experience for you. And I'm sure there's more we could talk about this, but women that have never experienced orgasm, it's incredibly rare for that for your body to not be able to. So, it's not that there's like a physical thing that stopping you. It's more to do with like, shame, religious upbringing seems to be a really common thing for a lot of women from religious upbringings come to me saying that they've never had an orgasm. Yeah, and like just not maybe giving your body what it really really needs. And also sexual trauma, sometimes that can also be the block because as you get sexually aroused, the intensity of the feelings can feel like too much. So, sometimes some woman check out or they want it to stop. So, they're not able to relax and surrender into their moment. So, yeah.
Kate Callaghan
It does involve a lot of surrendering, doesn't it? 
Nina Powell
Yeah.
Kate Callaghan
Absolutely. I love how you touched on that a bit, the shame aspect, because I think there is definitely shame around orgasms, but also around self-pleasuring. So, you mentioned that, if you're that it's kind of a way to warm, keep yourself warm, and you might only be having sex once or twice a week? And would you say, you know, self-pleasuring on a daily basis as a way to keep that momentum up?
Nina Powell
Oh, yeah, if you like that every day, and especially when I kind of caveat that a little bit too. But yeah, the more you're doing that the better. For sure. And you don't have to be doing everyday people every day. People probably like, we're not gonna do it everyday. But if you're, there's a woman. It's Betty Dodson. She's in her 80s and she's a sex educator. And she always talks about this too. I think she would say do it every day, for sure. She's like, you got to know your body. And, um, but even if you were like, a couple of times a week or even once a week, if you had like a sex date with yourself like once a week, even that would be nourishing. And why is it or what kind of want to caveat is because oftentimes, women have very functional orgasms. Like, really in and out quick and fast friction-based clitoral stimulation, have the orgasm is done and they don't actually feel very nourished or satisfied afterwards or maybe feel like a little bit satisfied. Like yeah, that was still good, but not really tapping into like the full potential in the body. So, really like to make yourself most available for amazing pleasure. You want to be practicing, like taking a bit of time to really let it build up in your body. So then you're getting this experience of like, really deep arousal. Yeah. 
Kate Callaghan
Okay. 
Nina Powell
Yeah. And that can take a little bit of practice, but there's loads of things you can learn. 
Kate Callaghan
Yeah.
Nina Powell
Make it more fun. Yeah. 
Kate Callaghan
Fascinating. 
Nina Powell
And that's also totally okay to have a quick one sometimes to like, no shame ever. All orgasms are good. 
Kate Callaghan
Good.
Nina Powell
Yeah.
Kate Callaghan
You know, I think you mentioned as well, you know, some girls who have learned to pleasure themselves since the age of seven. And I'm sure there's people out there going oh, what, how? But I can, so I can fully vouch for this. Not for myself. I think I was taught by a friend to how to self-pleasure when I was 13. 
Nina Powell
Really? Wow.
Kate Callaghan
Yeah, we'll camping. Yeah, she's pretty cool. I remember the experience very clearly but my daughter, Olivia, I think she needed to she was having showers by herself. And she would ask for the shower head and she would put it straight down on there. And she would sit and just stare into space. 
Nina Powell
Yeah.
Kate Callaghan
Having this awesome experience. And she also had this one time she always runs around naked. She discovered that when she's naked if the cat went walked between her legs, and the tail brushed the vagina in the clitoral area, it felt really good. So, there was a long period of time when that cat was trying to. She was chasing the cat. And she will she will sit there on the couch and she will play with herself to no end. And I think it's important for us as parents as well to, to not stop them as confronting as we might find that. Just to go. Yeah, okay, not make a big deal of it. 
Nina Powell
Yeah, because like, pleasure is actually good and natural. And we actually touch our genitals like in the mother's womb. So, we're born sexual, but we're born with it feeling good. And it's just about, I think we spoke a bit about this in a way as well about like, how to encourage kids just to learn that it's like their body and that, you know, something that you do, and you'll be enjoying like, things like that, so that it's not getting doesn't get confusing as well. 
Kate Callaghan
Yeah. Yeah, she probably should go to her bedroom a little bit more. She's, she's very open but that's all right. We're all right with that now. She's only not even four, if people come around. 
Nina Powell
Yeah, yeah. And just like learning that, so that she doesn't get like a shameful-shaming experience at some other point. 
Kate Callaghan
Yeah, it's definitely. 
Nina Powell
Confusing to be like, oh, I thought this was okay. And now someone's like, really having a go because I do have a friend actually, when she was growing up and she had discovered the slight pleasure and she had a few times with like other girls when she was growing up, like just kind of playing around exploring, which I think is really natural. And a lot of girls do do this. But the other girl's mom, like caught them. And ever since then, she's been totally, like, quite have quite a lot of disgust in relation to her vagina. And finds it really, really hard to let her partner to give her oral sex. Yeah, because of this huge, like shaming experience about the vagina. The vagina is never quite eventually, like five or something, five or six. Yeah. Yeah. So it's powerful. Like these things go in, like, really deep into the psyche. 
Kate Callaghan
Yeah. All right. We're gonna we're going to get to some of these questions now. 
Nina Powell
Okay. 
Kate Callaghan
Bit of a detail with someone like. So, yeah. When I put the questions out there, a lot of people came back with saying that their libido has disappeared since having babies. So around the postpartum sex, loss of libido, lack of confidence, and also said mind over matter with pain, so can you touch on those, please? 
Nina Powell
Okay. So, this, we talked about libido and um, so it's, so things change like postpartum like hormonally, especially if you're breastfeeding. You're getting a lot of oxytocin and your body which is there, like the cuddle, the cuddle hormone. You know, so it's different, like your body doesn't, like have the desires are different that doesn't, you know, as your body has been given the right chemical concoction for you to be nurturing for your baby. And so it is something different like to be having a sexual relationship with your partner. You know, it's a different, it's a different kind of concoction of chemicals that brings that like, desire for sex but on the same token, if women waited around until they had desire, then you're going to probably wait your whole life. Because actually desire what happens in your body, sexual arousal precedes desire. So, what that means is, you only feel sexual desire when you feel sexual arousal. So, you kind of have to just get on with it, that's the thing, you just have to create a space which allows you to just get on with it and just and giving your body, your mind, lots of positive reinforcement in the way of like, this is going to feel good. I'm looking forward to having some time of intimacy with my partner and also maybe moving away from the idea that all intimacy needs to involves penetration as well, because it's natural that we definitely still want some, like connecting time and intimacy. And like, that sense of connection with your partner is really important, I think, during that time as well for both of you and for the relationship. And so yeah, so the libido is kind of goes back to what I said before about if you, you don't use it, you lose it kind of thing. So the longer you leave it, the less sexual desire. It's like this, it's like your desire just starts like disappearing off more and more and more. Whereas if you can bring it, bring it online and actually start doing something, whether that means self-pleasuring first and exploring your body getting maybe comfortable with how it feels because it's going to feel different, particularly if you've had a vaginal birth, you know, your vagina is going to feel different. I think it's sometimes it's great to like actually have a look like a lot of women think, like really, really different and have a lot of fear around that. But actually, when you look in the mirror, you can start to come into connection with it actually being really beautiful, and might not look beautiful initially to you, it can be a little shocking, or surprise, or whatever emotions come up. But actually, having a look can be really useful. And also to see that it's not actually broken. Like it's actually okay. Like I've had work with a woman when I do bodywork with women post-childbirth to help with healing. And a lot of the time they think this is like, really, like all four kind of thing is going on down there. But actually, when we have a look, it's like, ah, okay, that's not so bad. All right. And that can help I think with helping you to relax with a partner as well. Because if you've got all the story going on about like, I'm broken, like, my vagina is like terrible now, like all this kind of stuff, that's not going to help you to relax. So yeah, having coming into connection with yourself again will be really important. And then the pain. So, does that feel like enough around libido? 
Kate Callaghan
Yeah, that's and thank you and I can fully vouch for that. Just getting into it. Because you know, sometimes I really well be like nah about to sleep. But every time when we do have sex and I'm really glad we did that. 
Nina Powell
Yeah. 
Kate Callaghan
Always. Always. You'd never regret doing it. That's worth it. 
Nina Powell
Yeah, totally. And it just gonna helps the bonding and relationship. Like if you're having sex regularly, everything else is easier. Like you argue less, you're just it's something about the alignment, like when you're aligned with your partner. And actually, it doesn't always have to be penetrative sex, actually just spending some time lying down and like a little bit of eye gazing or even not eye gazing. Just like cuddling and leading your, you're facing each other, and you know, your breath kind of gets aligned. And maybe you're kissing a little bit. All those kind of things that you used to do when you first meet someone. You kind of just like hang out, you know, you just kind of like an aura of this amazing beam that you've met. Just sort of like just want to like hang out and look at them. More of those kind of things that you do will actually help you as well to feel like having sex with them as well. Because if you're feeling quite disconnected, you know you're like busy looking after a baby and you're busy doing all of that. You just don't have that connection. So, whatever you do to bring a better connection back will help you feel, will feel more like. You're actually naturally might unfold into sex.
Kate Callaghan
Yeah. Beautiful.
Nina Powell
Yeah. Yeah, that's a huge thing. Actually, eye gazing every day as an exercise I often give to couples, and it helps hugely in a relationship. Just not trying to talk things through all the time. Actually just hanging out, just slowing down a little bit. 
Kate Callaghan
How long would you suggest people eye gazing?
Nina Powell
Five minutes, you can set a timer. Timer is good. So, then you don't wonder how long you're going to be doing it for. And they're not wondering how long they can have to do this for. 
Kate Callaghan
And it's like a staring competition?
Nina Powell
Kind of but usually your eyes relax.
Kate Callaghan
Gentle way.
Nina Powell
Yeah. And you can let your eyes get blurry and you just look into one eye, you tend to look into the left eye. It's seen as like the gateway to the soul but you can try the right eye and see if it feels different. You'll probably notice it will. But yeah, it's just really that like, that's quite a structured like exercise I get people to do just to get them used to the idea of slowing down and looking at each other and taking a bit of time every day to just connect. Yeah, so in whatever way that looks like. Other ways are just like lying down on the bed together and just kind of just kind of looking. No talking. We talk too much. Yeah, it is sweet. Yeah, it's really sweet. I know. And then you're looking and all of a sudden your heart melts, and you're like, oh, and then you doesn't know what else might unfold. 
Kate Callaghan
Beautiful. I love that. 
Nina Powell
Yeah. So pain, pain is really, obviously really, really common post-childbirth, because you might have had stitches or whatever. And I will use the word trauma because you know, there's actually a trauma that your body goes through. Like it's not, it's pretty outside of the normal range of day-to-day life. And I haven't had children so, I don't know this from experience. I know this from working with other woman and hearing other woman's stories. And really with the pain like ideally, you want to go and see somebody, a pelvic floor physio that gives you internal massage or somebody who does holistic pelvic care and have them give you a little bit of bodywork, that's the like the ideal. And in France, every woman receives 10 sessions post-childbirth with this kind of work with this internal work and getting everything, getting all the muscles, like firing properly, stopping any urine leakage, like getting all the pelvic health like totally back. And part of that is working with the any scar tissue. And it's amazing. Like when I work with women, they may have had pain for months, and then one session that pain or unwind, it can often feel like a bit of a pinprick. Quite quite sharp, pinprick pain. And it's like the body just as soon as you have somebody do a little bit of like, touch with prisons, it's like your body just melts. It's like, ah, okay, I can relax now and the pain will go. So, obviously, it's not always the case, just on one session, but that often is. So, it's something if anyone is experiencing that I would so highly recommend reaching out and getting some help there because once you have like repeated experiences of painful sex, it's like your body starts to tense up expecting pain. And the more you do that, the longer it takes to kind of unwind that, you know? 
Kate Callaghan
Yeah, so get on top of it now. 
Nina Powell
Yeah, the sooner the better. 
Kate Callaghan
Yeah, actually.
Nina Powell
And six weeks after birth, you can do it. 
Kate Callaghan
You can see someone and don't think of something that you need to live with. 
Nina Powell
No, it's not like. I know that's probably so common that people just think of this like the same with like leaking. Like urine like, you know, oh, it's so everybody has that kind of thing. And it's like, doesn't mean that it can't be fixed. 
Kate Callaghan
Exactly and is it that just because it's common doesn't mean it's normal. 
Nina Powell
Exactly. Yes, totally. And the pain is like, no woman should be having pain during sex. Like that is just not going to be good. This will get all of your pleasure, like you only like every time you feel pain, you'll go back like 10 steps. And then you're not really able to be there. So, yeah.
Kate Callaghan
Thank you for sharing that. Now, we probably have time for one more question before we talk about your book going on, which is very exciting. And I think, I'd really like to touch on this one. So, I had a couple of questions around vaginal orgasms. So, people were asking about vaginal orgasms with penetration only. I think someone also else mentioned, I think they found the whole idea of a vaginal orgasm quite elusive. 
Nina Powell
Yeah. Yeah. People want to like, discover there's like this list isn't there's. The kind of orgasms that one could have, like Google.
Kate Callaghan
Have had that one.
Nina Powell
Have you had this one? It's interesting, I have, like, my perspective a little bit on this is, is that our bodies are amazing. And lots of incredible things can unfold if we are open to it and something about like choosing kind of like a sort of as a bit of a masculine thing, like saying, I'm going to have this sort of orgasm or that sort of orgasm, it's quite goal-oriented. But it is also good to know that, yes, you can have orgasms from all different parts of your genitals. In fact, some people can even orgasm, without even their genitals being touched, with their just their nipples or their ear, or their neck. I know it sounds amazing. And it's kind of like it's a training thing. It's like you, you get really, you get really good at doing it one way. And neurologically, you have this like pleasure highway, which involves touch in a certain way, touch with a certain pressure or friction. You know, and that comes into, like the position that you can have an orgasm and during sex and like, only be able to have an orgasm one way and you know, gets quite limited. You know, that's the truth but like, it's definitely easier if you can have pleasure in different ways. And all it takes is training. It's like, I don't know if you've heard of, have you heard of Pavlov's dogs? 
Kate Callaghan
Yes. 
Nina Powell
Yes, most people heard this experiment. Yes. So, rings the bell and they salivate because whenever they heard the bell, they hit the food. So, it's kind of like the same with you, with your vagina. But now that might be too graphic. But yeah, if you, the way to do it. What you want to do is you want to train your body to have new highways to pleasure. And so what you might do is you bring your arousal app and your body and the way that you know, whether that's through clitoral stimulation, with a vibrator, with whatever it is that you tend to do. And then what you want to do is you want to start touching another part of your vagina, say internally, and there's a couple of structures inside that gorgeous, like swell with blood when you get aroused or just any place internally. And if you start to stimulate yourself in this new place, while you're already aroused, and then maybe your arousal drops off a little bit. So, you go back to your clitoris again. And then you go back to your vagina about you're clitoris. And then over time, what will happen is your vagina will just become like wired into your pleasure network. And then you'd be able to have an orgasm purely from stimulation of, say, a particular place internally. And then it's like, wow, that's great. You know, it's great for loads of reasons, one that, you know, you no longer have to have sex, like this one specific way. You've now you're like broadening these ways that you can enjoy intimacy. And also, it's just something so liberating about. I guess, it's just like, how my body can do it. It's like, I thought there was something wrong with me or, you know, everybody else can do it. And I thought maybe there was something different. And it's like, no, it's not.
Kate Callaghan
Yeah, I guess it comes back to taking that time as well. That time and that patience and that caring.
Nina Powell
Yeah, yeah, you have to kind of like train yourself. So, when I was learning all these techniques I like was over a few years but by the time I got to like this one symmetric seats, coaching, training, I was like, okay, I can have an orgasm for my clitoris, takes quite a lot of work. I use quite a lot of muscle tension, you know, clinch and all these sorts of things. I was like okay, what if I could, what if it could be different? And so, I just started. So, I'd be like, okay, I'm not allowed to touch my clitoris. So, I would like bringing the arousal on there, but I don't allow anyone to. No, no. Not allowed. And then eventually, I was able to get some from somewhere totally different and it was like wow because orgasm is really, really different. So, there's a place for the perennial sponge which is internally and downwards. You have your G spot which is internally and towards the front, what about your Cervix? And it also just got all the walls of your vagina. Yeah, so you can like have these different experiences. 
Kate Callaghan
Lots of places.
Nina Powell
Yeah. For a lot of place, or just the lips of your like your labia or yeah. Takes a little bit of body training. Yeah, so you have to kind of commit to these things. I suppose it's like a few of learning plan instrument, you will actually have to practice. You just have to discipline.
Kate Callaghan
Learning to play the instrument of your vagina. 
Nina Powell
Yes. Definitely. It is. 
Kate Callaghan
It's worth putting in that practice to become knowledgeable in an Olympic get of pleasure. 
Nina Powell
Yeah, I feel like, I like the musical instrument. It's like this, like Symphony, you do something it can emerge? 
Kate Callaghan
Yeah. 
Nina Powell
Yeah, and it's empowering them because then you know, then when you're with a partner, you can actually have pleasure and not be efforting all the time. Like, am I gonna have an orgasm? Am I not gonna have an orgasm? Oh, I'm almost there and that's we do, you know, you kind of relax a lot more because you trust that your body is able to? 
Kate Callaghan
Uh-huh. Yeah. 
Nina Powell
And it just feels better that you can feel them inside you or you can feel? Yeah, you actually just have more sensitivity. 
Kate Callaghan
Wonderful. Thank you. Now, before I let you go, can you please tell us a little bit more about your upcoming retreats and programs for women? 
Nina Powell
Yeah, I would love to. Yeah, so I have the kind of creme de la creme kind of part is the retreat that's coming up in New Zealand at a Hot Springs Resort in the mountains in July. So, that's going to be really, really amazing experience of space and time for your body and, and don't be afraid it's not going to be like getting a vagina out and learning to, I don't know do all these things, or whatever we've been talking about but it will be learning ways to really keep you very present in your body and learning techniques and things that you can yeah, does expand your experience of orgasm and we'll be doing lots of ritual and hanging out in their private hot pool that we have. And yeah, just having a beautiful time to fully embody and awaken this incredible erotic you. And I was called ceci siren as my offerings at the moment. The ceci, the ceci empowered woman who is, who loves to be seen, who loves to be adored, and who loves to be celebrated. So, yeah, it's gonna be fun. And then I have a two-months online program that women can take part in. And they can, and you can do private sessions as well. So there's like, an option to work with me privately but the online option is so that you can do that from anywhere in the world and we'll meet once a week with a small group. So, it's about the connection as well and will be to speed learning, learning practices going home, have your home play to do. And the most powerful thing of all of this is like with almost, don't even really need to do anything. All we need to do is turn up and talk about sex and then you will go home and you will have more sexual desire. And you will be releasing the shame and you'll find it easier. So yeah, it's kind of interesting that I do teach techniques, but you almost don't need to teach anything. Just seem to talk, just say to bring women together and talk and share. 
Kate Callaghan
Yeah, totally. And life will be better. 
Nina Powell
And life will be better. Yeah.
Kate Callaghan
Getting to know yourself, having orgasms, life will be better. 
Nina Powell
Yeah. Have more orgasms, life will be better. Your work will be easier, your relationship will be better. 
Kate Callaghan
Absolutely. Absolutely. And last but not the least, where can people find you? 
Nina Powell
Oh, they can find me on my website. So, NinaPowell.org, ORG, and you can contact me through that. You can send me a message and I would love to hear from you. And I'd love to hear from anyone who is keen to start some of this awakening, who really wants to exists. You're like, pleasure potential in your body. Remember that you're like this sensuous.
Kate Callaghan
Goddess. 
Nina Powell
Yeah, we could call it the Goddess for sure. Yeah, I was at the client. I was talking with with a woman who is going to work with me. Just before this call and, and she was just saying how like, what she's realized in her life is that she just hasn't really, she doesn't really know how to move towards pleasure. Like we get really practiced it, like working through tough things. And she just doesn't like the whole idea of like, being a pleasure being, it's just so radical. And that's why she wants to work with me because she was like, I see that you're, you know, that you're like in your body and you're like, sensuous and yeah. And I think that's one of the biggest things is just waking up to this aliveness. 
Kate Callaghan
You do sense that when you're in your presence, though, you do have that effect on people. 
Nina Powell
Yeah, I'm all about the sensuousness' of life.
Kate Callaghan
Just it's pretty, pretty awesome. Yeah.
Nina Powell
Yeah. That's why we're going to hotsprings for my retreat because I'm all about like, the sensation and the experience and the food that we eat and the smells and the you know, the sides that kind of like richness of life that's available. It starts with your body being able to actually feel. Yeah, yeah. 
Kate Callaghan
Awesome. Well, thank you so much for taking the time out to share all this with us. And thank you for doing everything that you do. It's so needed, so important, and you're making a huge difference in so many women's lives. So, I thank you for doing that. 
Nina Powell
You're so very welcome. And it's been great to chat with you. Thanks for taking the time to interview me and have this conversation. It's like, wow, it's always fun. It's always fun for me to talk about orgasms. 
Kate Callaghan
It's always good chatting with you, Nina. So I will let you know and thank you again for joining us. 
Nina Powell
Yeah.
Kate Callaghan
We'll probably, we'll have to get you back on for another chat. 
Outro 56:48 
Thanks for tuning in to The Holistic Nutritionists Podcast. Remember, we love to make the show relevant to you. If you have any questions or topics you'd like us to discuss, just submit them to [email protected] and we'll get them answered for you. Also, don't forget to subscribe, rate, and review the podcast on iTunes and share it with your friend. And if you're looking for more info about how we can accelerate your journey to your optimal health, you can find me, Nat, over at NatalieKDouglas.com and Kate at TheHolisticNutritionist.com. See you next time!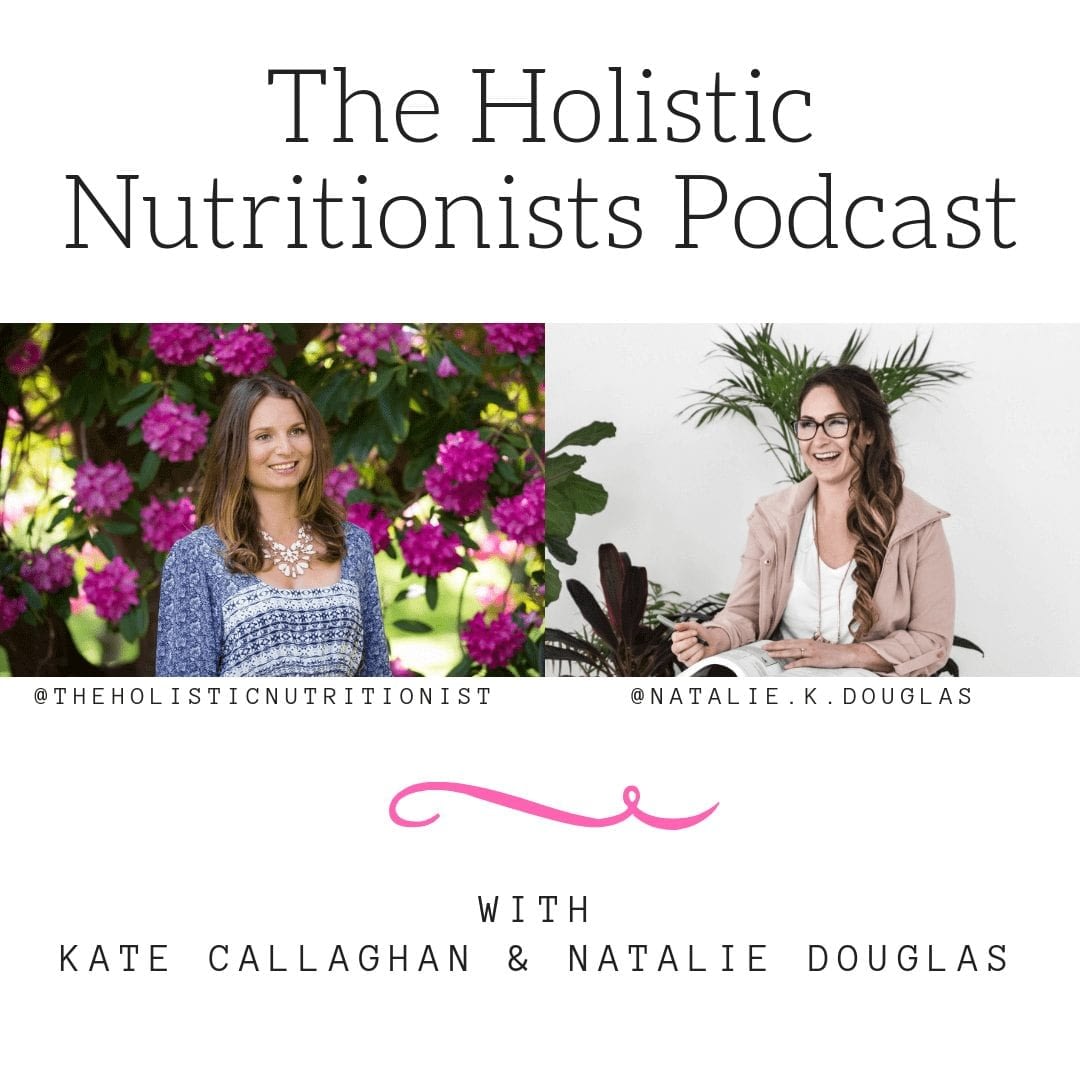 Welcome to The Holistic Nutritionists Podcast!
If a professional, polished, well-edited podcast is what you're after…then we're not for you!
But if you love unfiltered banter, unedited bloopers and authentic heart sharing then we are your ladies.
We also have the most practical tips on holistic and alternative health care too 😉
Have a question that you want answered on the podcast or want to be interviewed? Get in touch!
Search my content by category…
LIKE WHAT YOU HEAR? Help us spread the love with a 5 ⭐ review on iTunes!