#63 Orgasms, Libido, Sexuality & Masturbation - with Nina Powell
The Holistic Nutritionists Podcast
LIKE WHAT YOU HEAR? Help us spread the love with a 5 ⭐ review on iTunes!
SUMMARY
In Episode 63 of The Holistic Nutritionists Podcast, Natalie Douglas, Kate Callaghan, and their guest, Nina Powell (Psychologist, Sexologist & Somatic Sex Coach) discuss how to enhance your sex life and various orgasm benefits like decreasing stress.
TOPICS COVERED
What Nina does and how she got into it
The importance of orgasms in sexual intimacy
Is it normal for women to not be able to orgasm (every time, or not at all), and if not normal, what can be done about this?
Top tips on improving the sexual experience and orgasm
Thoughts on masturbation? Where can you buy cheap batteries?
Thoughts on toys? Do we need to go full "50 shades of grey" or are their other, less intense options
My (Kate) libido disappeared since pregnancy and birth (18mths ago). Advice, please!
Thought on postpartum sex, loss of libido, lack of confidence, mind over matter with pain?
Can people be sexually incompatible on a physical/chemical level?
Sex during breastfeeding and why am I so dry? And just don't want it!
Can all women have vaginal orgasms with penetration only? (I think we previously had a question around the difference between clitoral and vaginal orgasms, and if vaginal orgasms were actually a thing)
If someone has experienced trauma (either from birth or sexual trauma in the past), where should they start on the road to recovery (physical, mental and emotional)
What does a session with Nina look like and what does she actually do in a session?
Nina's upcoming retreats and programs for women
Where you can find Nina
GUEST BIO
TRANSCRIPT
Intro 0:00
Hello and welcome to The Holistic Nutritionists Podcast, with your hosts Natalie K. Douglas, Thyroid Healer, and Kate Callaghan, The Holistic Nutritionist. Nat and Kate are degree-qualified dietitians and nutritionists, certified fitness instructors, speakers and authors. If you love unfiltered banter, unedited bloopers and authentic heart-sharing then we are your ladies! Now it's time to sit back, relax and get ready for our latest tips on living your healthiest life possible.
Natalie K. Douglas 0:42
Hey, guys, welcome back to another episode. I always think that I should check what episode number it is and always forget, but it's 60 something. Do you agree? It's 60? Something? Maybe with 69 last time? No, it wasn't 69 just you know, just kidding. I got I was gonna tell my really funny story that our last icon on this podcast, nevermind. No, no, I really cocktail it this week. Anyway, how are you?
Nina Powell 1:13
I'm good. Thank you.
Natalie K. Douglas 1:16
happening in your world? What do you have to update us on? I 1035 last week? Oh, I thought you said it's 1035. And I'm like great that I really 35.
Nina Powell 1:29
Today, I feel really good. Fabulous. I feel really good. Actually, I feel black is good. I'm in a good place. And yeah, I feel energized and happy and contented with everything that I have and grateful for everything that I have. And
Natalie K. Douglas 1:49
it's funny age like, I don't, I've never really kid. Well, I mean, I'm still young. So maybe that's why I don't like I've never, like I feel like I'm not going to be someone that really cares too much about the number. But I love my husband's older than me. And he really like I teased him a lot about why I make old man jokes all the time. He's not that much older than me, I think as as older than you that he is the knee bones. Six years older than me.
Nina Powell 2:16
But yeah, as is 12 years older than me.
Natalie K. Douglas 2:18
Yeah. It's like a big, big old sometimes I'm like you don't actually old.
Nina Powell 2:24
But it's just like, I feel like I'm making feel
Natalie K. Douglas 2:28
something, guys, don't do that. I'm a bully. Just a mouse window. Everyone else is.
Nina Powell 2:39
Go with me with me what's new with you?
Natalie K. Douglas 2:40
I'm a lot actually. So I moved houses or apartments rather. And that was so my husband said to me the night before he went away on a surf trip that, you know, it would be fine. I don't think I knew if I would actually do it, it would be fine if I went out and found a place rent for six months before we purchase. And I was like, because I really wanted to do that. And I don't know if you thought I was actually going to do it or not. But then the two weeks while he's away partly to distract myself because I actually was quite anxious when when he went away, I was convinced something's going to happen to him. He was just on a surf trip in Indonesia. But I just have this real insecurity around people safety. So I love so I'm working on it, but it's a thing. And so to distract myself, which again, probably wasn't the best tactic. But I went out and found a place for us to rent. So I spent, so I went anyone who's gone looking for rental properties, you just, it's like a marathon and I found one and then in my head like he got back on the Sunday. And so I was like, well, like logically, we could move in on the Monday. And so I made us move in on the Monday right after he got back from his overseas trip. And it was quite funny, because that's very much my personality. I'm like, as soon as I decide something I'm like, All right, let's just make it happen right now. And bonus more like, let's plan it out. Let's think about it. Let's make sure we have a strategy around it. And then we'll think of that, then we'll do it. And so it was really quite funny to see the contrast. But he took it in his stride. And we have settled in now after many carrying furniture back and forth and getting everything sorted. So that's been good. We're also just about to launch the next round of thyroid rescue. So next Wednesday night at 7pm. We're having a free live webinar. So anyone who's interested in thyroid health, and wanting to hear more about how I actually heal people start I don't actually be going through the step by step process that I use in clinical practice every day and giving you guys heaps of information about the thyroid rescue program, what's included, and you'll also have an opportunity to ask me as many thyroid related questions What other questions as you want? So yeah, there's no you don't have to sign up after listening to it. It's it's just a free webinar to listen to. So to sign up for that you can just go to my website Natalie k Douglas calm and click on thyroid rescue up the top and sign up and it will be recorded. That's another question people have been asking. So it will be recorded. So if you sign up, like you still have to sign up to get the recording. That will be said probably today or so after the webinar. And what else? I feel like they're the main things to be honest. I'm going to my step brother's wedding this weekend. Yeah, in the Hunter Valley. I've never been to the Hunter Valley. Can you believe that? I live in CPE. Never been to the Hunter Valley because I don't really like wine. I know. I know. But I just
Nina Powell 5:51
okay to not like wine.
Natalie K. Douglas 5:53
And over. I've let well like isn't that why people go like today? Yeah, you're guilty as charged. So that's all it's me with me. But today, we're doing another q amp a because they're so fun. And it also means we're answering your questions that you actually want answers to. So KE ready for the q&a? I think
Nina Powell 6:19
so.
Natalie K. Douglas 6:20
Me to actually have it. I only have just popped the questions down, but I haven't actually read them all yet. So you're truly getting alive. And
Nina Powell 6:28
we're organized we
Natalie K. Douglas 6:30
Yeah, yeah, totally. Well, it's been a very, very busy month. So we'll just let ourselves off the hook. Okay, so the first question is, what are our best tips in managing race Asia. So Kate, I might start with just a couple of then you can chime in with whatever else you want to add. My first thought when I think of her as a shark is that it is a autoimmune condition. So when someone presents to me with rosacea, I want to think about that, how do I actually modulate their immune system and calm it down. So I'm thinking an anti inflammatory diet, so you know, rich in fruits and vegetables, good quality, animal protein, healthy fats. And mainly like focusing on eliminating those really pro inflammatory foods like sugar, alcohol. Dairy is a big one meets very shy or grocery shop for sure. There's a show at skin conditions. And gluten and industrial seed oils would be the main or I'm sorry, actually would be the other thing that definitely I think of with skin and stuff. So that's what I would be doing supplement wise, I'd be using things like vitamin D. Zinc is really really helpful. A heart a good quality fish oil, you can use cod liver oil as well, because it has the benefits of having vitamin A vitamin D and the omega threes in there. And a president already cooked came in So a really good bioavailable PQ meant to bring down that inflammation as well. Okay, if that guy stole a lot of the really at? Do you have anything to add to that? So as I wouldn't do that to you for the next Christian?
Nina Powell 8:14
That's okay. No, I agree. I agree that it's I think there's that strong autoimmune link and definitely related to inflammation in the body. There's also some chat about it being caused, or at least contributed to by a mite. So that might be something to look into as well. But I think the the effect of the mind is what the mind, the mind, the might does to the immune system and to the gut bacteria, which then has that flow on effect through the gut skin access to trigger that rosacea. So that's one pathway that I would look down, and definitely autoimmune protocol if you've got quite severe rosacea. So if the dairy free gluten free, soy free diet isn't cutting it, look into autoimmune paleo, so going a little a bit more restrictive with the diet for about 30 days to see how things go. So removing more of those potential allergens like eggs, nuts and seeds, and you know that the things that are really good for you, but also while you remove those, including foods that are going to be really nourishing for the skin. So sardines, if you can stomach them, are going to be so incredible for skin health and decreasing inflammation, because they're reaching those essential fatty acids. Good. Essentially. How about trying to roll pitching those essential fatty acids, omega three fatty acids that control that inflammatory pathway, they're going to decrease the inflammation and all you know your essential fatty acids also really nourishing for the skin. So double whammy with the sardines if you can get them in, if not wild caught salmon with Devonian and the skin is possible. Really look after gut health because of that gut skin access connection and because of the immune system, mostly being in your gut, so thinking about bone broth daily thinking about fermented foods, if you tolerate them. Now, some people if there's a histamine link with the rosacea might not tolerate fermented foods in
Natalie K. Douglas 10:24
so disregard as you know, you're right. It can get quite complicated content, but I actually see I'm glad you I don't know why I didn't say that in the first place. But I actually see a lot of psoriasis, eczema and rosacea in my CBOE patients. So small intestinal bacterial overgrowth. And often when we clear that up, the skin clears up. And same deal with any current FD spiral sisal parasite, but because I trade a lot of SEO, I definitely say that I definitely say skin stuff a lot. As you said there is that such you know, tight link between the gut and the skin and also the immune system. So it's really about that, modulating all of them and doing everything that you can to decrease any stress on either for on any of those systems.
Nina Powell 11:08
Totally, NZ said by now you're talking about stress on the systems in terms of CBOE and things but psychological stress as well really needs to be managed, because that can be a big trigger of inflammation and a big trigger of rosacea. So incorporating stress management every single day, think about incorporating 10 minutes of meditation, I love the one giant mind app, some deep belly breathing, incorporate yoga, get outside spend some time in nature. And for some people with rosacea sun can help well summit can trigger an inflammatory response. So see, see what you can handle. Sun might be helpful for you. If it's not, don't push it.
Natalie K. Douglas 11:51
On that light side of things. Red light therapy or blue light therapy can also be really helpful, but obviously going to see someone that can help with that. Although one device that I haven't very, that I could speak really highly of other Jews lots but not sponsored by them, although that would be amazing. The slides and I've had a lot of success using those with some of my clients. And also with my mom, she didn't have rosacea, but she had a skin cancer cut out on the nose. It wasn't a healing and red light therapy and blue light therapy can be really helpful and healing to the skin side of things. So definitely look into that. Anything else?
Nina Powell 12:36
I would So typically, I would think about some really gentle essential oils. So Frankincense might be helpful for you. Tea tree can be helpful for irritated skin, and maybe some lavender as well.
Natalie K. Douglas 12:49
And would you dilute it in fractional coconut oil? Or would you dilute it in something else? Like do you ever find that people react to coconut oil?
Nina Powell 12:57
Yeah, definitely some people can. So I would use I would try something like a hobo and NC dude patch test first to see if you tolerate it. And it's just a little bit richer, a little bit more nourishing for the skin. Job. Ah, you know what actually is amazing for the skin. And it's just been released is chimeric essential oil.
Natalie K. Douglas 13:19
Oh, lovely. It's the question because I feel like someone will easier wallow. Does it make your skin yellow? Have you thought you know,
Nina Powell 13:30
I have seen it. I have seen it doesn't make scalar night because you can do a fair bit. Okay, cool.
Natalie K. Douglas 13:36
Good. Glad we clarified that. Alright, so I'm going to ask the next question. And you get first dibs on the answer, because I did the first one. So the next question is, I feel not me. But actually I do feel a little bit stressed, but I feel stressed, nauseous and tired. I think my journals are exhausted, what should I do?
Nina Powell 13:57
reverse those feelings by sleeping and managing stress. Now, I will go into your exhausted we've spoken about this before. And I think we have a whole podcast on adrenal fatigue, which is not an actual term. And what it's actually called is my words going to work hate the pituitary, adrenal axis dysregulation, so to speak a little bit slowly for that one. So XBA dysregulation basically, what that means is is a little bit of miscommunication or excess firing between your brain and your adrenal glands. And there's been too much output of your stress hormones for too long. So chronic stress, cortisol has been pumped out too long, and it's run out, not run out, essentially. But that's what it feels like, because you've just been pushing things too hard for too long. And Is that how you would describe it in layman's term? Snap?
Natalie K. Douglas 14:52
Um, yeah, like it's really I mean, there's so much information and misinformation out there around adrenal fatigue. I think the I like cringe every time I have to say adrenal fatigue because your adrenal is as kind of like it's not really as Kate said, it's not really adrenal fatigue, because they don't get tired. Like there are extremes like they are Cushing syndrome and Addison's disease, in which case, the adrenal are the ones, you know, malfunctioning. But in the case of the in between that, which is what most people are talking about, when they're talking about, quote, unquote, adrenal fatigue, we're talking about a text, you know, HPA axis attacks, that kind of brain and endocrine system, because we've burnt out, so it's more that, yeah, your your body's just under a lot of stress. And it can't regulate the amount of cortisol, it's putting out at the right time. So there's often a dysregulation in the pattern or the amount. And that is actually a way a really awesome test that you can do to see whether your problem is that you don't produce enough overall, or whether it's getting deactivated to call arm which is like the inactive form of cortisol, or whether it's just that your pattern is off. And I find that really, really helpful because it changes treatment in some ways. So it's called the Dutch Dutch adrenal test. And it's you can get it through a private practice practitioner, if they have an account with them. And if they know how to interpret the results, obviously, sorry, it's a really awesome test, I use it with some of my clients who are in that situation, and we're doing the basics of, you know, starting to make sure you're reducing your stress, sleeping more, not overdoing the exercise, when all the basics don't work, then it can be something that's really, really helpful. Or if you just have money to spend, then it's a great, it's a great insight and can be really motivating when you actually see what's going on. And that was a massive tangent. But anyway, continue on the what to
Nina Powell 16:58
ask you any more questions. Would you say give me a time limit and stop. So in terms of what should I do as net said, Get tested if you think there is something deeper going on, but really, it is coming back to the basics. And those things that we don't often want to do, we just want a pill to get that quick fix. But you really need to go back to that stress management on a daily basis really making it a priority, because the longer you leave it the worse that's going to get. So meditating twice a day, if you can, making time for that sleeping probably longer. So going to bed early, sleeping as long as you can sleeping in a cool dark room, have a look at our sleep podcast for tips on that. And you might even find that if it's if it's possible for you to do so even if it's just on the weekends, having a nap. During the day, just a 20 minute nap can help as well. And supplementation wise, I do like a short Gundam not just because I like saying are shorter but because rumba is a really wonderful support for your adrenal glands and adapt degenerates. And most, most people I've come across have tolerated it really, really well. And reducing things that are going to be a stress on that HPA system. So caffeine, sorry, alcohol, sorry, hanging out with friends that stress you out.
Natalie K. Douglas 18:27
Just imagine say
Nina Powell 18:27
that, sorry, sorry, sorry, not sorry, really. Choosing you're choosing the people you hang around really wisely. And this goes for not just people who are struggling with HPA dysregulation. But in general, don't hang around with people who stress you out or who are all windy. And man, we
Natalie K. Douglas 18:50
don't follow people on Instagram that Yeah, like make you feel like you should be doing more or differently or whatever. That can be an absolute stress as well, because you feel like I'm going to relax more live down on the couch more. But then you start scrolling Instagram and all these people are coming up triggering the #### out of you, then it's really not going to be at all helpful. So make sure you means to clean out to
Nina Powell 19:14
don't follow or hang around people who trigger the #### out of us what mentioned food. Eight carbs, eight carbs and regular basis every three to four hours, not just carbs have a well balanced meal, but include carbohydrates, because that is going to help calm that adrenal response and reduce any unnecessary the release of cortisol. And if we're going to learn how to hydrate then we can we can make our own glucose, which is the argument from the low carb camp. But to do so we release cortisol to break down stored glucose. So you want to minimize that output of cortisol, your stress hormone, my eating regular carbohydrates and keeping your protein intake really well balanced and will be including fats as well, all the things healthy diet, and essential oils. There's a really wonderful one that doe Tara do called aroma touch. It's incredible diffuser in the evening, or make a topical blend and apply it to your lower back over your adrenal area. They sit on top of your kidneys, and it's really very nourishing for that system.
Natalie K. Douglas 20:17
I love it. And actually, when I was just thinking there, she wrote that she feels nauseous sounds to me like low blood sugar to be honest with the rest of the picture that's going on. So I agree with UK around the you know, just balanced meals, nothing, nothing really high carb, nothing really low carb, nothing extreme, just everything balanced. And the other thing that I often get people to do is to actually have a high protein breakfast so that 25 to 30 grams of protein in their breakfast, which is you know, doable. Like you can't just have like oatmeal and expect it to get there but you can be intentional about it like having leftovers for breakfast with and about 30 to 45 minutes of getting up can really help stabilize your blood sugar. So you could if you if you are having eggs you could do you know two eggs and maybe some smoked salmon or other leftover animal protein to get up to 30 because two eggs wouldn't be 30 grams and do something like 15 or something. And all you could do like a cheer put a cheesy putting and putting some collagen powder or some hemp or pea protein powder or whatever protein powder works best with you. What else could they TK up in on a pancakes like two eggs, one banana, add some collagen powder to that as well. Lots of little things you can do but just trying to make sure that you're not doing any form of fasting or anything like that. Yeah, you know what? Yeah.
Nina Powell 21:52
Really irrelevant. I don't like smoked salmon, don't you?
Natalie K. Douglas 21:56
I do get not if I don't feel like it's one of those foods. You got to feel like like you can't just be like, Oh, yeah, I guess I'll just have some smoked salmon. It's like no, it has to be like I want smoked salmon right now. put too much salt on it. Like I like I love salt. I've nothing good salt. But like, I don't want to feel like I'm eating the ocean. Like I just want it to be like, Oh, the ocean. In a subtle sense. I shouldn't be a food critic. No, I shouldn't. I'm terrible. I don't have any table minutes. I actually never learned how to use knives and flick. I'm not. I can use it. Just I really like if I could just eat with my hands all the time. I probably would clean hands but it's true.
Nina Powell 22:43
All right, let's move on to the next question.
Natalie K. Douglas 22:45
Wait, one more thing. The adrenal stuff. I don't know if you said it. But I was gonna say vitamin C, B vitamins, magnesium also my face.
Nina Powell 22:53
Yes.
Natalie K. Douglas 22:54
Cool. Alright, we can move on now.
Nina Powell 22:56
All right. Question three, does your thyroid program that's unit? Does your thyroid program help someone with adrenal issues or gut issues as well?
Natalie K. Douglas 23:04
Okay, so, yes, because what's happening in the program is I mean, I honestly, I could have named it, you know, adrenal rescue as well, because what's happening is that we're actually to heal the thyroid, you have to heal the gut, you have to heal the adrenal. And you have to, you have to support the liver. So in the thyroid rescue program, we actually go through four kind of broad, different phases. So we go through a gut reset phase, where we do a bit of an elimination, reintroduction, really focused on gut healing foods. And there's also additional quizzes that you can do to identify whether you have an overgrowth or imbalance or a parasite and subsequent testing that you can opt to purchase as well. In order to get treatment for that. We also go through a an adrenal support phase, where we really focused on a lot of these things that me and Kate have just talked about. And then we also go through a liver support phase, which is really about how do we up regulate the detoxification in our system and support our ourselves removing toxins, etc. And then we also support female sex hormones through that, because the thing is in the body is everything is linked, and obviously couldn't just stay my program, thyroid adrenal got hormone Support Program, because it's not really specific enough. But the logic is that in order to heal a thyroid, you have to heal the whole system. So I have found that a lot of my clients just like a lot of my clients, one on one prior to this, I will take them through the same process, whether they have thyroid issues, or not as in if they present with any kind of burnout or got imbalances, they'll go through very similar process. And so yes, the The short answer to that, which is obviously never what I give us. Yes, it absolutely can. So listen to the webinar, and you'll, you'll get some insights there. And you can jump on and ask some questions. If that hasn't answered your question, or flick me an email, but Yeah, it does. So I'll ask the next question. Is there such a thing as too much fiber? Getting a lot on a vegan diet? So I definitely have something to say about nice but you go
Nina Powell 25:31
are you
Natalie K. Douglas 25:35
surprised?
Nina Powell 25:39
Is there such a thing as too much five? I Yeah, I think so. And but it's going to be different for everyone, I think take a note of your poop. And if you if it's looking like you're getting any Mel absorption or indigestion, undigested food in your stool, really slick
Natalie K. Douglas 25:54
tool that look like like what do you mean by not digested food so people know what to look out for.
Nina Powell 26:00
So if you look at who you see any chunks of food in your poop, so it's not just a brown walk? Some sharks? Yeah, yeah, I did a whole whole talk alive for our one of our quality scripts. The other day, I'm looking at who I don't know if anyone's actually started looking at that. Hopefully they will. Anyway, people look at you who I talked about this in my book as well. But yes, so it would look like undigested food in the store. really large and fluffy and kind of mucus, Mukasey.
Natalie K. Douglas 26:38
Yeah. It looks real shiny, and Mukasey then often it's indicating inflammation in your digestive tract, which can be cause the fibers irritating? It could be other reasons, too.
Nina Powell 26:48
Yes. So taking notice of that taking notice of how your digestion is as well. So are you getting a lot of gas? Are you getting a lot of bloating, that might be a sign of too much fiber, and food properly. So that can be if you're not doing your food properly, that can also trigger the symptoms. And but if you notice these symptoms, and pull back and play around with things and say, hey, go, but now has something to add. We've got 30 seconds later, oh, my god,
Natalie K. Douglas 27:16
no, you can't it makes me anxious. Where's my Frankincense? It's actually funny. So no, I agree with everything you said around that. And I think that it really does depend. So if you feel like you're getting any symptoms, as Kate said, like digestive symptoms, and often means that maybe that you're having too much fiber, all the other side of things is that something is cementing that fiber. That shouldn't be as in there might be an overgrowth of bacteria, or an intolerance there that you need to actually look at. The other thing I think also comes into play here is, where are you getting all your fiber from like is it if it's mainly veggies and fruit, then this is less of a problem. But if you're getting a lot of your fiber from grains, then you have to consider that there's a lot of things that are really hard to digest. And that can also bind up other nutrients in your food. So I would suggest that if you are having a lot of grains, or a lot of like us, you can easily make them more bioavailable and easily digested and less of a problem by actually soaking them and or sprouting them. So generally speaking, soaking things, for a 24 hour period in some kind of acidic medium like lemon juice, or Apple Cider Vinegar can really help. And then if you can be bothered to sprout or you really are on a vegan diet, then I would say sprouting is important. So yeah, that's where I'd I'd kind of adding to that, but I think that's it. I mean, I could go on forever about gut health and fiber and blah, blah, blah, but I feel like I've I've done my 32nd plus some. Oh, boy. Okay, let's get
Nina Powell 29:07
all right. So we answer this one quite quickly. How would you recommend restoring gut health after a very strong course of antibiotics?
Natalie K. Douglas 29:15
Okay, so first of all, when you're taking anybody, I'd recommend taking saccharomyces velocity at about 500 milligrams a day, you can actually take that safely alongside antibiotics. After antibiotics, I'd recommend continuing the sacrifices body for about a month, like four weeks or so and doing a probiotic, but also, more importantly, focusing on eating some prebiotic foods because if you put the probiotics in there, just transient unless you actually feed them. So that means you can either do it through dietary diet sources like cooked and cooled potatoes is a good source of resistant starch. Plenty of fruits and vegetables for fiber. Or you can use whichever due for some people is use a fiber based product like partially hospitalized while I read Oh my God, I can never
Nina Powell 30:10
have been elected.
Natalie K. Douglas 30:12
I tried them all the time. And unlike I'll just write it in your notes. Anyone knows. You can use gas you can use fast, which a collector Ola go sucker rides and I probably wouldn't use floss as much I used cost more. Or was the last one I was gonna say? No, I would mainly use those to be honest. So lots of options. Did you have anything to add KO? What about clean sealing the gut lining? Oh, yes. Been broth? Yeah. collagen, bone broth?
Nina Powell 30:41
slippery elm, Marshmallow, aloe things,
Natalie K. Douglas 30:44
all those things? I mean, we're doing all right. Should we answer? One more question, you can pick one from the rest of that remain? That might be a quick one to answer.
Nina Powell 30:55
We can probably do the next two.
Natalie K. Douglas 30:57
Okay. All right. Let's do it. Oh, here we go again. Alright, I'll ask the next one. So my cycle is usually 35 to 40 days long, what would this indicate.
Nina Powell 31:06
So that will usually indicate a long follicular phase because the follicular phase is the first half or part. So it's the pre ovulation phase of your menstrual cycle. Because your luteal phase will never be any longer than say 16 days unless you're pregnant. And it's usually more around 12 to 14 days. And so if your cycle is 35 to 40 days, that means you have a really long follicular phase, which is quite common if you have polycystic ovarian syndrome or if you're healing from harmful limit gaming area. And so some things you can do to help shorten that would be stress management. Number one. Something else that I have found really helpful two things would be seed cycling. So in the first one seed cycling linked with Luna section so Luna section, I have a blog post about Luna section which is basically thinking about with the moon and so it involves sleeping in complete darkness most of the month. And then the day before the day of the day after the full moon you sleep with your curtains open I have the questions in front of me and I see you writing something on there.
Natalie K. Douglas 32:18
I'm writing to link the blog to the robot to my computer
Nina Powell 32:25
so using it Luna section to help shorten your cycles that can be really helpful and and thinking suit seen cycling with that so from the new moon to the full moon you have stopped writing check your poo. From the image of the full moon you'll have a tablespoon of flax seeds and pumpkin seeds and from the full moon to the new moon you'll have a tablespoon of sunflower seeds and it's just written on here check your bouquet.
Something else can help is using Clary calm essential oil from day Tara. So inside and outside of your right ankle can be really supportive. It's supportive essential oils in them.
Natalie K. Douglas 33:17
I love it. That's really actually I'm not going to add anything because we are like running close to time but I think Yeah, so that perfectly and with my immature banter in the background on that note, so good job. Okay, so well this way these questions definitely for you. I'm not gonna read out what you wrote. Next question is best tips for staying sane, the first few weeks postpartum. Okay,
Nina Powell 33:46
go, What? What would you recommend? That's gonna say, what did you do in case you start writing other things. So first and foremost, it's our first pregnancy with Libya, I did not stay saying hello, I was a I was a madwoman. And so the first thing I would say is set your expectations really, really low. Because then the only way is up. So expect to get no sleep expect expect a crying baby, expect to be changing nappies all the time, expect that baby to have wind, expect the worst. Because the only way is up from there. If you expect it to be all rainbows and butterflies, and just cuddling this beautiful little baby, and oh, they sleep all the time, then they might do that. But you could also be in for a rude shock, which I think can be a potential trigger for mental health struggles. So just don't plan anything in those first few weeks, just sit yourself down on a chair, get a nice comfy chair and hang out with baby in the evening time, they're probably going to cost to feed, which means they're just going to hang out on your boob for hours on end, going from one side to the other in between, you might give them a little wind. So with Olivia, when she was going through that I would spend hours in her bedroom in the dock trying to get her to sleep like oh my god, you need to be asleep now, with it. I packed up on a chair I put suits on and just let him go. So just really giving yourself a break and not expecting to get anything done at all. Instead, especially its first few months. That is kind of the fourth trimester. So it's all about really bonding with your baby and not not expecting to really get out of the house or do too much or achieve too much at all. Don't worry about the cleaning. Get someone else do the cooking. Just you and dubs skin on skin. At the same time, do try to get outside and get some sunshine. So whether that is by yourself, even if it's just for half an hour a day. So your partner or friend can hold Bob's all look after Bob's watch over bumps when when they're sleeping during the day. And get out of it, get some sunshine, get some fresh air gets movement that's going to be really wonderful for your mental health. And if that's not possible, pop bugs in the pram or front pack and take them out with you for a walk that movement again, and sunshine is going to be really really powerful. And try and catch up with friends. And if you if it's your first baby or even the second or third find the mothers group. And so it's kind of it's sort of it's not one of those mothers groups who like they they all go on about their perfect baby and you're like #### you.
Natalie K. Douglas 36:32
That's actually a really good Netflix TV series. What is it? I had to put in the show notes? Because I don't remember what it's called at the moment but it's like working mums. Yeah, is so funny. You guys need to watch that. Watch that while you're class defeating or, I mean, I'd watch Harvey specter while I did anything so you could
Nina Powell 36:51
I have not watched suits at all before I had many many seasons I'd like right.
Natalie K. Douglas 36:59
So cool. It's like the whole like, I'm really intelligent. I'm kind of hard to get to see have to like, worked like let me like so that I let you in and then like you so cute
Nina Powell 37:12
for that postpartum period because you can just kind of pretend it
Natalie K. Douglas 37:17
is amazing. Yeah,
Nina Powell 37:18
we can pretend that your donor and you can just pretend that you you're hooking up with Harvey you baby Wow, this is going inappropriate. You know what I'm going at here? Yeah. Like I'm not encouraging you to treat with you can look you can watch the watch the TV, you can appreciate a good looking man. Yeah, my my husband has no issues with telling me that he appreciates a good looking woman in the Jessica. Jessica Alba and Jessica Biel.
Natalie K. Douglas 37:55
Oh, yeah, love them.
Nina Powell 37:57
Yep, they got hot, hot, hot tonight.
Natalie K. Douglas 38:00
I'm obsessed with Rachel McAdams. I just watched the Val. It's a movie. It's really good. And she's just so she's just so cute. I just want to wrap her up in like, I don't know. She's just anyway, this is so far off nutrition.
Nina Powell 38:16
And other things to help you stay sane would be used balance essential oil and the soles of your feet. I know personally, my office, she has oil. So put your balance on the soles of your feet. Sniff your Frankincense whenever you need it. Clary Carmona inside and outside of your ankles, and go with the flow and tell yourself this too shall pass.
Natalie K. Douglas 38:36
Yeah, I love it. And I do. I do think connecting like, as you said, connecting with a good mothers group or other people that are going through the same thing is really, really important. So good stuff. And yeah, so it's sorry, okay. We We made an agreement that we did need to actually wrap this up at a certain time, so I'm going to honor that and not just blabber on forever. What we're going to do, guys, for those of you who submitted questions that you haven't heard them come up in this episode, we will actually just flow them on to the next episode that we do. So your question will still, your question will still be answered. But we'll just be in the next episode instead of this one. Keep sending questions in if you have walkers. As you can say we like to answer questions. And Kate is there anything you need to remind anyone have any more central oils classes happening at the moment or you kind of coming up for a breather after you're very busy period of doing lots.
Nina Powell 39:33
I'm having a little breather at the moment but I will be running some more at the start of July before I head away to full say we'll be doing some winter wellness ones. But there is an awesome promotional moment with the free Sally Ebell, which is Botox in a bottle, the beauty blends so if you're interested in getting that it's worth 142 bucks if you want to get it free. shoot me a message or shoot me a message.
Natalie K. Douglas 39:54
Good stuff. Cool. All right. Well, thanks for helping me answer the questions and keeping the lines slightly. I will talk to you soon.
Nina Powell 40:05
Good night. Have a good weekend. Thank you. Bye
Natalie K. Douglas 40:07
Bye.
Outro 40:09
Thanks for tuning in to The Holistic Nutritionists Podcast. Remember, we love to make the show relevant to you have any questions or topics you'd like us to discuss, just submit them to [email protected] and we'll get them answered for you. Also, don't forget to subscribe, rate and review the podcast on iTunes and share it with a friend. And if you're looking for more info about how we can accelerate your journey to optimal health you can find me, Nat, over at NatalieKDouglas.com and Kate at TheHolisticNutritionist.com. See you next time!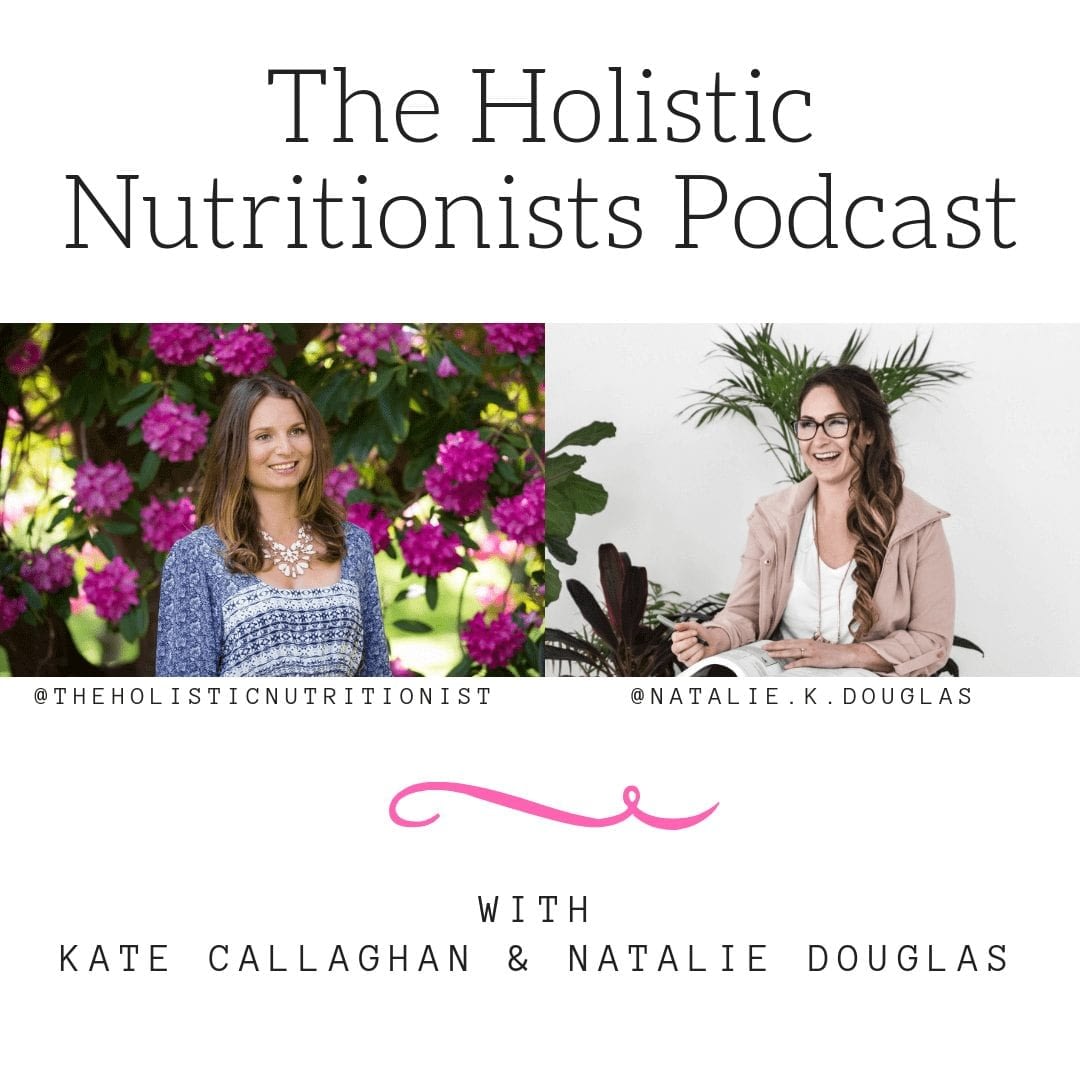 Welcome to The Holistic Nutritionists Podcast!
If a professional, polished, well-edited podcast is what you're after…then we're not for you!
But if you love unfiltered banter, unedited bloopers and authentic heart sharing then we are your ladies.
We also have the most practical tips on holistic and alternative health care too 😉
Have a question that you want answered on the podcast or want to be interviewed? Get in touch!
Search my content by category…
LIKE WHAT YOU HEAR? Help us spread the love with a 5 ⭐ review on iTunes!