#60 How To Live a Low Tox Life - with Alexx Stuart
The Holistic Nutritionists Podcast
"Low tox living is all about creating a lifystyle where we feel like everything that we're creating on a granular, personal level is a win-win for us AND for the planet. That idea connects us to something much greater and I find it helps people heal faster because there's a greater sense of purpose behind the changes we're making. Knowing how to live a low tox life helps people accelerate change when we connect it all back to nature."

Alexx Stuart | Health Coach & Environmental Toxicity Expert

Tweet This!
LIKE WHAT YOU HEAR? Help us spread the love with a 5 ⭐ review on iTunes!
SUMMARY
TOPICS COVERED
GUEST BIO
TRANSCRIPT
SUMMARY
In Episode 60 of The Holistic Nutritionists Podcast, Natalie Douglas, Kate Callaghan, and their guest Alexx Stuart (Health Coach & Environmental Toxicity Expert) question what is low tox living really like and how you can start living a low tox life by connecting your purpose back to nature.
TOPICS COVERED
What does it mean to live a Low Tox life
Alexx's journey into Low Tox living
The best Low Tox cookware
The dangers of Teflon
Low Tox living in the bedroom and switches you need to make ASAP
Avoiding mold and getting rid of it safely 
Flame retardants and what you need to know
Thoughts on injectables/botox
All about Alexx's amazing programs and book
GUEST BIO
TRANSCRIPT
Intro 0:00
Hello and welcome to The Holistic Nutritionists Podcast, with your hosts Natalie K. Douglas, Thyroid Healer, and Kate Callaghan, The Holistic Nutritionist. Nat and Kate are degree-qualified dietitians and nutritionists, certified fitness instructors, speakers, and authors. If you love unfiltered banter, unedited bloopers, and authentic heart-sharing, then we are your ladies! Now it's time to sit back, relax, and get ready for our latest tips on living your healthiest life possible.
Natalie K. Douglas 0:38
Hey, hey guys! I am so glad to be back delivering another episode to you all. Before we jump into what was such an epic chat with the lovely Alexx Stuart. I wanted to quickly make a few announcements. So the first one is that round two of my 12-week Thyroid Rescue Transformation Program is launching in the next couple of months. So if you missed out last time, and you want to get on the waiting list, make sure you head over to NatalieKDouglas.com and go to the tab up the top that says thyroid rescue and just pop in your email address and you will get VIP access to when the program actually gets released. It's going to be such an awesome round two. And we have already had seriously amazing results in round one. People experiencing dramatic increases in energy, reduce brain fog, weight loss, clearer skin, smoother periods, and better mood. So if you or someone you know is struggling with thyroid issues, make sure you let them know about this course. And then the second announcement that I have is our lovely Kate is still doing lots and lots of amazing essential oils classes in New Zealand, online, and she's also coming to Sydney in May. So make sure you're following her on social media for all updates in relation to those classes and do definitely get to one when you can. Okay, so on to the interview. So for those of you who don't know, Alexx Stuart is the author of Low Tox Life, and the founder of the thriving online education hub by the same name, made up of several e-courses, a podcast, one of the highest-ranked in the health category in Australia in fact, lots of recipes, articles, and Community Action resources for an ever-growing community of people wanting to be healthier, and make our planet happier. She's an educator, change agent, author, columnist, speaker, and consultant at the forefront of a movement that's non-judgmental and tough on the system that got us here. So Alexx, welcome to the show. And Kate, I believe you have the very first question that we always ask our guests?
Kate Callaghan
I do. Hello, Alexx.
Alexx Stuart 2:48
Hello! I'm so excited to be with you guys.
Kate Callaghan
I'm so excited to have you. It feels like I know you, we've kind of gone back and forth for many years.
Alexx Stuart
I know it is like that, online buddies and then you finally get to have a chat and it's like broadcasted to thousands of people kind of.
Kate Callaghan
So, we always start our podcast by asking our guests, what did you have for breakfast this morning?
Alexx Stuart
Oh, how fantastic that I had such a virtuous breakfast this morning like, total coincidence. No, actually, I generally tend to make a really good point of having a great brekky. So I had some grated purple carrot, some wilted raclette, like about 50 grams of wilted raclette, I love the stuff. And when it goes to winter, I love to move it down with a bit of butter. And I had an egg. And I put all of those things in a little flex-wrap. And that's what I had for brekky. And I had a cup of coffee. And I yes, I do a decaf coffee, because I don't do caffeine so well.
Kate Callaghan
Yeah, you always not done caffeine, or is it more of a recent thing?
Alexx Stuart
Ah, look, I think, you know, we're probably going to get into this later the toxic soup. And I think, you know, our body can become more and more challenged by things over time as we add more and more to the pile for it to deal with in this crazy busy modern world. And, and I started to notice that if I had a couple of coffees, you know, those days where you have all the type of coffee and we have a meeting and then another meeting and then another meeting and then sort of two or three coffees and I get a bit jittery and I'd be I'd be unable to lock focus with the person I was talking to, I'd be looking everywhere else it was really hard to concentrate. And it was that and a couple of other things that led me to do this very new test back then, genetic testing is much more common now. But I do the CYP450 test which is your that process certain compounds in food. So think about your really bright foods like turmeric, or like chlorophyll-rich grains and then certain medications and certain compounds in in drinks and things like caffeine and I was an under metabolism. So I'm that person that could have a coffee at 10 in the morning and still have a bad night's sleep whereas, I know some people that can have a coffee at 10 PM and sleep like a baby, right? Yeah, it was a really interesting thing to learn and and to sort of confirm for myself that something wasn't quite right with me and caffeine but you know, I've become a pretty good hook for where the best decaf coffee is in town and and so I don't feel deprived. I'm okay everybody. It's all good.
Natalie K. Douglas 5:36
I know. I actually have that I have, I'm a slow metabolizer of caffeine as well. And I love coffee, but I do I have to have it at like, you know, 7 AM in the morning or something otherwise my sleep is affected but it's funny my mom can like she drinks coffee all day, right up until like bedtime, no problems at all. And I'm like, what the hell mom, get passed on that chain?
Alexx Stuart 6:00
Yeah, lucky mom.
Natalie K. Douglas
Yeah.
Alexx Stuart
But what I thought was really interesting transitioning to decaf was that it was so psychological for me anyway. It wasn't ever really about the pick me up because I never religiously had to have a coffee per se until I had to go decaf and then my coffee became my morning thing. It was like, I have to have my coffee to start my day.
Natalie K. Douglas
Yeah.
Alexx Stuart
And there's not even anything in it that would constitute for being a reason for that. Like, it's quite funny how much we build a belief around things that help us engineer a better day. I find it really fascinating.
Natalie K. Douglas 6:36
Yeah, I know. I know the same. It's very much the ritual. Like, I mean, and like the smell of it. It's not because I'm the same I don't really need it to get through my day at all. But I like I just love waking up and let the smell of coffee and like that. Yeah, the ritual of it catching up with friends over it. It's I think I haven't I think I just have an issue with paying like $5 for hot water if I just order a tea. So, I'm like, I just have your hot water and bring my own tea bag.
Alexx Stuart 7:07
Yeah, totally.
Natalie K. Douglas 7:10
I do still do it. But I just really Yeah, I love the ritual of of coffee for sure.
Kate Callaghan
Well, I'm gonna sound really bad and say I love the ritual. And I also love the energy kick.
Alexx Stuart 7:22
Yeah, like so many people get an energy kick, I guess because I wasn't under metabolizer anyway, it took a while to kick in. So there was never that immediate association for me. I think we can talk about coffee all day, really?
Natalie K. Douglas 7:36
Me and Kate have a habit of like doing this at the beginning of like a lot of podcasts, we're always talking about coffee. And like, okay, we need it. We've already talked about this.
Alexx Stuart
It's probably because you asked about breakfast.
Natalie K. Douglas
All right. Well, we will move on to question two. So I wanted to start with just getting your definition of what living a Low Tox Life is and what actually motivated you to go down this path?
Alexx Stuart 8:01
Okay, great question. So, back in back in the time when I was about 28, I had come to the end, thankfully, of about 15 years of chronic tonsillitis. And I would get tonsillitis go to the doctor take the medication, get tonsillitis, chronic tonsillitis, go to the doctor get the medication get well for another couple of months. And then I've been on that antibiotic merry-go-round, several times a year and didn't really see how to get off it. And I had a great doctor who also was, you know, would try the propolis, try a bit of homeopathy, she was quite progressive for the 80s and early 90s. But over time, it didn't really ever actually get to the root cause of why I was getting this tonsillitis infection several times a year. And so at one point, the antibiotics stopped working. I was on amoxicillin forte, which is like the strongest one you can take for strep throat. And I was on my third round of it. And it just did not touch the sides. So I was spitting into a little plastic bottle, but it was by my bed because I couldn't bear to swallow. And the pain was so bad. And a girlfriend kind of dropped me some suit one night and said, look, you know, I know it's a bit crazy, but have you thought about going to see a naturopath? And this was 15 years ago, so I had no idea what a naturopath was. They're not on every street corner like they are now. You know, we're so lucky to have so many wonderful, holistic practitioners around us these days to support us from the inside out, giving our body tools, but back then it really wasn't something that was part and parcel of what you would do when you got sick, you wouldn't include a naturopath niche necessarily into your, your regime of who you would go see when something was wrong, right? And, and so I went and I found one and Christine was amazing. She went on to be my naturopath for over a decade before she had to move back to Germany and she'd been practicing for 25 30 years which is just an incredible diagnostic. I was so blown away that someone would sit there and ask me so many questions about myself for an hour before deciding what to do or what what to piece together as a bit of a protocol. And she got me on really well-cooked rice, chicken broth, and carrots as like a bit of a fasting simple fasting diet for three days. Having just a small amount if you're ever hungry, lots and lots of warm water, and some sort of tea she gave me, I kind of remember what it was a disgusting-tasting herbal mix, that I now do love the taste of those herbal mixes and, and, and sent me on my way and I got better. And you know, it was like fever fever fever for three days. And then boom, I was like I did not have tonsillitis. I was shocked because in my mind, I hadn't really done anything because doing something was taking a medication back then. So this really fascinated me. And she then and the follow-up visit was like yeah, of course of course that would have worked. And now I'd like you to consider quitting gluten. It's like, okay, half French that is the worst news you could ever get. What am I going to do on Sunday morning class on tradition? And but I tried it because I thought you know if she has she's she showed me a correlation in the scientific literature at the time, that linked gluten, proteins to streptococcus overgrowth in in the human body. And I was like, oh, that's really interesting. So, people who may potentially have gluten intolerance, nonceliac may have an overgrowth of strep. And so I thought, well, it's worth trying for a few months, right? And I did, I didn't get sick and I tried another few months and I didn't get sick. And in that time, I obviously had to look at food packets for the first time in my life and I was very heavy on the packets. I was not very heavy on the produce. And so you know, I would have those ready breakfast poppers and things like that. And so I had to look for wheat, barley, oats, and rye, and what fascinated me was that it wasn't just wheat, barley, oats, and rye but you had to look for if you wanted to avoid gluten. You had to know the chemical names of all these bizarre ingredients, additives, preservatives because often they were based on a gluten-containing grain, even glucose could often be. And so it was really a massive eye-opening into how disconnected I was from our food system, and where my food came from, who grew it, who made it, how they made it, what their values were. And it was really the first time in my life, I started to realize that I had been brought up with one set of values, but I was funding, a completely different set of values with the food choices I was making. So from a justice perspective, because I was always quite a justice activist-oriented team that really pushed my buttons almost more so than the motivation to simply be healthier because I didn't like injustice. And I didn't like the fact that these companies could do these things, profess it to be fine and safe at all good inline the products shelves with it and and meanwhile making people potentially unwell. So that was my first wave. And then the next wave came a few years later when I had a baby shower for my little man who was just about to be born. And everybody gave me the well-meaning gifts and you know, the setting up the nursery with the personal care and all that kind of stuff. And I thought you know, become a pretty good food label reader, let's let's check out this stuff. And I was mortified when I learned that most of it was petroleum-based ingredients and, and they were two sort of families of ingredients that emerged as I started to try and work out what these things were. One was the group sort of that you would class as irritants. So things that could irritate eyes, skin, lungs, and the other was endocrine disruptive. So things that could either mimic or block our natural hormone signals in the body. And and then of course, you had the really nasty ones that were caused carcinogenic or potentially carcinogenic, based on limited amounts of research. And that I was just like, what, this is worse than the food, what is going on? And again, then went down the road. And I had come from the cosmetics industry for years before where you know, I would so proudly sell these $400 face creams with rare orchid extracts and algae from the what say, but we would never in those training sessions cover what all the other chemical names were in the three-quarters of the ingredient panel, we would only cover the really rare beautiful natural things that were in as you see in the advertising, right? And so we all just assume that it was fabulous and how amazing that they're putting 80 million euro with a research into being like nuts, and then all of these other petroleum-based fillers, whether they were irritants potentially irritants, potential endocrine disruptors, or potentially carcinogenic, and I use the word potential because we aren't to the place where there is scientific consensus across the board on many of these chemicals but and I don't like to fear monger unnecessarily or make absolute statements. I think there's a lot of that online. And, and I don't want to add to that. But yeah, it was a really powerful second wave of awakening, about to disconnect from where our products that told us we would be beautiful, and our babies would smell delicious, and to what was actually going on with those ingredient lists. And then and then I guess from there, I had become quite a good cook because going gluten-free, I actually had to learn how to cook to make things delicious.
Natalie K. Douglas 16:01
The struggle is real, right?
Alexx Stuart 16:03
Yeah, I didn't know how to roast a chook when I was 30. I just honestly thought Chargrill Charlie's knows how to do that. That's not my problem. And, and so you know, like that was just 13 years ago. So the fact that I was like that as 30-year old chick. And now I teach people how to cook is just so exciting. And it should give everybody out there regarding you know, you don't have to be some well-known person on the internet. Anyone can do this. And I was anyone you know, I just decided to play a bigger game and inspire people. And so when I started to think about maybe doing that, it was my sister was over and she was a tech, flash digital wiz, and has worked in digital before anyone in our family even knew quite what that meant. Yeah, I remember asking my sister, so how's work? Oh, yes, good. We're working on this campaign, digital base, and social media that, and we don't go, it sounds great. I'm early adopter Y-gen and, and she's been a leader in the field ever since. So I felt very lucky to have her help me try and figure out how to start a blog. And, and so she did that for me. And I simply started writing. And I called it Alexx Stuart: Real Food & Low Tox Living, but later moved it to Low Tox Life. I came up with the phrase low tox myself, I know for a fact because I spent the whole day Googling it just to make sure it wasn't anywhere. These days, it doesn't look like people do that, before they come up with their brand names, they just copy, which is a big bad. But you know, I'm as a as a justice driven person, it's really important to me that I come up with something that I could build a movement around and create. And, and so low tox was really about identifying in the change picture that most of us feel guilted, shamed, or like a failure with changed that we undertake based on protocols, movements, celebrity, diets, you know, you name it. We feel like oh, it didn't work for me, that person's obviously way better at this, I'm never going to be good enough. And then I just thought I never want to build an education platform that people would ever feel that way. It's just not conducive to long-term sustainable change. And really, I'm not interested in getting people's money for two weeks to change your life and then we'll that's too bad if it didn't work for you. I'm interested in teeny, tiny micro-actions that we can build, as we see fit and comfortable with our time, budget, and understanding, and keep tracking on forward, no matter what that looks like at, what speed, whether you're living in a tiny house, whether you're living in an apartment, whether you're living in a mansion, urban, rural, who cares, right? And I really wanted to build a phrase that would help people feel like, oh, I can do this, my way, I can do this my pace, I can do this, regardless of the budget, or situation that I'm in. And so no tox, and chemical-free, and all that kind of stuff did not work for me at all, as I was kind of racking my brain through various options. And low tox just kind of popped into my head because I was like, you can't even be non-toxic. My least favorite one is chemical-free. I mean, that is the most hilarious thing that you could possibly if you drank water this morning, you are not chemical-free. Like there are chemicals, beautiful chemicals in us, made for us. You know, like it's just, it's the most bizarre term I've ever heard. So, I really make a point of dispelling these sorts of things, because it just helps us all actually have a more informed conversation about stuff instead of trying to just say things without really having a deep understanding of what they mean, if that makes sense. So. So if you walked past a car anytime in the last couple of days, you can't be non-toxic, it's not possible, you know, there was exhaust that just kind of blew into your air. And unfortunately, that means that you are at best low tox and that's why I landed there. It was realistic, it felt welcoming. It felt non-judgy and non black and white. And I will there's no black and white. So that's that's kind of how it started and I was some when I decided to call it the LowToxLife.com a few years ago, instead of Alexx Stuart: Real Food & Low Tox Living, it was really the realization that food is part of Low Tox Living. And the pill is really formed in as food, body, home, and mind, and then overetched by all of that is a beautiful planet. Because if we feel like everything that we're creating on a granular personal level, is a win-win for us and for the planet, then that's just connecting us to something much greater than what we are and I find that that actually helps people heal faster because there's a sense of a greater sense of purpose behind the changes we're making. So I believe that helps people accelerate change when we connect in back to nature. So, yeah, that that's that's the really long answer to how leading a low tox life really came about.
Kate Callaghan
That's awesome. And I love that you're really not an all-or-nothing person, you're not a perfectionist, and it's very welcoming for people into the low tox way. And I think I was reading in your book, correct me if I'm wrong. And this is partly a selfish question as well. That you've mentioned something about, you know, you you were very focused on living a low tox life yourself and this has happened over you know, almost two decades but one thing that you like to do is color your hair blonde? Is that correct?
Alexx Stuart
Yes, that's right.
Kate Callaghan
Can you talk to us a little bit more about that?
Alexx Stuart
Yeah. So when it comes to the choices we make in our every day. I always think it's not what you do, every single time, it's what you do most of the time. And then we do what we do most of the time. So we can go with the flow some of the time also, we can have that thing that we just don't let go off. Now, I've educated thousands of people in this space, at least I've kind of seen what that thing might look like for different people. For me, it's my hair, there is no completely non-toxic, completely green light researched, blonde hair coloring product in the world, there isn't, and if someone's listening today, and they seem to think there is, please send it my way. I would love to check it out. But there are some really great low tox options that are carcinogen-free and are endocrine disruption-free. So there might still be some irritants in this and irritants or i-Lung, but nothing super sinister, if you like. And things that might affect some people but not all people. That's kind of the like best of a bad bunch kind of situation for me when it comes to hair color. And my hairdresser, Kalli, who is at Blown Away Hair Spa down at Sans Souci, Sydney. She uses a brand called Natulique. And, and another brand that you can use, depending on the hairdresser that you go to and what they use is Organic Colour Systems UK, that's another good one. And both of those are has a low tox as it gets while staying high-performance hair color products. And so that's you know, that's my compromise. The other thing I do, I was just, you know, trying to think, okay, how can I also show I'm not perfect is often like I can't, raclette is my absolute favorite food in the world. I'm not saying it to be virtuous, it's like it's just that I just love raclette legumes. I have to have them once or twice a day, every day. I even travel with them, I miss that, but they often don't come loose-leaf packed for you to put in the produce bag they come in plastic and and further everything good about them detoxification, you know, amazing for someone like me recovering from chronic inflammatory response syndrome, mold illness, I just buy them in their plastic box. I do. I can't make any excuses for why I do that. I'm sure I could even choose a green leaf that was similar that wasn't in plastic, but I buy that. And I'm telling you guys these because I just think the more people are honest with the few things that we do that aren't always perfect, the more we might actually attract people with a sense of hope around, this doesn't have to be a perfection quest. This just has to be me trying. And yeah, I'm going to keep trying and looking for someone who sells it as a loose-leaf product. I will, of course, my eyes are always open, I go to the markets. If I get to the markets, he'll put it in a in my produce bag for me. But I can't get there every Thursday morning. So I do my absolute best. And this is what this game is about, doing our absolute best for what that looks like today, with your financial situation, with your time constraints, and with your current level of knowledge because you know, we can't know everything on day one. It's not a one-day thing.
Natalie K. Douglas 25:29
Yeah, I so agree with that. And it's interesting because there's many parallels there with even just like the nutrition side of things. I mean, I know that people to this step, like even though I'm very transparent with, you know, both the good and I don't like to say bad things, but the less than nutrient-dense things I ate still to this day when I go out to eat with people, like if I haven't eaten with them before. And they know what I do for a living. It's like, if I have anything that's not, you know, 100% what they would expect that I ate, I feel, oh, my God, are you eating that? Does that mean we can eat it? And I'm like, no, I'm not like, it's funny how people put you on a pedestal because you have knowledge and it's like, well, I'm, I'm still human, and I still face all of the same challenges like I still, you know, I'm gonna emotionally ate sometimes even though I, you know, I know that that's probably not the best way to deal with my emotions. But you know, sometimes it happens or, you know, I am going to have a hot cross bun at Easter, but if I feel like it, and it's, it's kind of like, the more I understand, like, the more I feel like we tell people what in reality, living a healthy lifestyle looks like, the more it feels accessible because I think otherwise there is this separation created between, you know, people who are practicing in this space and the people who, you know, want to follow the advice. I think it's really important.
Alexx Stuart 27:00
I totally agree. I so agree. I carry your social situation where sometimes we're chatting, and they go, oh, Alexx wouldn't have approved a feast but I made this amazing job. And it's like, um, excuse me, can I have a glass? Like, you know, we're just like you can have your cake, you just can't have it every day.
Natalie K. Douglas
Exactly.
Alexx Stuart
Make sense, but celebrating with delicious, celebratory foods with the people you love every now and then there is nothing wrong with that, and you should enjoy it every bite.
Natalie K. Douglas
Yes.
Kate Callaghan
I think that's actually a really important part of food is that community and social aspect of it and being okay with having beyond less than perfect food every now and then. And really savoring the flavors and not feeling guilty about that.
Alexx Stuart
Totally, and I would challenge less than perfect and say it's perfect for that situation. Like a little gelato by the beach with your friends in the summertime. How perfect is that? Like, you know. So, like yeah, we've all got to get over that, I think.
Natalie K. Douglas 28:01
Yeah, and I think there's always a time for like, like, I believe that I mean dealing a lot with people with autoimmune conditions for me like Hashimoto's is is the main one I deal with and a few others. And there's absolutely a time where I'll be like, hey, for now we're doing yeah, more of a strict therapeutic connection.
Alexx Stuart 28:16
Absolutely.
Natalie K. Douglas 28:19
But then beyond that like, the goal is always to have, you know, the broadest diet possible with the least amount of symptoms and the greatest joy in your life. But sometimes it's you know, short-term pain, long-term gain. But I think, you know, that kind of keeping that in mind whenever you're going through a healing protocol, that it does end. And I think for, I mean, in the space that I'm practicing, I use the autoimmune paleo protocol quite a lot. And it's very effective, that what I see happen quite a bit is people get stuck in it and have this fear around ever straying, and you know, I personally don't think it's necessary for most people to be on such a strict protocol, long time with no deviation, I see it really negatively impact their health from a broader sense, because they become quite socially isolated, or quite fearful around traveling, because, you know, it's hard to stick to something like that when you're traveling. And so, I think, you know, there's always, there's always like, the bigger picture should always be taken into consideration, because, as Kate said, it's kind of like, you know, eating food, like what you eat, it's not the whole story. It's also you know, the the context around it, and you know, social eating and connection and community and bringing joy to your food as well.
Alexx Stuart 29:41
Hundred percent. And it just goes to show in those situations, how fragile chronic illness can make us in the mind, something I've experienced myself, and I think, if we recognize the fragility of our situation, if we are in a chronic feedback loop of illness, to make you're working on your mind, just as important, if not more important than the physical things we're doing with our diet and exercise, for sure. I've seen it so many times.
Natalie K. Douglas 30:10
Yeah, I know, same. And I think for me, personally, I went through a lot of chronic health issues. And it really wasn't until I did the work on the mindset stuff, that stuff actually started to change for me on a really deep and like, sustainable level. So I really resonate with that for sure.
Kate Callaghan
Yeah.
Natalie K. Douglas
Alright, so we're going to switch gears a little bit. And we basically we'll, what I thought we could do is do a bit of a virtual walk, walk through some of the rooms in your house and talk about, you know, what your key switches are, and tips. So I thought we'd start in the kitchen. And my first question around this, because it's one that I get all of the time, is what kind of cookware do you recommend? So, you know, there's obviously the, you know, nonstick Teflon stuff, there's stainless steel, there's ceramic, but you know, what, what should people be looking for? What are the key things people should be looking for?
Alexx Stuart 31:06
Yeah, so it obviously depends on the function of what you're using that basic cookware for. My absolute favorite go-to brand for frying pans is Solidteknics and they now have a couple of fantastic stainless steel products that are nickel-free, which is great for people who might have a suspected to nickel allergy, or nickel sensitivity that usually shows up in the skin, eczema, psoriasis, dermatitis, those kinds of things. So if you use stainless steel a lot in your cooking, and you have any of those skin conditions, it's definitely worth switching to nickel-free and Solidteknics are one of the only nickel-free stainless products available, which is fantastic. And another frying pan brand that I love is the de Buyer carbon steel range, that's a French range where the old school, a lot of chefs use it. And the so the Solidteknics cast iron and the de Buyer, they do need seasoning but I promise you after a couple of weeks of love and oiling, instead of using soap when you clean them, after a good sort of scrub with water, you just oil them and put them away, you will end up with a fantastic nonstick pan. And and it won't be giving you any grief on the health front. The only people who need to maybe have a little red flag around cast iron as like their main cookware is postmenopausal women who are not bleeding anymore. And so their iron levels tend to be quite good. And you don't really want to keep adding to those iron levels in any sort of set. So, I always say to anyone who's postmenopausal, just get yourself for a little blood, like a baseline blood test of your, your iron studies, and check it again in six months. And just make sure that's not an issue for you. So that's just my duty of care on the cast-iron front. And then in terms of slow cooking, I would not use stainless steel necessarily because for anything with tomato, your lemony kind of base because the acids are going to react with the metals. So for any kind of slow cooking ceramic is a much better surface. And the only thing you need to worry about with that is just doing a little Google check around lead, lead levels in a particular brand you might be trying to research and so once you've done that, so if that Google search is literally lead found in, and then just enter whatever brand, so let's just say we were looking at Lacoste here, you put that in Google and then you would say no, lead-free, all that products are lead free and say you know you've got a great life.
Kate Callaghan
I'm so glad you said that brand were lead-free. Oh, my god, the grant throw them out.
Alexx Stuart
No, no, don't throw them out. They're amazing. But yeah, so ceramic for slow cooking, stainless or cast iron for quick cooks, roasting things like that. And then you'll be right.
Natalie K. Douglas 34:07
What about baking in the oven? Like if someone's making like, I don't know, like muffins? Like do you recommend using like just like what kind of muffin trays or like baking trays? Would you say to use, is there something, is there things we should be aware of around that?
Alexx Stuart 34:26
Yeah, so you can go to a hospitality shop or look on the eBay and find stainless steel baking trays. You just don't want any of those nonstick coatings. So, PFOA, or PTFA. PTFA was supposed it's safe Gen next-gen of PFOA, which is Teflon and but really, the research is showing that we should have just as much caution around PTFA since we did around PFOA. So, I ain't using that until the science is much more definitive around safety. But, but yeah, so it's a really tricky one with baking because they're not readily available. So, you can have a line of defense around the existing bakeware that you have and just use a good bleach-free parchment paper cup to do your muffins and and then that makes them really easy to take out of the tray or you can use something like little panna cotta, stainless steel molds, and you can do your muffins in those. So you can sort of place them on a tray and bake them as if it was a muffin tray. And the good thing about that is you get a lot more heat around each one and they tend to cook much more evenly, you know how in a traditional 12 muffin tray, like the middle ones end up sort of a little bit raw, the other ones that are already getting burnt and it's really annoying. So, using separate little containers can be really good I did a joint venture with Solidteknics and we put out on Kickstarter, a really great nickel-free stainless baking sheet for things like flat breads, pizzas, etc or crackers. And then we do some dairy or moles which is like a traditional French little single mole like I was talking about for Panna cottas, and jellies and, and things like that and and people are just saying that even as a cook, cook capacity now that they're all starting to receive their orders. They're just loving them. So I think you can now order them, preorder them on the Solidteknic's website and I would definitely invest in some.
Kate Callaghan
What do you think about silicon?
Alexx Stuart
So silicon, the research is saying possibly dodge for heating, perfectly fine for freezing. So really great for baby food, ice cubes, things like that, patches for freezing pre-mixed are like smoothie kind of ingredients and things like that. But personally, I wouldn't be cooking with silicon, no.
Kate Callaghan
Okay. All right. And with things like Teflon and other nonstick stuff, what are the problems there?
Alexx Stuart
So usually with Teflon is that it never breaks down in the environment, never ever. And so that's a huge environmental concern. And then in terms of personal concern at high temperatures. So if you think about what frying pan can heat up to, in the veterinarian research, it's been known to instantly kill birds, the gas that comes off the pan. And I don't know about you but the last time I checked, we were also creatures of this earth, as well as birds, were just bigger. And so when you dig into the research even further, and I've got a whole post on Teflon on the blog, anyone can just Google Low Tox Life, Teflon, and the whole thing will come up if you want to really nerd out. But in us, it can show up as flu-like symptoms. And personally, I'm not okay with that.
Natalie K. Douglas 37:50
Understandably.
Alexx Stuart 37:50
Yeah, and then I heard everyone has had it. I've had many Teflon pans in my time as a poor moved out of the house, newly moved out of the house, early, early 20s chick, where I would just buy the cheapest Teflon pan in the supermarket kind of thing, and then starts to scratch, those little particles start to lift. They're going into your food and into you and they never ever break down. Our bodies don't know what to do with that. So yeah, I would stay right the way away. And question are need for immediate convenience versus two weeks working with a loving new multi-generation multi-century lasting cast iron pan, getting the seasoning right, and then forever having a fantastic nonstick pan that your grandkids are also going to be cooking with. Environmentally, for me, that works much better as well, knowing how many people throw out those pans once they get scratched. So it's really one of those fantastic examples of a win-win for us and for the planet.
Natalie K. Douglas 38:48
I love that. I really love that. Yeah, I totally agree. And I was definitely the same with buying the cheapest stuff and just using it and I wouldn't even switch it when it started to scratch. To be honest, I was terrible. I just keep using it and using it as long as it was still getting hot and cooking my food.
Alexx Stuart
Totally, so many people do.
Natalie K. Douglas
Yeah, I know, right. Alright, so we're going to move rooms now. So we're going into the bedroom. And besides turning off Wi-Fi, and eliminating as many kind of electronics from the room as possible. What else can people do in this room? So like what I mean by that is should we be buying certain bedding or doing anything extra that you can think of?
Alexx Stuart
Yeah, I think the main thing we need to be doing. Pretty much everyone listening to this, I'm going to bet 99% of people listening to this can't remember the last time they bought their pillow and need to go and get a new pillow. So, by that I mean, our pillows are the things we literally squish our faces into every single night. And often, they are a couple of couple of years old or older. Often, they are riddled with dust mite poop, that can then obviously trigger things like respiratory issues, sinus issues. You know, if you have anyone in your house who sounds a bit like Mr. Snuffleupagus when they're snoring, when they're sleeping, or even snoring, this is definitely something you need to look at. Synthetic fibers can release Microfiber Dust into your nighttime breathing air that you're slowly breathing in as you sleep. Like there's nothing great about the current pillow you're most probably using. So switching to a pure natural latex pillow, or pure wool cotton hemp pillow, there are a few different natural fiber types but latex seems to be the least allergenic, that it's just going to transform your life. It really does. So from everything from back problems, neck problems, tension, right through to all of the allergy-based symptoms that people might experience with a pillow. Like it was, I mean, that's just the best reason to switch really and and mold can grow in pillows as well. A lot of people go to bed with slightly damp hair still and that that creates mold. So you really want to be switching your pillow every two years. And the beautiful thing about latex is it's going to naturally break down over time. So it's not too bad for the environment. And and it's just it molds to your head. So it's really really comfy too.
Kate Callaghan
On the bedding front. I had a question on Instagram, she, for it was a girl named Rebecca and she would like to know your thoughts on the flame retardants. She was asking about specifically on the kids' clothes, but I know that a lot of bedding comes with flame retardants as well. What are your thoughts?
Alexx Stuart
Yes, so you definitely do not want flame retardants. Chances are if your room is burning with flames, the flame retardant is really not going to be the thing that helps you get out of this safely. It's going to be speed and, and like a clear path to exit. And and really I'm not saying that to make people unsafe. But really, if you're talking about the chance of a fire in your home versus the chance of toxicity from daily exposure to flame retardants, I personally know what I would find more dangerous, and that is the latter. So flame retardants are carcinogenic have been proven to be so and there are many fantastic certifications like guts, like Ecotech, that ensure that there are no flame retardants. I know West Elm doesn't use any flame retardants in any of their products. You've got a heap of fantastic options these days, but daily exposure to flame retardants is not a good plan. It's something I could talk about for like two hours and and share study after study. But really, we don't have that time. I want to make sure everyone just kind of knows their quick swaps, but I wouldn't be actively seeking out non-flame retardant or naturally flame-retardant fabrics.
Kate Callaghan
Okay, and so for kid's clothes, once it say low fire danger, they've got flame retardants?
Alexx Stuart
No, not necessarily. They could just be made of natural fibers that naturally don't catch fire as fast.
Kate Callaghan
Okay.
Alexx Stuart
Yeah.
Kate Callaghan
So would would clothing have something on the on the clothes that would tell us if they had flame retardants on them?
Alexx Stuart
Nope. You've got to actually write to the company.
Natalie K. Douglas 43:21
And on that, did anyone watch that documentary on Netflix about that Father that tried to get.
Alexx Stuart
Yes, it's really good. I think he did a great job with that docu.
Natalie K. Douglas
Yeah, it's crazy, isn't it? I was watching, I was like, it's insane that it takes this much to get information and even when you, well, not even get information, it took so long for him to get an answer. And even then, the people at the top had had no answers and everyone's just shifting responsibility for knowing exactly what's in a product so.
Alexx Stuart
Exactly. And I just went through this recently with my son, he bought some slime stuff with his money and and made his element slime himself, like, you know, the DIY slime. And I said, oh, sweetie, I just noticed it was really interesting that he put the ingredients on the back. Should we write to them and see what they say the ingredients are? It's like, yeah, and he said, why though? I said, well, you know how it's really stretchy and slimy and plastic and elastic. That's a really big red flag for something called a phthalate. And phthalates can be really damaging to your little swimmers, like the things that are naturally hanging out in boys, that then help them have healthy babies one day, and his friends just kind of went whoa, whoa, I'm not a mother who shots away from me. So, I have to move back.
Natalie K. Douglas 44:43
That was very elegant. Two of you, though.
Alexx Stuart 44:46
Yeah, well, I just think our kids are not let into this conversation early enough. And then we wonder why they get crack the sheets when we say no, you can't have that.
Natalie K. Douglas
Yeah.
Alexx Stuart
Cracking the sheets because they don't understand why they can't have that, if you want them to understand, take the time, I promise, they get on board much faster. And, and so we wrote to them. And we got back a very diplomatic reply, and it was all around, you know, as you can appreciate, we pride ourselves on being the best-performing DIY slime in the market. As a consequence to that we cannot divulge our recipe, it is proprietary information, rest assured that it is nontoxic. And by the way, phthalates have not been ruled toxic in any governing body, thus, are freely flowing around in consumer products, usually under the name fragrance, but also under these stretchy soft plastics. And, and so, so we had a chat and said, do you feel comfortable with the fact that they wouldn't tell us what was in there? And said, no, I don't. I think they should have to tell us the truth. I said, so what are we going to do? He's like, I'm going to research how to make a natural slime. And he did and with a bit of psyllium husk and potato starch and water and some boiling and bubbling. He made a fantastic slime and he was so proud and knew exactly what was in it. And and, you know, he could play really understanding why it was best to make that effort. And it was just such a great lesson. So I know, that's not quite what we were talking about. But it's just seemed like a really good time to, to share that example of, do you really know what's in your stuff? And if you don't, demand to know what's in your stuff? And if they won't tell you, that for me is a really big red flag.
Kate Callaghan
Absolutely. Absolutely.
Natalie K. Douglas 46:37
So true. And it's happened so often. And the whole or its proprietary information. I'm just like, come on like, I'm, I'm not surely it would take more than just knowing the recipe for someone to be like, all right, I'm going to absolutely copy this and compete with you like I think it's a cop-out.
Alexx Stuart 46:58
Yeah, it's a massive cop-out, and it all comes back to a little court case that was held in the 70s in the States, around one cleaning product company copying another cleaning product companies, you know, multi-purpose spray type product. And it was ruled that because cleaning products weren't a personal care item that they could put that it was proprietary blend, same thing happened with fragrances. That's why you can have up to 150 different chemical compounds in the word fragrance and companies not by law required to tell you what's in that fragrance. And I found that's just super unjust, super unjust. And by the way, I mean who puts on gloves and a mask every time they quickly clean their kitchen benchtop.
Natalie K. Douglas
Yeah.
Alexx Stuart
It is a personal care product, it's going on your hands, it's going in your lungs, that is interacting with your body, therefore it is personal care.
Natalie K. Douglas 47:51
Totally. And that's the same with like natural flavors sometimes on in food products like there can be a whole bucket of like ingredients that make up that natural flavor. But just the word natural people like oh, it's just natural, then like it's all good. And it's not to say you can never eat anything with natural flavors, but kind of when it's popping up what every single product you're buying, it's kind of like, or maybe I should find an alternative to this like, or just, you know, reduce the load it which I consume that will find out more like, because I think that was something I was really surprised by when I was, you know, starting to get into being more curious about the quality of my food. I was very surprised that, you know, two words could actually be code for, you know, 10 or 20 ingredients.
Alexx Stuart
Yeah.
Natalie K. Douglas
Scary. All right, we're changing rooms again. So we're going into the bathroom now. So a question we get all the time is how should we be cleaning the shower? And I guess more specifically, I'm talking about you know, that little bit of mold build-up that most people get in the shower, like, what should we be going in there with bleach and these, you know, like powerful products like, what should we be doing instead?
Alexx Stuart 49:04
Yeah, so obviously bleach is really effective. And all those sort of Exit Mould things visually effective, but they don't kill mold and often can contribute to a morphing of the fungi into still fungi and things like that. So, think an antibiotic resistance, but for mold and fungus. And there's like for me, the best thing you can do first is check how well ventilated your bathroom is. Do you need to bring in a dehumidifier into your bathroom to just run for a couple of hours after you've had showers in the morning. And make sure that it just stays bone dry. Because the dryness is what's going to stop mold from growing in the first place. If you can keep it dry, it won't grow a mold. If you own your place, and you don't have good extraction fans or your extraction fans run into your roof or wall cavities, which is a disaster for mold to grow eventually, then run one off a window and get that steamy it out of your bathroom. If you rent, then a dehumidifier is your best option. So I'm always about you know, just like you guys are in health consultations about the preventative rather than oh, shit, it's happened. Now what do we do, we've got to get away from crisis care wherever we get the opportunity to talk about it and move into prevention. So the only reason the mold is growing is because the humidity in that space is over 55% long term. So that's the first thing to do. And then if you do have mold, my favorite product for scrubbing the grout is Dr. Bronner's Sal Suds, it's a really good, powerful, gentle cleaner. And then another one that I like to make up myself is like a cleaning concentrate. Like I use the things in living concentrate that you guys use doTERRA so that they have cleaning concentrate as well just check the ingredients. And you just mix it up with some bicarb soda, and make a bit of a gumption kind of paste, like that kind of old-school cleaning paste, and it's really good and abrasive. So if you've got deep cleaning that needs using needs doing, then you can get a really, really good scrubbing brush, like one of those really hard ones, and run it over the ground. And that should sort that out too. But like I said, you should just be able to do a quick squeegee when you, when you shower every day and keep the humidity down. And that's going to mean mold doesn't around the first place.
Kate Callaghan
Do you think with things like black mold, the really sick stuff? Do you think you can get rid of that with natural products, or does that need something more heavy-duty to start with?
Alexx Stuart
Look, it's always best to chat to a building biologist if you've got a chronic mold situation because the mold that I was just talking about sorting out was like some that just grows because of condensation and too much humidity in some way like a bathroom. If you have like systemic issues, either too much humidity in your whole house, which is causing an overgrowth of fungi everywhere, like those people who pull out the winter boots for winter and everything's bright green, then that means you got too much humidity in your house. Those people who might also like almost feel like the mold is growing through the walls like you can't kind of see it like as a stain that gets darker and darker and grows through. That usually means there's a pipe that's burst or cracked, and there's there's moisture in the walls, for that you absolutely need to talk to a building biologist. And, and then seek professional remediation help. And this can be a real disaster when especially when you're a renter because there are no legal rights yet for tenants when it comes to mold. You know, I myself, I've been evicted for reporting mold, when they wouldn't do anything about it. So we're not in a great place for for the bigger mold issues. But you do not want to be living in mold long term. Trust me, I did. And it was a severe setback.
Natalie K. Douglas 53:16
It's heartbreaking I have a lot of patients that their, a lot of their autoimmunity is like has stemmed from being in a moldy environment long term. And it's, it's absolutely heartbreaking for people to also get to a place where you know, they're in a house that is absolutely covered in mold. And perhaps it's a place that you know it's their own, and they've bought it and you know, the cost of remediation sometimes is just astronomical. And it's really also upsetting because for you know, in a lot of the time, it'll only affect one or two people in the house and not everyone and it's really hard for the people who aren't affected to believe that this is actually a thing when they're not experiencing it, but it is so individually in terms of who actually gets affected. And I'm thinking of one particular client at the moment that I have who, she is just so unwell. And all of the, you know, typical mold symptoms, and her husband is absolutely fine. And he just doesn't get it. And so it's and when you're suffering from mold illness or services, it's more accurately known. Your your your your resilience, and your ability to keep, like fighting is really low because you can't think straight, you feel exhausted. I mean, you you would, you know resonate with some of these symptoms. Alexx, I know you've had your own issues, but it's just so hard. In that situation.
Alexx Stuart 54:44
It's super hard. And it really, really chips away at you and it can be frightening when it's really bad. And if anyone needs a full rundown on mold, just Google Low Tox Life, the whole mold story, and it will come straight. And I wrote that 9000 words went on forever, just my entire journey with heaps of resources. So, yeah.
Natalie K. Douglas 55:08
Well, we'll definitely link to that in the show notes. And I'll definitely probably start including that as a resource when I'm sending when I'm trying to help my my clients as well, because.
Alexx Stuart
My field.
Natalie K. Douglas
Yeah, it totally is. And you know, it's it's so confusing. And there's so, there's so many misconceptions about how to deal with mold, like a lot of my patients will be like, oh, I'll just scrub it. And I'm like, no, no, no, no, no, don't. Don't do that. Don't, don't just scrub the black mold. That will make it worse. You really, I think, yeah, getting a building biologist on board is is helpful. And definitely reading your blog post would be very, very helpful because it just can be so so overwhelming. When you when you realize it's a problem for you, but also are quite liberating, I think because a lot of the time the people that are suffering have been suffering from you know, quote-unquote, mystery illnesses, or just these little niggling things for so long that they just can't sort out. And sometimes it's almost like a, you know, a relief when you find that, hey, there is actually something wrong and it means I can do something.
Alexx Stuart 56:12
Yeah, totally. And, you know, I mean, how often do do we ask our patients out there in Doctor land, practitioner land? It's just still so new, right? You don't often hear? Are you noticing any mold in your environment? Like it's just not part of a common diagnostic protocol? Question wise, so any practitioners listen today, add it to the puzzle because often you'll find it might form a little piece of it.
Natalie K. Douglas 56:41
Yeah, hundred percent. That's part of my pre-consult questionnaire.
Alexx Stuart
Yay! Thank you.
Natalie K. Douglas
Yeah.
Alexx Stuart
So, good.
Natalie K. Douglas
Interesting, how many people you know, report living in or currently or have been living in a water-damaged building, or noticing that kind of stuff, and it's. Yeah, I would definitely say if any practitioners listening at it because you'd be surprised. I think that and also questioning people around dental health are two of the most interesting things that are often missed that I really admittedly early in the last maybe 12 to 18 months of I really started questioning people on all of that stuff. And it's particularly as I move more into the Hashimoto's and autoimmune side of things. So, interesting.
Alexx Stuart
Yeah, super. Have you guys had Dr. Lewis on the show yet?
Natalie K. Douglas
Yeah. We had him.
Alexx Stuart
He's great at putting all those links together.
Natalie K. Douglas 57:35
Yeah. And it's just, and actually I started seeing him as a patient. And then when he was asking me all of the questions, I was like, oh, crap, is, you know, as someone that I would consider myself quite informed. I was like, oh, I've really been missing, ignoring rather a big piece of the puzzle. And so, ever since yeah, becoming friends with Lewis and a patient of Lewis's, I've really started to ask people a lot more questions. And it's so surprising how many people don't floss their teeth who have amalgam fillings, who, you know, don't even brush their teeth twice a day. It's just.
Alexx Stuart
I love it.
Natalie K. Douglas
Yeah, it's, it's really, I mean, I would say most, most people I question do not floss. And I'd say probably, like, maybe 60 to 70% of people brush their teeth twice a day. But it's really, like, it's interesting. It's really interesting. And definitely not many people visit the dentist. So that's also interesting. I mean, I was one of those for like, a decade because I was so scared of them but I just realized I was going to the wrong dentist so.
Alexx Stuart 58:40
Yeah, exactly.
Natalie K. Douglas
It's so good.
Alexx Stuart
I know, right? As soon as you got a great dentist like Moses, my son's dentist, want still my dentist.
Natalie K. Douglas
Yeah.
Alexx Stuart
But I'm being transitioned to Lewis next generation and, and we just love going to the dentist. It's a lovely experience.
Natalie K. Douglas
Yeah.
Alexx Stuart
It's nice. They're nice people. They care about your whole health, not just your mouth, it's beautiful.
Natalie K. Douglas 59:00
Exactly. And it's nice to have things, you're connected, like the dots connected instead of just being so like, I remember when I used to go to the dentist, I was like, I have no idea what language this person is speaking. And I'm not sure what the right decision to make here is, and I'm not sure how safe it is. And I think it's really liberating to have, you know, that whole team at City Holistic Dental, is very, very holistic, very open-minded, and you know, very, that they're not those, I mean, I'm stereotyping here, but many of the dentist I went to in the past are quite arrogant and made me feel a little bit silly for asking questions that might be obvious to them but I've never felt that way at Sydney Holistic Dental. So if anyone's in Sydney, there you go.
Kate Callaghan
Right now I want to go back to Sydney. On the dental thing, Alexx, can I ask what your thoughts are on teeth whitening products, and fluoride?
Alexx Stuart
Yes, so look fluoride. And I've talked to add to the huge two-part FAQ on my podcast with Lewis. So there's actually some really interesting stuff on fluoride. And I will actually quote his position on it because I'm not a dentist. And so I'm always for the scientific facts when we have them. He uses fluoride topically because there is evidence for weakened enamel and cavity-prone people that it can actually support better dental health. But then, there's a whole bunch of us who actually have teeth that are more or less fine, who don't have weakened enamel, who can fortify our teeth through diet. And, but but something I feel really passionate about personally. And I say personally because some countries are still doing this, some countries are not, is keeping fluoride out of my water. I do not see anything beneficial about having fluoride run through my entire body. But I can see a benefit being topical application, as the science shows if one were to need it, and that's case-by-case. But then, are like outside of fluoride, you have everything else that's revolting. That's in most toothpastes. And there's triclosan in the number one selling toothpaste in the world. And Nat, hello, this is like one of the biggest endocrine disruptors that is pretty harmful to the thyroid. So that does not belong in some products that we are brushing our gums with that are the gateway to our bloodstream and our bodies daily, like absolutely no. So get the triclosan out of the toothpaste, get the microbeads out of the toothpaste which contains BPA. Nevermind, the fact that we're flushing tiny bits of plastic down our drains and into our waterways and get the sodium lauryl sulfate out of the toothpaste. Sodium lauryl sulfate, if it's from hemp, or from a sustainable palm source or coconut, can be extremely effective for like your dishwashing powder, or your laundry powder, but it does not belong in a personal care product that you are scrubbing against yourself. It's a highly irritating product, chemical. And so we really want to minimize those sorts of ingredients then for me, are the big ones to get rid of. And if you need a bit of teeth-whitening boost, you can go to your dentist and they can prescribe you some hydrogen peroxide in a really really mild dose gel and fit you with a dental sort of like a it's a silicon, kind of what's it called a mold? That fits you and you can use that gel a couple of times a day. That's what they do at Sydney Holistic Dental. And you can do that or you can add a little bit of like a pinch of bicarb soda into whatever toothpaste you're using every day. And that'll help just as a gentle, low level abrasive to remove any stain, especially if you drink a lot of coffee or tea.
Kate Callaghan
Great tips. Thank you.
Alexx Stuart
You're welcome.
Natalie K. Douglas 1:03:06
Alright, so we're kind of running up to time. So, I think we'll pick maybe another two questions. If you don't mind, Alexx. And Kate, was there anyone that came through Instagram that you were particularly keen on getting answered before we go back to our pre-written list because I know they're a quite a lot that came through and we didn't answer a few but any that you were keen to ask?
Kate Callaghan
There were. So, I actually had a client asked me the other day, she wanted to know about your thoughts on injectables, Botox fillers.
Alexx Stuart
It's something I'm actually researching at the moment because I think a phase needs to be written on this. So I don't have a particular thought on it yet. It's something personally I would not do, because I have not seen enough of a of a case for it being completely safe in the long-term. And, and I would caution anyone against using it until they had a full knowledge of what potential effects these Botox injections would have long term. And I think they take away our personality. As we age, I think there's more psychological work that perhaps needs to happen. I remember going down to the shopping center, local shopping center, there was a boom gate that had the local injectable center ad, kind of flying off the bottom of the boom gate. That was where they had it placed. And that's where a lot of women shop after they take their kids to school in my local area, and get the family shopping done for the week of the day. And the boom gate said, lips, finally lips you can love or lovable lips. And you know for the hot price of 399 or whatever it was $399. And I question this mass movement towards light like, you know, cosmetic surgery 2.0 light, because I think it is more about what is causing us to all feel like we need to head in droves to get this stuff done in the first place. And I think there's more work that needs to be done there, rather than deciding whether to do it or not. Do you know what I mean?
Natalie K. Douglas
Yeah.
Alexx Stuart
It's absolutely not a judgment on anyone who has ever done this for themselves. And, you know, removing a few wrinkles could be just that little boost in confidence that someone needed to step into their own light, you know that there's never a black and white way to look at this. And and who am I to judge? Absolutely no one. But at the same time, if I want to be a sheriff of my community to help us informed decisions, and use the precautionary principle where needed, what I'm reading is still saying precaution. And what I will end up doing is writing a post on it.
Natalie K. Douglas
Yeah.
Alexx Stuart
I think, you know, we, we're smart people and we need to connect to our innate beauty more. There's plenty of beauty. We've all got it. There's, there's a whole industry telling us what beautiful looks like that is actually manufactured. So, by definition, it's not beautiful, because it doesn't exist in nature and nature is what's beautiful. So I think it's a very complex psychological topic. And and I don't have any any absolute statement to make on it yet. I'm still very much in research mode.
Natalie K. Douglas 1:06:27
Yeah, i know totally and I think you bring up a really interesting point. And I agree that you know, the deeper reason of why. And that whole conversation needs to be heard. And it's it just triggered me to think of something else that I'm seeing actually quite a lot in the clinic lately is breast implant illness. And that coming about and I think Kate and I will probably do a podcast on it at some point because I get the question of quite a lot in relation to is it a trick of the thyroid issues, or Hashimoto's and you know, what, what's the research around it? And, you know, how long does it take to happen? And I think it's it's definitely worth a conversation in itself. But just another kind of thing in a similar under the similar umbrella that we're talking about in relation to, you know, quote-unquote, beauty.
Alexx Stuart
Yeah, never just about whether to do it or not. And it's toxicity, is a broader conversation around, like societal toxins, and societal psychological toxins that might be pervading our society when we look at that stuff.
Natalie K. Douglas
Yeah, totally.
Kate Callaghan
Once you had Botox you can't had to read their emotions, we can't see their emotions. I used to live in an area of Sydney and Sydney's East Square was quite popular to be able to Botox and I struggled to interact with people sometimes.
Natalie K. Douglas
Yeah.
Alexx Stuart
Yeah, it is. I live in that same area Kate, now. And and it's funny because I grew up around here. I've never really and because I just don't focusing on people, judge people necessarily, you know, like I just, I just take everyone as they are. I'm such a flake, is so the wrong word. Not so I have a flake but I just, am a very accepting person. So, but it wasn't until friends who don't live in any errors like, can you believe how many people do this around you? I was like, oh, really, and then I just kind of started to notice it. And then I started to see that the two principal buildings on our main strip, have huge ads for doctors who you are plastic surgeons, cosmetic injectables, and then I sort of started to realize wow, it literally is on every single street corner around here that you can get this done and and you know, I might be when I'm having coffee I look like some kind of ancient relic. I don't know but yeah, apparently is so something that I was reading about as I've starting to build a bit of a a pros and cons list around these so that people can make informed decisions for themselves is that with babies born to parents who have a lot of Botox are finding it hard to pick up emotional cues because the expression isn't is stunted. And, and that I find really concerning because that's how our babies learned what is happy, what is sad, what is exciting, what is scary, you know, we really need to be able to teach these things in an in a in a non-spoken way. And I find that part really interesting. So yeah, very interesting subject.
Kate Callaghan
Yeah.
Natalie K. Douglas 1:09:49
Wow, I know that's, that's like I'm like, so I'm getting like, oh, wow, that's actually a really, there's just so there's always just so much more than you know, you first think of like, there are so many more effects. And I think I'm I'm really keen to to see your post on that. And your pros and cons because I think it will be really interesting to to weigh up all the sides. And I love that you think big picture not just is it toxic? Is it not? But you know what, what else is it? One of the other effects as well. So really interesting. So we'll keep an eye out for that.
Alexx Stuart
Yeah, cool.
Natalie K. Douglas
Now, we probably have like a billion more questions we could ask you. So, we might have to see if we can get you back on the show at some point.
Alexx Stuart
Oh, we can part two it. There's so many questions that probably come from people.
Kate Callaghan
Yeah.
Natalie K. Douglas 1:10:32
Yeah, totally. And they're probably they'll be some follow-up questions from what you've already answered as well, which is great. But before we let you go, could you tell us about Low Tox Life and the courses you have online? And, you know, who are they for? And what can people kind of expect to learn?
Alexx Stuart 1:10:47
Yeah, totally. Thanks for the opportunity. So LowToxLife.com or Low Tox Life on any social media platform, whether it be Instagram that's what it's called. The podcast is called Low Tox Life. The book is even called Low Tox Life. Kate, you shared so generously my book a few times now on social, I want to say thank you for that.
Kate Callaghan
I love your book. It's a reference book, it's not one that I would pass on to people or sell on it's, it's my book.
Natalie K. Douglas
We all have some of those. Whether like you can explicitly say but you can't take it.
Alexx Stuart
So, I would say to anyone who finds anything a bit confusing at this stage. Who is still trying to navigate it all. I really wrote my book as the book that I wish I could have picked up off the shelf 15 years ago when I was getting started with all of this. And it is written very much with the beginner in mind to get them up to speed but also for everybody who's been at this for a while to just check-in and see if there's anything that can up the ante on and nerd out on a bit more. And it's very much, so choose your own adventure, open the page and work on that little beast or that little section of that little topic. You don't have to read it cover to cover. And and I would definitely, my hope is that that book ends up in every home because I really think the more we start to realize that impact on what we put in us, on us, and surround ourselves with both physically and mentally, is just it's a game-changer once we start to work on all that stuff in a loving, gentle way. So my book is my central starting point for anyone who wants to get into this but the courses we've had for the first one I wrote was back in 2014, Go Low Tox, and that really is the deepest sweep of all aspects of daily life, on the environmental, and chemical toxins in everything from our products, that we use on our skin, makeup, hair, nails, right through to bedding, clothing, furniture, mold, dust, lead, mercury, like everything, we really covered everything in that course. So, I think it's something everyone should do once in their life. So they can just do a big clean, clean sweep, maybe work on a few topics you have worked on before. And from there, I just sort of started creating courses as the community needed. So, I've got Real Food Rockstars that helps people connect to the food system. You don't have to be vegetarian, or vegan, or paleo, or keto, or anything, it is merely about actually just getting in touch with where food comes from pros and cons of all types of food, whether it'd be cooking, whether you know, meat, veggies, fruit, nuts, seeds, preservatives, or everything, we look at everything foodwise, and an incredible power that food has to transform our health and prevent illness. And then more recently, we have courses around specific health goals. So starting to notice there's a lot of people wanting some help on preconception, and, and also on inflammation after I started to share a mold. So Preconception Ninja and Inflammation Ninja, are really for very specific reasons. And they were only 85 bucks. And these are, you know, have incredible doctors, and naturopaths, and nutritionists on board as experts, and they help people be more literate in their practitioner discussions as well, which I think is a really huge piece of it. Like Imagine if you had patients coming from clients coming to you, who had done the work to understand everything about what they were going through so that you could hit the ground running with them. It saves people so much money and time. And we don't have time when it comes to fertility, we don't have time when we're chronically inflamed, we want to get to the place we need to be faster. And right now, we are spending tens of thousands of dollars on these sorts of issues, whether it'd be making, you know, finding how to make a baby or finding it hard to get well from rheumatoid arthritis, or mold illness, and that just is a huge injustice for me, it's a highly effective medical system that we need to sort out. But in the meantime, for 85 bucks, you can actually start becoming literate and surround yourself with practitioners who can help you move the needle. And then we've got Low Tox Kids, which is specifically helpful to parents who want to get the major environmental toxins that affect our kids out of their lives, or reduced, and thrive helping kids who love real food because I think if we get food right in the early days, we can have a lifetime's better chance of really great health. So those are the e-courses. And I just love, love seeing the results that we get for people and love seeing people then connect to practitioners in much more meaningful and effective ways because they actually know enough to be a part of the conversation, instead of just going in blindly and doing what they're told. I think it's much more exciting to form a team around your health, where you're an equal member of that team.
Natalie K. Douglas 1:15:43
Yeah, I 100% agree with that. It's so important to feel like, you know, you are behind the steering wheel just as much as everyone else that's kind of, you know, in the car with you, it's really, really empowering for people. And yeah, you're, I 100% agree with you in terms of like $85 investment for it will, you know, in in the information that you're giving will just save people so so so much time, money, energy, effort. So, I definitely will link to that in our show notes as well but you know, that's I'm, we're so grateful. I know, I'm speaking for both, like Kate as well, like, we're just so grateful for the work that you do in the world and continue to do and the way that you go about it as well. I can't tell you the amount of people that I refer to your website, into your courses, into your book.
Alexx Stuart
Oh, thanks guys.
Natalie K. Douglas
It's just so so helpful. And we're so grateful for you coming on the show as well and generously giving your time so we could kind of pick your brain and also very excited that we could do a part two, hopefully at some.
Alexx Stuart 1:16:52
Yeah, yeah. Let's do it. Definitely, once we've gathered a few more questions.
Natalie K. Douglas 1:16:53
Yeah, totally. Because I think that the more we speak about it, the more. I also think the more we speak about it, the more we can actually change the whole, you know, the whole story of the earth and the environment as well because you know, it is really about voting with your dollar. And I think once we become more informed, it helps us to do that as well. So, thank you so much, and we will obviously speak to you soon for part two.
Alexx Stuart
Yay! Have a beautiful day!
Kate Callaghan
Thank you so much.
Natalie K. Douglas
You too.
Kate Callaghan
Thanks, guys.
Natalie K. Douglas
Bye.
Alexx Stuart
Bye.
Kate Callaghan
Bye.
Outro 1:17:26
Thanks for tuning in to The Holistic Nutritionists Podcast. Remember, we love to make the show relevant to you. If you have any questions or topics you'd like us to discuss, just submit them to [email protected] and we'll get them answered for you. Also, don't forget to subscribe, rate, and review the podcast on iTunes and share it with your friend. And if you're looking for more info about how we can accelerate your journey to your optimal health, you can find Nat, over at NatalieKDouglas.com, and Kate at TheHolisticNutritionist.com. See you next time!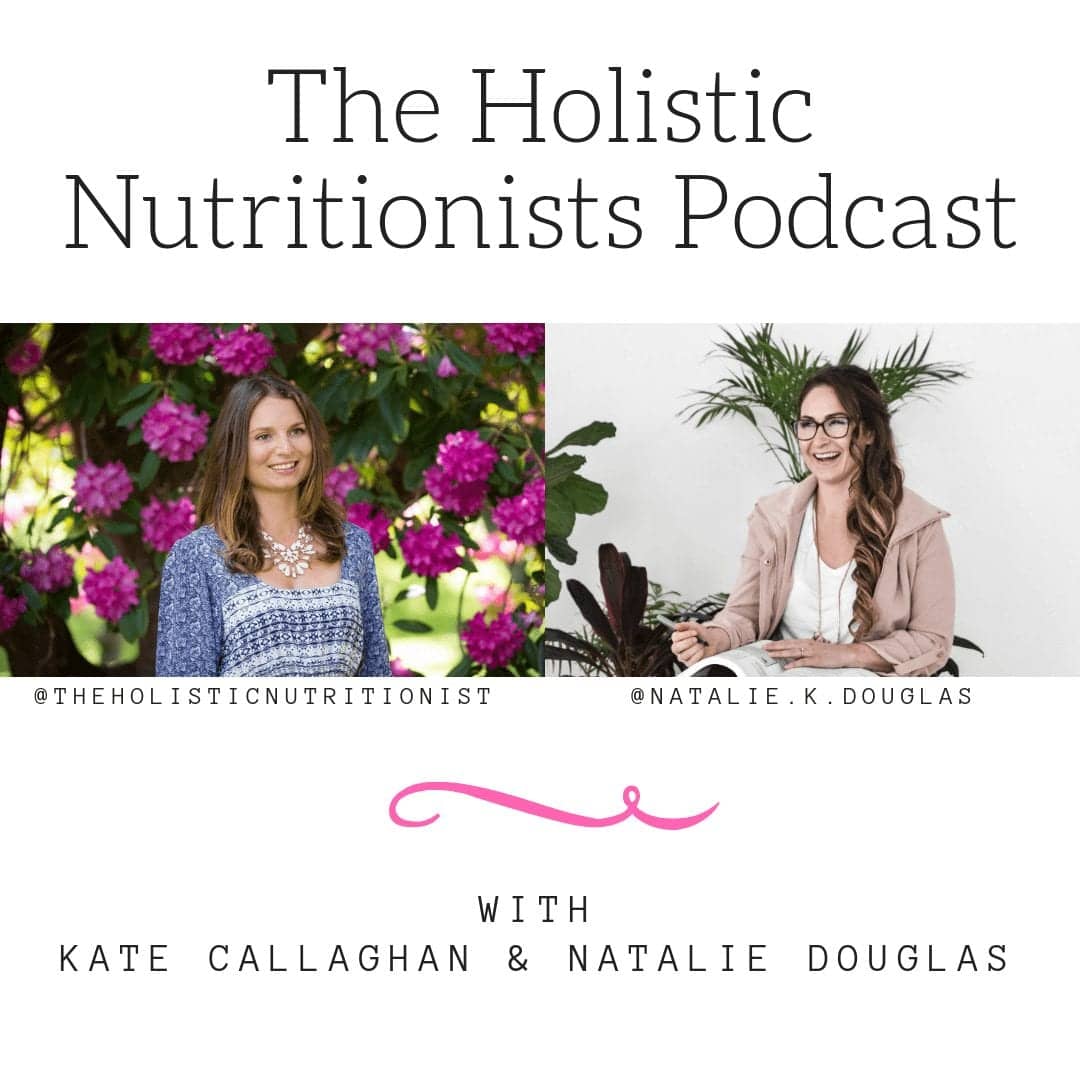 Welcome to The Holistic Nutritionists Podcast!
If a professional, polished, well-edited podcast is what you're after…then we're not for you!
But if you love unfiltered banter, unedited bloopers and authentic heart sharing then we are your ladies.
We also have the most practical tips on holistic and alternative health care too 😉
Have a question that you want answered on the podcast or want to be interviewed? Get in touch!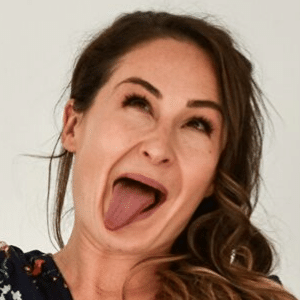 Natalie K. Douglas | Thyroid Healer
Natalie K. Douglas ("Nat") is a Holistic Dietitian and Nutritionist dedicated to Thyroid, gut and hormone healing.
Nat shows stressed, burnt out, overwhelmed women how to value their worth again, change their mindset habits, prioritize healing, and reclaim their vitality. Guaranteed.
Her clients say she's the right girl to see if you've tried the conventional approach and nothing has worked.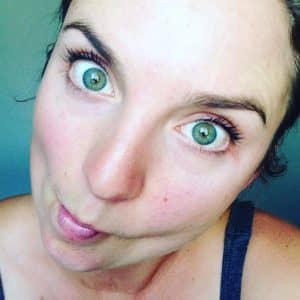 Kate Callaghan | The Holistic Nutritionist
Kate Callaghan is a Holistic Nutritionist, Personal Trainer and Lifestyle Coach who specializes in women's hormone healing.
She recognizes that there is no "one size fits all" diet or "magic bullet" which is going to cure all illnesses.
She focuses on having a thorough understanding of your personal goals, needs, likes/dislikes, support networks and lifestyle in order to create a food and lifestyle approach that suits YOU.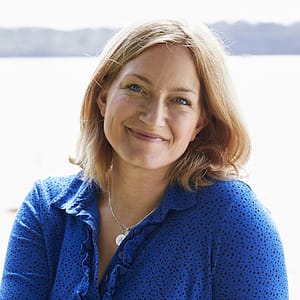 Alexx Stuart | Health Coach & Environmental Toxicity Expert
ABOUT ALEXX
Alexx Stuart is an educator and change agent who founded Low Tox Life in 2010 after seeing the lack of transparency in our food system, personal care and cleaning products. She's built a movement that's non-judgmental, positive and says low tox peeps are a force to be reckoned with! A columnist for Wellbeing magazine, she is also a sought-after speaker and consultant to businesses committing to change for good.
Search my content by category…
LIKE WHAT YOU HEAR? Help us spread the love with a 5 ⭐ review on iTunes!