#17 Polycystic Ovarian Syndrome (PCOS) - Diagnosis & Treatments
The Holistic Nutritionists Podcast
"PCOS is estimated to affect about 20% of females. Having polycystic ovaries essentially means having lots of eggs, which is what the poly stands for."
LIKE WHAT YOU HEAR? Help us spread the love with a 5 ⭐ review on iTunes!
SUMMARY
TOPICS COVERED
RESOURCES
TRANSCRIPT
SUMMARY
In Episode 17 of The Holistic Nutritionists Podcast, Natalie Douglas and Kate Callaghan discuss how Polycystic Ovarian Syndrome (PCOS) is diagnosed and treated.
TOPICS COVERED
 What PCOS is
How it is diagnosed and often misdiagnosed 
Clinical symptoms of PCOS 
Causes of PCOS
Insulin resistance PCOS (causes and treatment)
Post Pill PCOS (causes and treatment)
Inflammation driven PCOS (causes and treatment)
RESOURCES
TRANSCRIPT
Natalie K. Douglas 0:01
Hello and welcome to The Holistic Nutritionists Podcast. My name is Natalie Bourke, Holistic Dietitian and Nutritionist from HealthByWholeFoods.com.au and with me as always, I have Kate Callaghan, the Holistic Nutritionist from TheHolisticNutritionist.com. Kate, how are you? Did you have a nice long weekend?
Kate Callaghan 0:20
I did have a nice long weekend. Thanks, Nat. I actually didn't work.
Natalie K. Douglas
Yes.
Kate Callaghan
Oh, I did. I did a little bit but usually I'm kind of working overtime. And so I took, took the weekend off and had some really good quality time with us and with Olivia, which is really nice and I had a nap most days which is.
Natalie K. Douglas 0:37
Oh, naps are great.
Kate Callaghan 0:38
Oh, delightful, how's your weekend?
Natalie K. Douglas 0:40
It was really nice as well. I just, I caught up with a lot of people who I just haven't had time to catch up with because of just having a weird schedule or different schedule. So I caught up with quite a few friends. Pretty much all of my friends which is just a few, but I manage to catch up with all of them which is really nice, like spent a lot of time outside, like, went for some ocean swims, walk, did a lot of yoga, it was really relaxing. And I also made chocolate and it was delicious. I made like carob mint cacao nib things and they were like so amazing. Do you remember, what do they called, mint slice biscuits?
Kate Callaghan
Oh, yes, yes. I do.
Natalie K. Douglas
It was like that. I was like, I'm impressed with myself.
Kate Callaghan 1:26
Yum. I made hot cross buns.
Natalie K. Douglas
Oh, I saw those and I was so jealous.
Kate Callaghan 1:31
So just hot buns.
Natalie K. Douglas
That's right, hot buns.
Kate Callaghan 1:35
Someone posted on my page. She did a hashtag hot buns.
Natalie K. Douglas
Oh, that's funny. That is really funny.
Kate Callaghan
Hashtag hot buns.
Natalie K. Douglas
Hot buns, oh my gosh.
Kate Callaghan
So just imagine what you'll see.
Natalie K. Douglas
Yeah. Carbs not what, what you made?
Kate Callaghan
Not what I made.
Natalie K. Douglas 1:50
No, I would really like a hot cross bun right now. I didn't get one because I couldn't be able to make, make one and I was just hoping that I'd walk into a health food shop and there'd be some there but there were never any. So, that's alright.
Kate Callaghan
Oh, rubbish.
Natalie K. Douglas
I know, it's okay. I'll just have them at another time of,
Kate Callaghan
When you can.
Natalie K. Douglas
Time of the year when I can be balded to cook for them.
Kate Callaghan
No, Nat.
Natalie K. Douglas 2:12
I really want hot buns though.
Kate Callaghan
You've got hot buns already.
Natalie K. Douglas
Damn straight to have hot buns. All right, moving on to today's podcast topic.
Kate Callaghan
Do something professional.
Natalie K. Douglas 2:22
Which is definitely not about buns of the hot kind or not hot kind. So we're talking about PCOS, because I've had quite a number of requests to talk about it on the podcast. And we're going to do our best to cover it as comprehensively as we can, though the time limit that we set ourselves is 30 minutes will kind of, I guess dictate how much in detail we go. But we're going to do our best. So let's jump right in. So in terms of what is PCOS basically in case anyone's not aware PCOS stands for Polycystic Ovarian Syndrome. It isn't just the presence of cyst on the ovaries as the name suggests, though, you'd be forgiven for thinking that, it's actually characterized by several abnormalities or, or symptoms or symptom pictures which we will go into in a moment. So I think it's estimated to affect about 20% of females and the criteria for diagnosing PCOS is somewhat inconsistent, in my opinion, to truly have PCOS, you need to meet the three criteria set by the Androgen Society, I believe they're called, which as follows, so irregular or absent ovulation and or polycystic ovaries when you go and get an ultrasound. You also need excess androgen, so androgen's being testosterone DHEA and Androstenedione that I hate saying. Anyway, I just thought I'd share that with everyone. And also exclusion of other entities that would cause excess androgens. So if you've been diagnosed with PCOS, it's really, I think it's really important that you ask the person who diagnosed you what they're basing that diagnosis on, because a lot of the time people will be diagnosed with PCOS and it's purely based on the presence of cysts on the ovaries. So fun fact, having cysts on your ovaries is actually normal. So cysts are essentially, like your little eggs or follicles and usually each ovary has about 6 to 12 growing or maturing. And if you're progressing to ovulation, which in a healthy body with a healthy menstrual cycle, we would be. One of those eggs is a bit larger than the others. So having polycystic ovaries essentially means having lots of, like lots of eggs, which is what the poly stands for. So about 15 or so and these will all be quite little and you will you were into ovulate. So they won't be that dominant egg visible on that scan. So let's also pause for a second and remind everyone of why ovulation is important. So firstly, ovulation is the only way to produce progesterone. So this is one of the hormones that allows you to hold a pregnancy and also a hormone that is super, super important for mood, for sleep, for energy, for bone health, preventing autoimmune conditions. It's often referred to as hormonal volume and is the hormone primarily responsible for giving women that pregnancy glow which Kate has at the moment. I saw her, I saw her face before this everybody, it was glowing.
Kate Callaghan
It's because of motivation.
Natalie K. Douglas
And she's preggers and it was glowing. Anyway, so that's the, that's the kind of basis that we need you guys to understand before we jump in a bit further, Kate, what are some of the common symptoms of PCOS for everyone that's listening?
Kate Callaghan 5:57
Okay, just checking it in here. We have a coughing fit then.
Natalie K. Douglas
I heard like one, like, and I was like, alright something's really wrong.
Kate Callaghan
Where's the mute? Mute it. So sorry about that in there. I was just choking from my tea. Yes, it's really good definition Nat. And I think you, you're right, you need to point out that it's not just about the system or ovaries. I mean, I was diagnosed with polycystic ovarian syndrome, just from an ultrasound and I didn't have polycystic ovarian syndrome. I didn't have high testosterone. I had bottomed out testosterone. I didn't have any about this.
Natalie K. Douglas 6:36
That's why you ate bulls testicles.
Kate Callaghan
That's why I had testicles.
Natalie K. Douglas
In case anyone didn't listen to last week's podcast that was a reference to them.
Kate Callaghan 6:44
Bulls balls, to boost my testosterone.
Natalie K. Douglas
Yummy.
Kate Callaghan
So, I had the opposite issue. There were no androgens going around in my body. But I find that's really common with women coming to me with hypothalamic amenorrhea as well or sometimes they'll contacting me and say I've got polycystic ovarian syndrome, what can I do? I said, okay, how were you diagnosed first? So, really good to take in those points that Nat said and all of the points but in conjunction with those more clinical symptoms, so, the biochemistry looking at the testosterone and insulin and, the ultrasound, we can have other symptoms that we don't need to have the doctor to notice. So things like weight gain, but that's not limited to all women with polycystic ovarian syndrome but it is quite common if you have issues losing, you will have issues losing weight if you need to lose weight with polycystic ovarian syndrome. And that's more related to the issues with the insulin resistance and I think we're going to go into that in a little bit.
Natalie K. Douglas
Yes.
Kate Callaghan
Unwanted hair growth, so men hair, so on your jaw line, so facial hair. And I think you should also differentiate this from if you have a history of eating disorders and it's not kind of more of the lanugo overall bodily hair growth that is there to try and keep you warm because you're too lean. It's more of male patent hair growth around the jaw, chin, and then you see a little bit of balding around the temples as well, and thinning of hair.
Natalie K. Douglas
Yeah. And I just wanted, sorry, I wanted to point out here because a lot of people when I'm questioning them about the like male pattern hair growth, some girls are like freaked out, and like, Oh my god, like I have some hairs on the top of, on the top of my lip and it's totally okay to have a few hairs on the top of your lip that you pluck it a lot. Not, not saying that I do that but you know it's still fine to have those little ones there. Like occasional ones, but we're talking like, you don't have to. You're not looking at it every day and seeing that, Oh my gosh, like, I'm borderline growing MO. You don't…
Kate Callaghan 9:01
Yeah, like, some women do get to that stage of I need to shave.
Natalie K. Douglas
Yeah.
Kate Callaghan
But yeah, all of us have a little, well most of us have a little bit of top lip hair. I've got a little bit.
Natalie K. Douglas
Yeah.
Kate Callaghan
I would wax it but man that hurts more than bikini, anyway.
Natalie K. Douglas 9:17
Yeah, you know, one's post, really funny story. I was getting my eyebrows waxed. And it was by a lady that didn't speak English that well. Anyway, she waxed my eyebrows really good job by the way, like, because I just get them reshaped every now and again when they get a bit crazy because they do. And then like she pointed after she finished my eyebrows. She like pointed to my, like, my upper lip. And I was just like, I was like, Oh, I'm growing it. And like, because of the language barrier, she felt, she didn't get the joke and it was really uncomfortable. So just a tip, don't, don't make that joke. It's not funny.
Kate Callaghan 9:45
Kinda bit, anyway. Okay, so some other symptoms that you might experience would be acne, especially around the jaw and the back, called bacne, technical term. No, it's really not a technical term, but you notice some acne on the back as well. In infertility, you obviously, if you're not ovulating, if you're not menstruating and ovulating, then you're not releasing an egg and you're not going to be able to conceive. So infertility is one of those unwanted and often difficult parts of polycystic ovarian syndrome. You can be quite moody, so that's not unique to just PMS thing, it could be a little bit more with polycystic ovarian syndrome. So they're the main ones that you'd experience, any what more to add that Nat?
Natalie K. Douglas 10:39
Um, I just say sometimes, like going back to the biochemistry that I forgot to mention, sometimes you'll have, so you'll have high androgens, you'll have low Sex Hormone Binding Globulin, you'll also potentially have high LH, so Luteinizing Hormone often or if insulin resistance is the cause of your PCOS, then there will be, you will have that kind of presented on your blood test as well. So just that's probably just the more biochemistry side of things, but the rest of them, no, I think you covered all of it.
Kate Callaghan 11:13
Oh, sugar cravings.
Natalie K. Douglas
Yes. Oh, yes.
Kate Callaghan
Especially, we got insulin resistance issues, you like sugar cravings.
Natalie K. Douglas 11:20
Yeah. Well, on that sugar craving note, I think that we should go into the causes of PCOS a bit more in-depth. So this is really important because the cause of the PCOS will dictate the treatment, and it won't be the exact same for everybody. So some common causes of PCOS, which will aim to get through would be insulin and leptin resistance type PCOS, post-pill PCOS, and PCOS that's been driven by inflammation. These are probably the main ones that we see in clinical practice. But there are, of course, other reasons, like a few other causes of PCOS as well but let's focus on those ones because they're the ones that are going to be relevant to most people. So we'll start with the insulin resistance and leptin resistance PCOS, so I'll explain it a bit. And then Kate, I'll get you to just give some tips in terms of how to actually go about treating insulin-resistant type PCOS. So insulin and leptin regulate things like blood sugar, appetite, and female hormonal production. So when you consume food, insulin will rise to tell the cells to take the glucose from your bloodstream into the cell and leptin will also rise after eating to signal to your body that you've had enough to eat and aside from, you know, from starvation, and finally, leptin communicates to your pituitary to release FSH and LH which are two of your female hormones. So in insulin resistance and leptin resistance basically, the body is deaf to these messages they can't hear them and it's kind of producing more and more, but it's not hearing that message. So it means that it means you end up with high insulin which impairs ovulation and causes your ovaries to make androgens instead of estradiol. So high insulin also results in too much LH again, which stimulates androgen to male hormone production, and it also decreases Sex Hormone Binding Globulin. And basically what that means is that you have more free testosterone running around. So in terms of what causes the insulin resistance in the first place, that can be primarily blamed on in an inflammatory diet, in particular, one that's really high in sugar, industrial seed oils, other things like not sleeping well, being stressed out of your brains, and having a high toxic load can also contribute to insulin resistance. So Kate, if someone presents to you with insulin-resistant type PCOS, what are some things that you would suggest that they put in place to help reverse this?
Kate Callaghan 14:03
Hmm, good question, Natalie.
Natalie K. Douglas
Thank you.
Kate Callaghan
So there's a few things. So I guess the first thing that you want to do is look at your diet and see if there's a lot of refined carbohydrates or a lot of sugar in there. We do know that too much sugar in the diet, too much refined carbohydrates contributes to the insulin resistance and we want to modulate that internal release that occurs when we eat carbohydrate containing foods. And so that's all carbohydrate-containing foods, but mostly refined carbohydrates and sugar. So I would start with getting all refined sugars out and also look at modulating overall carbohydrate intake. I don't like to cut out carbohydrates completely but with something like polycystic ovarian syndrome, I would look at going on the low-ish side of carbohydrates, and that would be tailored to the individual and also what else is going on in their life. I mean, if they're also dealing with adrenal fatigue, combined with polycystic ovarian syndrome, then we definitely don't want to go to low carb, same goes with thyroid issues. But if they were, you know, happy go lucky living in the Maldives, and had no stress in life, then I'd say, yeah, you know, go really low with the carbohydrates and crank up the fats, get some good quality protein and really nail those veggies all the time.
Natalie K. Douglas
Yeah.
Kate Callaghan
So that's what I would do, diet-wise. And there are some good supplements so Myo-inositol is a supplement that has been researched in the treatment of polycystic ovarian syndrome, and can be quite safe and effective. Magnesium can be really good for insulin resistance polycystic ovarian syndrome, they're kind of the two major ones that I like to suggest for polycystic ovarian syndrome. I also like to suggest High-Intensity Interval Training and this could be as simple as doing the occasional to body workout, which is four minutes. But I would also recommend getting in some resistance exercise as well to improve that insulin sensitivity and even timing your carbohydrate intake around those workouts while you're doing high-intensity interval training away, or while doing resistance activity because we know that after those activities, we can get glucose into ourselves without the use of insulin. So that's by a process called non-insulin mediated glucose transport. Just being fancy there. So, there are a few things to think about for insulin resistance PCOS.
Natalie K. Douglas 16:37
So a quick question that I know a lot of people will have as well. Do you recommend intermittent fasting for people with insulin-resistant type PCOS or is it as you alluded to before bit of a case by case basis.
Kate Callaghan 16:53
Definitely a case by case basis but I think it can be beneficial, I wouldn't do it on an everyday basis, it might be a couple of times a week, I'd recommend, you know, a 16 hour overnight fast.
Natalie K. Douglas
Yeah.
Kate Callaghan
Again, unless they were a real stress bucket.
Natalie K. Douglas
Yep.
Kate Callaghan
If there's low stress then I wouldn't recommend intermittent fasting at all. What about you?
Natalie K. Douglas 17:14
Yeah, I'm in complete agreement with that, I think, if you're stressed, or if you've got any kind of adrenal fatigue type situation going on, I wouldn't recommend it. But there are instances, as you said, where it can be really helpful also if it's done correctly for you as an individual, so I'm cautious to recommend it as a blanket kind of treatment, it's more a individual type thing. And the only other thing I'd add to the supplements would probably be vitamin D, if that's low, just optimizing that and you can get that tested through your GP. And if you need to supplement with it, it's easy to find as well. And then probably optimizing gut health so if you're not already eating fermented foods then eat fermented foods, or if you, for some reason can't eat fermented foods, then supplementing with a broad-spectrum probiotic. And that's just because I love gut health. And I think it's helpful for everything. And it does help balance hormones as well so…
Kate Callaghan 18:15
With vitamin D, do you recommend a straight-up vitamin D or combined with vitamin A?
Natalie K. Douglas 18:22
I think that it would depend on how much vitamin A is naturally coming through someone's diet. So I think for like cod liver oil is a kind of a good way to get in because you do have that vitamin A, vitamin D balance. But if someone is quite vitamin D deficient, and they're still, they are consuming adequate amounts of vitamin A, then I would potentially just do the vitamin D alone. But again, it probably depends on what the levels come back as and the context of their diet. What about you?
Kate Callaghan 18:57
Yeah, I didn't like to recommend it in conjunction with A but, yeah, as you said in the form of cod liver oil.
Natalie K. Douglas
Yeah. Nice.
Kate Callaghan
But, definitely, if they're getting lots of A in their diet, not that many people are. So I usually recommend cod liver oil or liver.
Natalie K. Douglas
Yep.
Kate Callaghan
You'll get A and D in both.
Natalie K. Douglas 19:12
Yes, that's true, Whole Foods all the way. Alright, so let's move on to pill-induced PCOS. So, this usually happens because the pill causes insulin resistance and suppresses off ovulation. So on a blood test, pill-induced PCOS usually presents as a high LH, FSH ratio. So you have elevated LH. And remember, when that's too high, it causes excess androgen on male hormone production and suppresses ovulation. So part of the treatment, of course, is in my opinion, is working with a practitioner to come off the pill while implementing other you know, contraceptive methods if you are trying not to get pregnant. In terms of diet, I think that same goes as above like anti-inflammatory low sugar diet and I don't think again, you necessarily need to do intermittent fasting unless you've got the insulin resistance there and even then, case by case basis. Kate, is there anything you'd add to that kind of treatment in terms of dietary recommendations?
Kate Callaghan 20:30
Also, just a reminder that we're not providing medical advice, diagnosis or treatment, and it's not replacing medical advice, diagnosis to treatment, blah, blah, blah, blah, blah, disclaimer.
Natalie K. Douglas
Correct.
Kate Callaghan
This is just information for you to take to your doctor and say, Hey, what do you think about this doc?
Natalie K. Douglas 20:47
Yeah, maybe don't play in the part about plucking my mustaches in the car. Cuz you might disregard how serious we are.
Kate Callaghan 20:55
We are serious despite our laughter interfering with a bit joke.
Natalie K. Douglas
We are. Yes.
Kate Callaghan
We are serious and professional. I would, so with the post-pill PCOS, and yeah, so ideally, getting off the pill. So that's not still happening. But then supporting your liver in detoxing there are any other synthetic estrogens from your body. And I believe we both have a post now on how to support detoxification.
Natalie K. Douglas
We do. Yes.
Kate Callaghan
Appropriately, which is not the lemon detox diet. It is not a juice cleanse. It is not just have fruit and vegetables for…
Natalie K. Douglas
No.
Kate Callaghan
Friggin two to four weeks. You actually need some protein.
Natalie K. Douglas
We also did a podcast on it.
Kate Callaghan
Yeah. Okay, so there's a lot of information, go back, look through both our websites and look at our podcast as well.
Natalie K. Douglas
Yeah.
Kate Callaghan
And there's heaps and heaps of tips that we provide in those. So apply those tips to help your liver and you get those synthetic estrogens out.
Natalie K. Douglas 21:50
Definitely. And definitely, I would probably recommend like magnesium, B6, and zinc. I really like those three supplements especially because the pill does deplete them quite a lot. So supplementing with those is, is quite handy as well. In terms of herbs, peony and licorice actually worked really well at decreasing androgens and reducing LH but I wouldn't take these without being under the care of a naturopath or herbalist that has knowledge about herbs and how to properly use them and for what time period to use them. So I also wouldn't recommend them, recommend taking herbs as soon as you come off the pill like, give your body a chance to kind of re-regulate itself. And again, I wouldn't recommend it in teenagers because you kind of, it's, it's too soon in my opinion like you just need that, the body to have a chance at communicating from the brain to the ovaries before you start interfering with really strong potent herbs.
Kate Callaghan 22:57
Definitely.
Natalie K. Douglas 22:58
Alright, so our last cause of PCOS that we're going to cover is inflammation. So inflammation from a poor diet, environmental toxins, stress, or lack of sleep can also cause PCOS. It does this by a few mechanisms. So firstly, it suppresses ovulation. Secondly, it damages your hormonal receptors. And lastly, it causes an increased production of DHEA and the word I hate saying which is androstenedione. Do you like saying that? I don't like it, it's too long.
Kate Callaghan 23:29
I do if the word's in front of me and it's really not at this point in time.
Natalie K. Douglas 23:32
Yeah, anyway. So basically, that, so, DHEA and androstenedione are two androgens produced in adrenal. So both of these will suppress ovulation. So Kate, how would you address this from a diet lifestyle and supplementation type angle.
Kate Callaghan 23:52
Androstenedione.
Natalie K. Douglas
Yeah.
Kate Callaghan 23:57
I think it is a challenge, saying the word, not reading. Well, yes, reading it as well. But yeah, so reducing inflammation basically. So the main contributor to inflammation I see in today's world, in terms of diet would be omega-6 fatty acids and I'm talking about polyunsaturated vegetable oils, things like corn oil, sunflower oil, safflower oil, canola oil, all of these oils are really, really high in Omega-6 fatty acids and that's going to drive that pro-inflammatory pathway in your body to the extreme. Not only that is, these oils are really delicate and they are susceptible to damage from heat, light, and air. And so you know, we buy them from the supermarket in this clear plastic container, and we're told to cook with them. So if they're not damaged already, which they are, because they treated with things like hexane and bleach and heated to the extreme in the extraction process, we're going to damage them when we use them for cooking. And then we're going to ingest a damaged, rancid oil that our body doesn't recognize, and it's going to create a whole host of inflammation in the body. So number one, get vegetable oils out of your life 100%. And these might involve reading labels to start with if you're eating packaged foods because they're seriously in everything, they were in some organic toasted nori seaweed snacks that I picked up the other day, I'm really annoyed because they looked so good but they had sunflower oil and I don't, sorry, that's a deal-breaker for me. Reducing other inflammatory foods, so gluten-containing foods can be quite inflammatory for a lot of people, dairy can be quite inflammatory, and with polycystic ovarian syndrome, it can drive up that insulin and potentially contribute to that testosterone excess via the hormones in it and via something called insulin-like growth factor.
Natalie K. Douglas 25:52
Yeah, I'd agree with you. I actually do anyone or I'd say pretty much everyone with PCOS that comes to me, I will eliminate dairy from their diet, at least for a period of time.
Kate Callaghan 26:02
Yeah, yeah, definitely. And then also removing sugar from the diet.
Natalie K. Douglas
Yeah.
Kate Callaghan
For sure. And then overall exposure to environmental inflammatory, environmental toxins, so things like perfumes, makeups, cleaning products.
Natalie K. Douglas
All of those things that you…
Kate Callaghan
Reducing Stress.
Natalie K. Douglas
Yeah.
Kate Callaghan
Sleeping properly, if you're not sleeping properly, which we bantered on about before, then you're going to have inflammation above null, so sort that out.
Natalie K. Douglas
Yes.
Kate Callaghan
And then get some anti-inflammatory omega-3 fatty acids into your life. So fermented cod liver oil, but more importantly, things like sardines, salmon, grass-fed meats.
Natalie K. Douglas 26:44
Yep. Awesome. And in terms of other supplements, I would probably, you know, adding, you could use curcumin as well, that's quite good at bringing down the inflammation. So that's another option, as well as I guess replacing any nutrients that you are quite deficient in. So if you are vitamin D deficient, then you know supplementing with that is another good idea and as we mentioned before, supporting liver health and gut health is always a good idea. So I think that that's covered all of the kind of real key most common causes of PCOS and the basic treatment, we would always encourage you, as Kate recommended before that, you work with a practitioner that can guide you through this and tailor the diet and supplementation protocols, and whatnot for you as an individual cause sometimes it's hard to know which type of PCOS you have. And it's really important to have someone look over that and to give you specific advice. Just before we move off the topic of PCOS, I did want to mention that a few other less common causes of PCOS, but still wants to be just I guess on your radar would be thyroid disease, really low carb diets, iodine deficiency, vitamin D deficiency, selenium deficiency, and also vegetarian diet. So we don't have time to go into all of those now, but I just thought I'd put them on your radar. So at least you know that if you don't fit into any of the other categories, but you still suspect you have or you do have PCOS, then those are some other things that you can potentially look at. So, Kate, we did really well, to get through that on time. Look at us…
Kate Callaghan
Who-hoo.
Natalie K. Douglas
Being all prompt. All right, well, news for me. So actually, I don't really have any news this time, except for that the podcast will have some links in it to the liver detox podcast, as well as the liver detox articles that we mentioned before. Kate, do you have anything you want to make people aware of?
Kate Callaghan 29:00
Actually, yes. So this week, I was involved in something called, I was interviewed for the weight loss freedom summit, which is completely not something that I would usually do. Because I'm, I don't really talk about weight loss that much. But I think it could be relevant to people listening to this.
Natalie K. Douglas 29:15
Did you just say relephant, like elephant?
Kate Callaghan 29:19
Maybe, shut up. It was a slip and I was hoping no one heard. Thanks for pointing it out.
Natalie K. Douglas
So funny, so continue.
Kate Callaghan 29:25
Relevant for people listening to this podcast. So it's completely free, there is no catch at all. My, I will send out a little social media blast when my talk is up. So I basically talk about how my approach to weight loss and why calorie counting sucks and what to do instead and hormone issues that can impact weight loss but it, so you can register for the summit. So there's 20, 20 experts who've been interviewed, and it's not kind of mainstream, exercise more, eat less.
Natalie K. Douglas
Excellent.
Kate Callaghan
It's actually proper, useful advice. So it's called WeightLossFreedomSummit.com
Natalie K. Douglas 30:08
Weight Loss Freedom. Okay, awesome. I'll put a link in the show notes for everyone so that they can click on that bad boy and get some information on elephants.
Kate Callaghan 30:20
Shut up. Is that relephant?
Natalie K. Douglas 30:22
Relephant information. Anyway, yes, I will do that. Okay, awesome. So please continue to leave reviews and also write in to us with your questions because we do really like producing content that you're actually interested in and that you are curious about, so keep that up and we will see you guys in a fortnight's time. Have a lovely day, Kate,
Kate Callaghan 30:46
You too, Nat.
Natalie K. Douglas
Bye.
Kate Callaghan
Bye.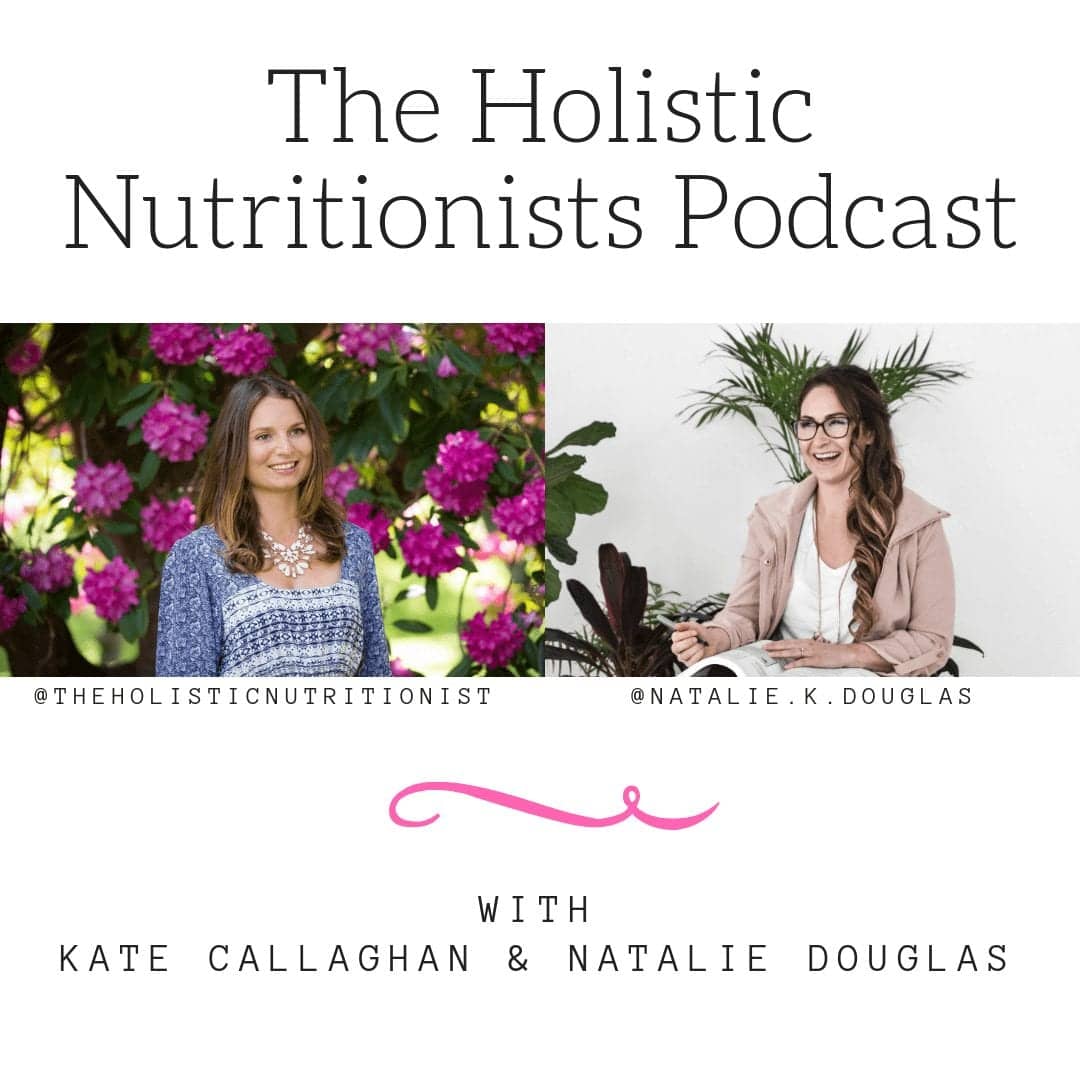 Welcome to The Holistic Nutritionists Podcast!
If a professional, polished, well-edited podcast is what you're after…then we're not for you!
But if you love unfiltered banter, unedited bloopers and authentic heart sharing then we are your ladies.
We also have the most practical tips on holistic and alternative health care too 😉
Have a question that you want answered on the podcast or want to be interviewed? Get in touch!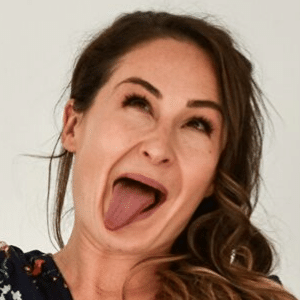 Natalie K. Douglas | Thyroid Healer
Natalie K. Douglas shows women with Thyroid problems how to heal themselves in less than 30 minutes a day. Guaranteed.
Over the past decade, she's helped treat over 10,000 Australian women, trained more than 5,000 health practitioners.
Her clients say she's the right girl to see if you've tried the conventional approach and nothing has worked.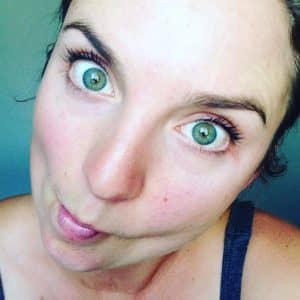 Kate Callaghan | The Holistic Nutritionist
Kate Callaghan is a Holistic Nutritionist, Personal Trainer and Lifestyle Coach who specializes in women's hormone healing.
She recognizes that there is no "one size fits all" diet or "magic bullet" which is going to cure all illnesses.
She focuses on having a thorough understanding of your personal goals, needs, likes/dislikes, support networks and lifestyle in order to create a food and lifestyle approach that suits YOU.